So, I went last night.
I arrived and saw that staff were handing out sheets of paper on letter-headed paper. "A very significant cancellation" said the woman handing them out. I had read that Jonas had a bit of a cold on Monday, and he is a bit of a habitual canceller, so I felt myself trembling. It was explained that Anna had cancelled. (They had sent out an email earlier in the day but I often don't check my home emails from work). I ought to have been disappointed but my emotional reaction was relief that it wasn't Jonas. Illogical, because the opera is called La Traviata and even though I am a tenor nut, I have never argued that it should be renamed. And when the season was originally announced, I was disappointed that this was all that Jonas (and Dmitri) was down for, and I am much happier that he's now also doing Cavaradossi in the summer.
The replacement was Ermonela Jaho. Who, you might ask. An Albanian soprano who debuted this role in Tirana aged 17. I overheard someone say that she has sing it in a lot of places and they're hardly second rate. They meant that positively, as in, they are decent regional houses, while I thought 'hardly second rate, more like third rate'. I was puzzled - it's such a frequently performed role there must be no end of second rate sopranos perfectly capable of standing in, so why get a soprano that nobody has even heard of. Although I did pause to consider the fact that she was flown in from New York. Why was she in New York? Is she perhaps engaged as a cover? (The New York Metropolitan Opera engages covers for all its roles because, owing to geographical reasons, it cannot rely on flying in good quality singers from elsewhere, unlike Western and Central European houses where there are always decent singers an hour or two away, in rehearsal or working at home).
There was a bit of drama even before curtain up when a wedding party settled into one of the Grand Tier boxes. Bride in meringue and veil, sitting next to a bloke who was presumably the groom, and behind them an older couple, presumably some permutation of parents of the couple. Some people applauded. I didn't. I don't know, it seemed a bit ostentatious, wearing the full gown and all. Someone near me used her binoculars and announced bride to be about forty, like she disapproved...I do wonder about women of about forty playing 'the innocent virgin' - it all seems a bit demeaning and insincere. And it was a bit 'look at me look at me'. But they weren't interfering with anyone else's enjoyment, so what's the harm?

Anyway, the opera. Very familiar, of course. One of the most popular Verdi operas but not actually in my top five of Verdi. I don't dislike it in anyway whatsoever, but, despite the pretty tunes and nice dresses I prefer Otello, Ballo, Don Carlos, Rigoletto, Trovatore, Forza and so on. I probably prefer it to Stiffelio and Simon Boccanegra (but I think they have more profound and moving stories) and definitely to Aida and Falstaff.
An old production, made famous by the Solti/Gheorghiu DVD. A production that works without ever having a 'wow' factor. I have read a few comments this week about how the set for Violetta's opening party is claustrophobic. I thought about that and decided that that is apt. Violetta is a courtesan and thus well off financially, but she's definitely not aristocratic, so although her house may have a veneer of grandness, she wouldn't have expansive palatial rooms like an aristo, and so her party would be cramped. Throughout, the scenery is pretty and pleasant. The personenregie and blocking is basic, again functional, and dependent on the individual interpretation of the performers. So, a natural acting singer like Jonas Kaufmann comes over better than many second rate tenors would. The role of Germont pere suits Dmitri Hvorostovsky's stage demeanour - dignified, haughty and inscrutable (strange that he comes over this way when in role, whereas in concert he comes over as relaxed and fun-loving!). I found the 'bullfight scene' less dreadful than on the DVD where it encapsulates naffness. I thought the Flamenco dancers to be a bit pathetic, especially when contrasted with last season's Carmen, shown on TV over Christmas.
There are numerous lesser roles, all of them sung/performed capably without being stand-out. The orchestra were mainly competent. I didn't notice anything going horribly wrong but nor did I have any moments where I marvelled. I enjoyed the pretty and familiar tunes.
I used my binoculars a lot, to enjoy the facial and physical beauty of our two leading men. I also noticed that Herr Hunkentenor is obviously thinning on top and at the back, and our Siberian Tiger has a noticeably receding hairline. Such is life! Both of them were a beauty to watch. And delightful to hear.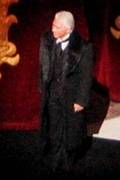 People say Dima isn't a "Verdi baritone". I don't really know what a Verdi baritone is but what did strike me was that he sounds a lot more gorgeous in the lower part of his range than towards the top where there was a strange tone. Not a strain. His Di Provenza il mar was wonderful and moving and well-deserved of sustained applause.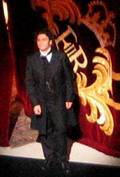 I was not sure what to make of Jonas. I went in with such high expectations even though I knew that this was not the work in which they would be fulfilled. I have read two separate people write that he can't be heard, which is not something that I would say. He doesn't belt out every phrase at full fortissimo, but tell me one decent tenor who does. I never felt he was drowned by the orchestra, and when he was singing quietly - yet audibly - it was musical and dramatic reasons. I really like the tone and timbre of his voice, and his sense of phrasing and so on. It didn't especially strike me as being beautiful, I think his beauty comes out in more meaty parts - Don José from last season, Florestan which I have on record, and I suspect in the future Cavaradossi and Don Carlo, as well as Wagner roles present and future. I think if I had gone in knowing nothing of him, I would have thought him marvellous, but this wasn't the performance to give him pole-position in the "MMOFM Best Tenor Under Sixtysomething Stakes", so the gauntlet is passed to Marcelo Alvarez in April. It's not like I could fault his performance but it just lacked that final coup de grace. There was a moment in Act III when Jonas and Dmitri were singing together and I thought 'I would love to hear them then in the Don Carlo/Posa duet. Dmitri is Posa in Paris this summer, and it would be rather wonderful if he could be in the ROH revival next year.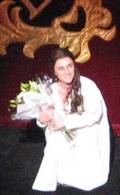 And finally, what of Ermonela Jaho. I went into the performance thinking 'remember, she's a last minute fill-in, be grateful if she gets through without mishap". I came out believing in fairy tales. That is not to say she was superb, nor that people who had been knocked over by Anna Netrebko on Monday were fully satisfied. I tend to judge performances on the overall impact and on this basis I would say she came out well. Certainly after the first act. I didn't hear her sing anything wrong, but an acquaintance did point out something ropey in the Sempre Libera, a phrase going awry. In Act II, there was a point in the duet with Jonas that didn't sound right. I couldn't put my finger on it, other than a vague sense of discordance. I couldn't work out whether it was the singers being out of step with each other, or with the orchestra or what (but I have read criticisms from Monday's opener of the orchestra losing its way under Maurizio Benini, so that might have been the cause. In any case I was not in a critical frame of mind, I think I had already decided to relax, sit back and indulge in a bit of pampering.
My opinions of her changed as the opera progressed. In Act I, I was very much of the view that this was a fill-in person. She seemed to know the production well, I can't lay my hand on the list of places to which this production has been lent, to compare it with the list of places she has done it. There were no clues that she was un(der)-rehearsed. Act II was impressive, in that I forgot that this was stand-in woman, and Act III was tremendous, a really convincing portrayal and some gorgeous vocalism. At the top, she is slightly reminiscent of Angela Gheorghiu (which is not to crown her the second Gheorghiu, of course), although her middle range can sound a bit muddy at times. She moves well around stage and seemed good at portrayed the internalised anguish of Violetta, although lacking the ability of Netrebko and Gheorghiu to reach beyond the footlights and ooze stage charisma.
At the end she took a solo curtain call to loud, raucous and enthusiastic applause. Naturally, some of that was the customary 'thank you for saving the show' but I am sure that if she had been scheduled from the start, she would have got enthusiastic applause and 'brava's on the strength of the performance. I doubt that she has anything scheduled at Covent Garden, but I would not be surprised to see her name crop up in future seasons perhaps for a routine revival or a B cast. I think she has certainly earned the right.
I went to the Stage Door afterwards, but there was a 'Sponsor's Reception' taking place and word came down (eventually) that it wasn't worth waiting.