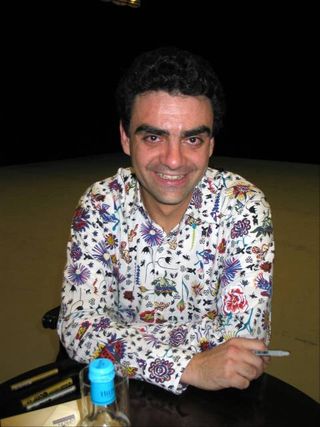 A special evening tonight, spent in the company of the wonderful Rolando Villazón, soon to be appearing in Contes D'Hoffmann at the Royal Opera House.
By the time I arrived there was a long queue of people waiting, I suppose to get the Prime seats, and by the time the queue had filed through the door and it was my turn the place was about two-thirds full. I went and sat in exactly the same seat I had sat in for a similar evening with Jonas Kaufmann
The woman hosting the evening explained that Rolando had been singing in Hungary until the end of last week, then came over here for rehearsals, flew to Berlin for a concert with Barenboim yesterday, returned to London for rehearsals and 'is still full of beans'.
The format of the evening is straightforward. The star guest is interviewed by Christopher Cook off t'radio, and the interview is interspersed with excerpts from CDs.
Although Rolando's image is a clown, an overgrown schoolboy, and a lot of fun, he is also a very serious person, widely read, thoughtful and intellectual. The two aspects make for quite a combination. He is also very garrulous, he talks fast but not as fast as his brain is thinking, he waves his hands around a lot when talking, pullls faces, and also, although his English is excellent, he stumbles occasionally because he's looking for the exact word - eg he said 'interioralised..that's not a word...' and some people in the audience came up with 'internalised'.
This was part of his explanation of how he prepares a role. He was saying it was important not to internalise or personalise the role eg not base Don José's jealousy on memories of being jealous himself, but to read the source material and also to learn from literature, drama, ballet, art, in order to portray the jealousy. On a more practical level, he said that he will study the piano score, with a pianist and a coach, and for French, a French language coach - even French singers have French language coaches. He will then listen to five different versions on CD,once only, so as not to have a set idea of how any particular phrase will go. It's important also not to have too fixed a view of the character  eg you might have a sense of Rodolfo, and then turn up for rehearsal in Germany to be told that Rodolfo is a spider, and if you have a fixed view, you can't see how that spider fits into his world - he says he loves regietheatre. Also, working with someone like Tony Pappano, it's important to be receptive to his ideas.
He also expounded a theory about the changing demands on singers, saying that in the times of Handel and Mozart, technique was everything, talent was the servant of technique. Then things changed and technique became the servant of talent. He was dismissive of people who judge singers by how high that note is, or how loud, or how long, calling them gymnastics, saying he can go swimming and hold his breath under water for two minutes, so what. What is important is how the performer conveys the one key emotion that links the composer to the audience, what meaning they can put into the music.
He was asked about his childhood - from the age of eleven he attended a performing studio where he studied ballet, modern dance, acting, and singing, although more pop/musical-theatre type singing. Normal school finished at two, and stage school was from 4-10 every evening and on Saturday mornings, but in the end he had to give it up because he was neglecting school. He mentioned how he spent two years in a seminary, and sang at some concert, where he was told his vocation was singing, not religion. He then talked about working his way up, early engagements, and being a prize winner at Operalia. He wasn't motivated by the prospect of a prize but hoping to reach the final so he could sing with Plácido Domingo. So it was a dream come true when Plácido asked him if knew the duet from La Boheme, and he replied, O soave fanciulla, and Plácido said O Mimi tu piu non torni, so Rolando said there weren't any baritones around (see YouTubefor how that conversation ended!).
He was so full of praise for Plácido, praising him as a mentor; saying that it is quite incorrect how it's been written that the relationship is teacher-pupil, and that Plácido has been so supportive, giving an example of when he was in New York for auditions, he popped along to the Met for Otello, and Plácido invited him to go to Washington the next day to sit in on a rehearsal. He said Plácido was very apologetic for arriving late, and how much he admired the way he worked in rehearsal, consultative rather than dictatorial, although if Plácido had given orders, people would have obeyed. He says that he pours out his problems to Plácido, who won't exactly tell what to do but will tell him what he's been through. They'll go out for beers Rolando calls him Maestro Domingo, and Plácido says 'call me Plácido' but Rolando won't! He says that Plácido is the greatest singer ever (absolute agreement here!) especially for the way he completely revolutionised acting-singing or singing-acting.
Rolando was funny when he was talking about Plácido, and Tony Pappano and Marcelo Álvarez. It wasn't that he was mimicing them as such, but when he reported what they had said I could picture/hear them there. 
He was generally very funny, for example saying how when rehearsing Lensky in Berlin he just lost it completely. He doesn't know Russian, knows the part just phonetically, and he just got so lost that he made it up - and he demonstrated how he just made noises that might sound a bit like Russian, and afterwards people were complementing him on how good - or how improved - his Russian was. And he was describing how he got very nervous - firstly before his first Hoffmanns at Covent Garden, and then when he was making his first recording (although, for clarity, the recording happened before the Hoffmanns). He described it as 'I was shitting my pants', and it became obvious that some members of the audience were not...how shall I say this...in total approval, so he apologised, explaining that it isn't offensive in Mexico but he won't say it again, although then every 'sh' word like 'should' became a potential Freudian Slip.
After the interview he stayed for a 'signing'. Six different CDs were on sale, but I realised I already own them all. And anyway, I'm not big on autographs. We had a pleasant if inconsequential exchange of hello how are you, nice to see you and so on. And I took a photo. Initially he put his hand over his face, so I pointed out that I already have plenty enough silly photos of him (oh, did I go into bossy mode? I might have done...)
Oh,and hello to David who was as unsurprised to see me as I was to see him and also to Michael from Londonstuff, who've I've not met before, although turns out to be a familiar face!