I am slowly editing my holiday photos in my preferred unrandom-unsequential way.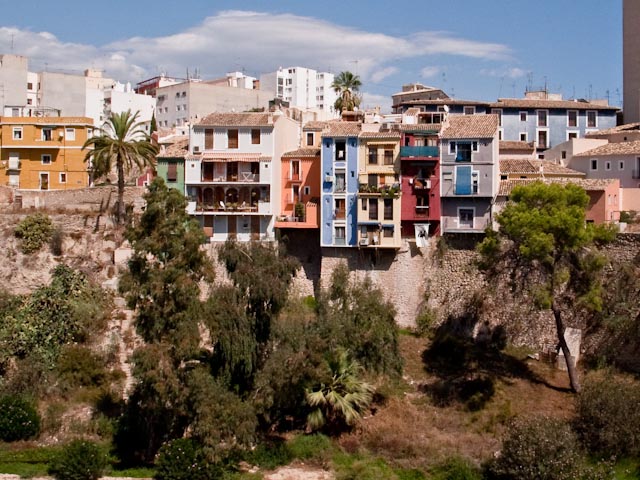 Difficult to explain. These houses are built over-looking what appears to be a dried-up river bed. I assume it's long term dried up from my cursory examination of the ground. The houses seem to cling precariously to a crumbling cliff, with many cracks and much evidence of subsidence. Villajoyosa.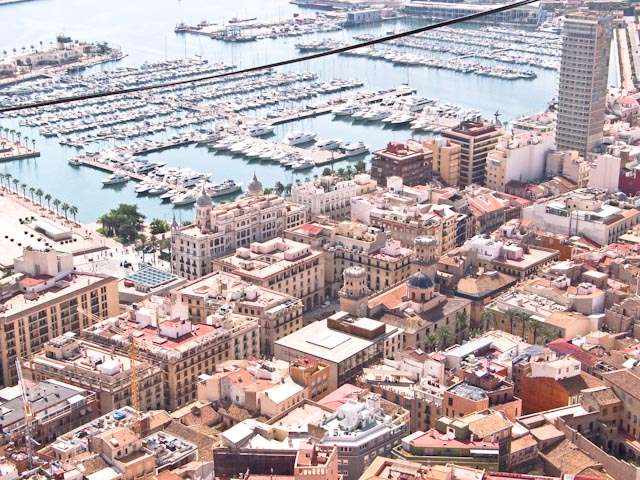 We didn't much like Alicante, although we enjoyed the castle and the panoramic views it afforded. Editing this photo inspired me to ask the question, on Twitter and Facebook:
Do any of you own yachts. Or dinghys. Or launches. Or any sea-going vessels?
People offered answers of 'lilo' 'blow up boat', 'score to HMS Pinafore' and 'that reminds me, I must check my lottery'. Oh, god, they're wits these people. One person did offer a father who has a yacht that he's pouring money into (tr. 'my inheritance').
The thing is, often when I go on holiday, away for a weekend, or just out for a day trip, I see lots and lots of boats. Many are working boats: for fishing, ferrying goods or people, dredging etc. Many more are commercial pleasure boats, for excursions, or for hire by the week.
But that doesn't go anyway to explain why there are so many sea-going boats that are apparently privately owned - and, by definition, not actually at sea. I recognise that there is a whole section of society outside my direct experience who are very seriously rich. But they are only a tiny number, and surely can't possibly own all the leisure boats in the world. I suppose the celebs who generally fall out of nightclubs, or the greedy city sharks who are ever-present at their desks could own some of them; their desire for ostentatious status symbols would explain why so many are tied up in docks.
But there are just too many boats around for that to be an explanation. I reckon there must be large numbers of people who are keen on sailing and have bought a boat -  a modest sized thing, with a small cabin, capable of being crewed by one or two people.
They don't have to be seriously rich, just comfortable/prosperous. I just don't know (hardly anyone) like this. I think of a friend-of-a-friend, a solicitor with no dependants, a modest flat, no car, no 'lifestyle' expenses. She had a yacht, and most summer weekends she took to sea, gradually sailing round the coast of Britain. I can understand that. But she is the only person of my enormous social 'circle' that I know who actually owns a yacht.
And another thing: I have just noticed that one building in that picture appears to have solar panels. It's only when it's pointed out starkly in that way that you suddenly realise that none of the others do. I have read that Spain generates a far greater proportion of power from the wind than Britain does, even though Britain is better situated to do so. So it's surprising that they aren't using more of what comes more naturally, the sun.