Our last full day out was in Abbotsbury Subtropical Gardens, one of Britain's best collections of open-air exotic plants.
When we visited Abbotsbury Swannery, we bought a combined ticket for these two attractions, and also the Children's Farm. Even without visiting the Farm, the combined ticket is a saving. It then obliges one to make use of it, of course.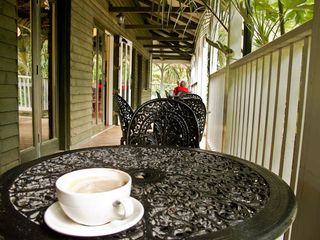 I actually preferred the gardens to the Swannery. And, therefore, this final blogpost of our holiday in Dorset should be a case of going out in a blaze of glory. But, what is there to say, especially so many months afterwards? We started with coffee in the very nice and very evocative Colonial restaurant.
I don't believe it rained all day, but I have a picture of me sitting here, and another one of me walking round, dressed in my kagoule. There's no public interest in publishing such photos, but the fact that I was wearing, not merely carrying it, suggests there may have been short-lived showers
We walked for several hours round the gardens. We could have done it more quickly, we could have been slower. Admission price includes a superficially informative leaflet, which maps out a route to take in mostof the gardens. There's an alternative wheelchair route which attempts to highlight the accessible parts (about 50%) which would perhaps be more suitable for all with mobility difficulties, including pushchairs.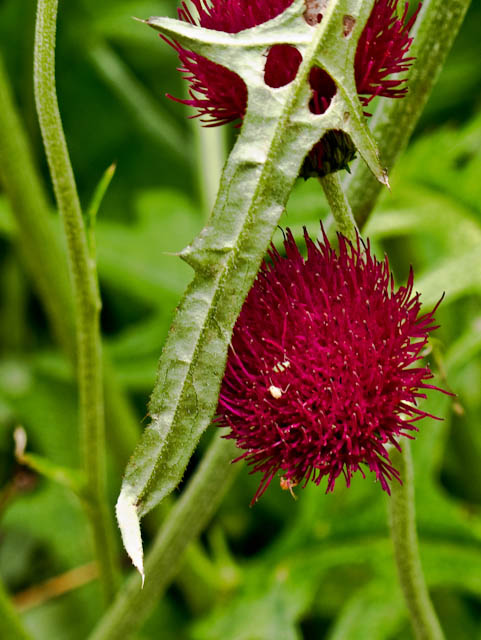 What is there to say about a garden?Ultimately, it's a great collection of plants, which are often a visual delight, but also impact upon other senses, most of all, smell.
Even the visual: a photograph cannot capture the sense of space or the contrasting sense of enclosure by shrubs and trees, nor the full impact of a vista.
I walk around and I see plants, which I judge by 'That's nice' or 'That's unusual'. If I can, I read the labels to learn the names but then I forget them. I doubt I'll ever be a 'gardener', and I certainly never want to be one of those women in a Crimplene frock that descend with (a slightly superior) attitude on a formal National Trust garden with its uniform borders and perfectly manicured hedges.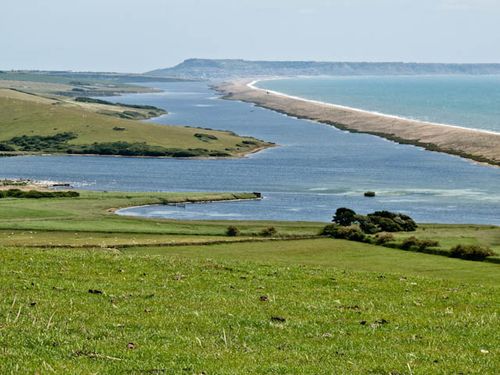 It's possible, though not essential, but highly recommended to take the marked diversion out of the gardens and climb the unrelenting incline to take in an impressive view of the Fleet Lagoon and Beach back towards the Swannery, to sit on a bench and bask in the sun which made a welcome and somewhat unexpected appearance at this time.
 My favourite feature, apart from the sum of all the plants was this amazing bench, carved out of a 200-year-old oak tree felled in a winter storm, by chainsaw artist Matthew Crabb.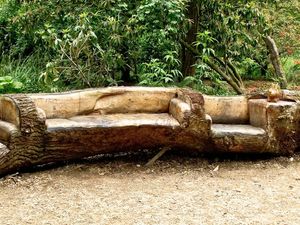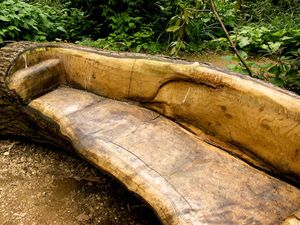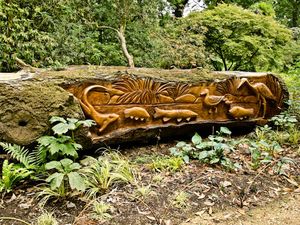 The garden also included a Sculpture Exhibition. I think the Buddha is permanent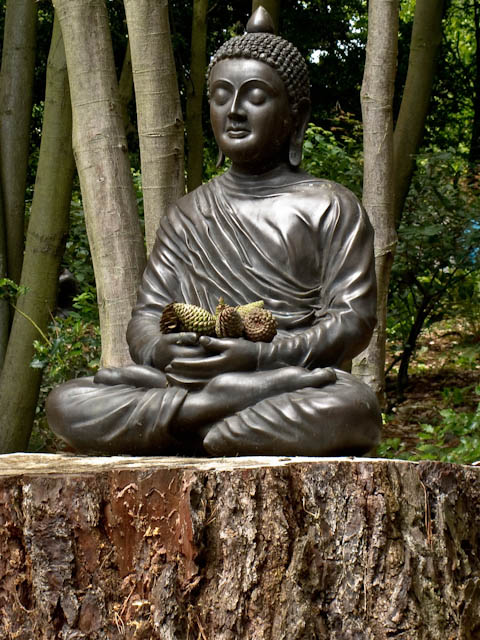 and the other statues are there until sold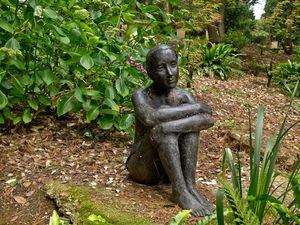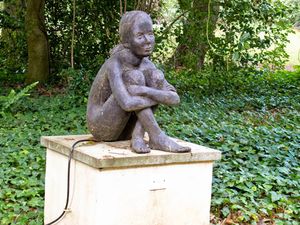 Some statues had already been sold; on the empty plinth, visitors were making an abstract sculpture of 'found' objects - I added a pine cone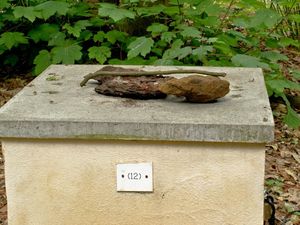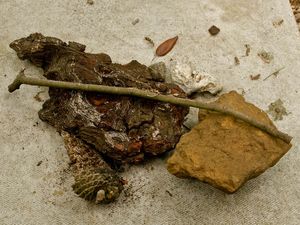 2010 was the year that I really appreciated the sight of a bed of lavender densely planted, and its rich colour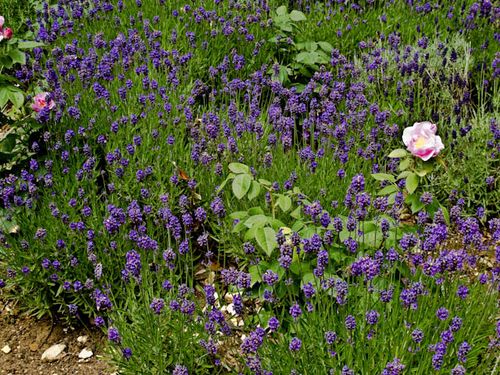 Towards the end of the walk we spotted a pheasant, and then we had tremendous fun throwing goldfish feed, from a handy dispenser installed next to the pond, into the goldfish pond.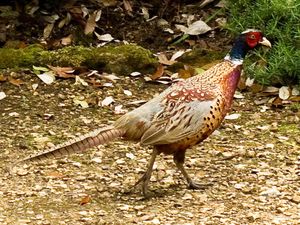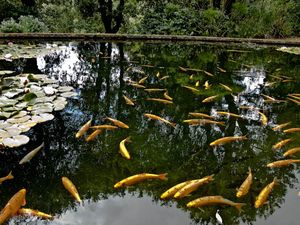 By the end of the afternoon, I was quite tired, but there was still plenty to see
Taken overall, the day's walk was reasonably strenuous for me although not challenging. Most people we met were pleasant and intent on keeping themselves to themselves, except for one party with a Primary School Age child, presumably either home-schooled or truanting, who needed to demonstrate loudly to everyone else how learning-outcome focused was their trip round the garden whilst also ensuring the child  experienced learning through the play of throwing and kicking a ball. Even the dogs were on leads and under control, their owners heeding the warnings that they had lost two Golden Pheasants to dogs held on unlocked extendable/retractable leads and beyond their owners' control.
Dinner - or high tea - was panfried crevettes in a chilli sauce with dressed salad & crusty bread at The Anchor at Seatown, below the Golden Cap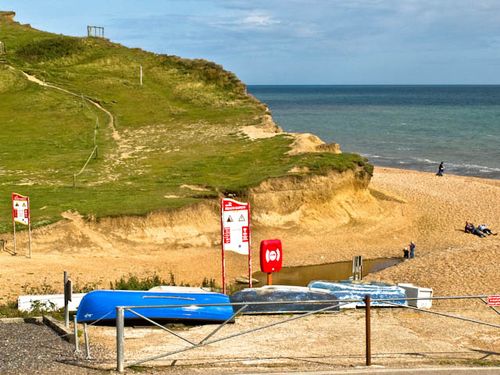 More photos of today and the entire holiday are in the Dorset photo-album