Abbotsbury Swannery is the only managed colony of nesting mute swans in the world, according to Wikipedia.
We visited it on the first Thursday of our Dorset holiday. We followed signs in the road, AA-yellow temporary event signs declaring Baby Swans. Perhaps an overload of cute...! We had previously seen a sign saying 'Drive carefully, doves in road'.
I'm not really sure what to say. We went on a day when the weather was changeable, getting caught in a couple of heavy showers. I'm glad that we went. It was fairly interesting to walk around. Admittedly, we missed feeding time, reported to be spectacular, but I'm not really sure what else to say. Ultimately, we saw lots of swans. And some other birds. I guess if I had written this at the time, I could have evoked the sensuality of walking in the open in summer rain, suitably clad and shod. I could have related tales of the odd, yet inconsequential behaviour of other people. But I was too busy enjoying myself to blog! I did tweet at the time 'Ace'!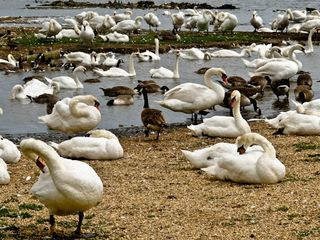 The previous day had been rainy on-and-off all day. We wandered round Bridport, which was having its usual market day, plus extra stalls to mark the Food Festival. We also sampled a couple of the local pubs. I was in need of a rest day, so we basically took it easy.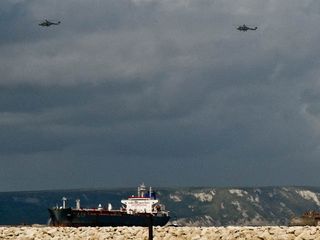 After the Swannery, we went to explore the beach at Abbotsbury, but it turned out to be a surprisingly unpleasant experience. It shelves steeply and, of course, is made up of small pebbles characteristic of Chesil Beach. Clearly, other people, mainly sea anglers, were very happy, but the physical challenge of walking made Miserable Gert Miserable.
So, onwards to Weymouth, but we couldn't park near the sea so drove out of town again. Round near the harbour looked nice, but we weren't pausing until we got to Portland, and spent a pleasant hour or so strolling round the site where the Olympics 2012 sailing will take pleace. Surprisingly deserted given that there's a public footpath/cycle-path running through, and a restaurant. I wasn't entirely sure we weren't trespassing!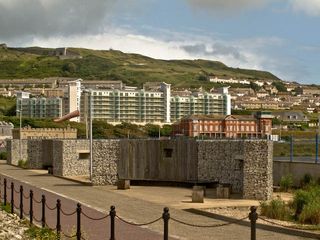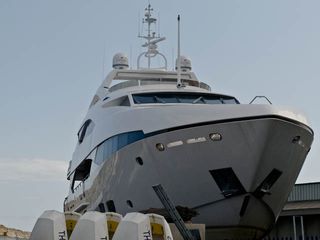 We drove back through Askerswell, Loders & Uploders, largely because I liked their names. I also liked the villages a lot, got an strange yearning to be the sort of person who lives in a village barely big enough to warrant the name, yet just a short drive from a town. But Jimmy, a city boy through-and-through did not like the narrow twisty lanes and the oncoming drivers, confident in their knowledge of the roads, who showed insufficient consideration for other roadusers unfamiliar with the terrain. Also, all the pubs were shut
We finished up for dinner in the Three Horseshoes in Burton Bradstock. The guidebook recommended the lobster thermidor, so I followed its advice and wasn't disappointed. Jimmy was pleased with his wild rabbit. The guidebook also recommended booking, we hadn't, and we were lucky they could squeeze us in. We didn't actually return there to eat in the end, but we had every intention of doing so. It's a nice pub, they served the ale well, even on a Thursday, which can be bad in some places because of turnover.
More Dorset photos, in reverse chronological order, very much work in progress!