I saw this last weekend at Clapham Picturehouse. I booked it primarily because Plácido Domingo was it, although I knew it was only a small role. I was intrigued by the concept - mashing up music from various Baroque composers, changing the words and weaving them into a story that combined elements of The Tempest and Midsummer Night's Dream. I knew it could be a dramatic disaster, but the cast featured a good few Baroque-expert singers, and I had high hopes in the production team.
I know there were a few people who didn't like it. Indeed, there were people who didn't like it right from when it was announced. And people who didn't go and see it at the cinema or live but declared it to be a disaster. People who heard it on the radio, who don't like opera seria, and criticised it for being opera seria and declaring that maybe one would have to see it to appreciate it. Unlike those operas, presumably, that were written only to be played to an audio-only audience.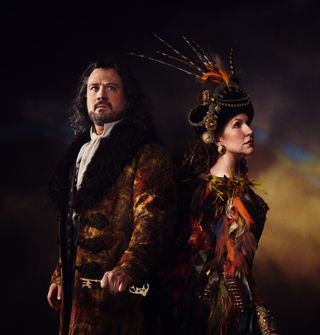 I enjoyed it. The least enjoyable aspect for me was the story, which was silly. Shakespeare, huh, what was he thinking of, writing such a silly set of stories, huh! But, in fairness, the dramaturgy was played out as silly. Not by clowning around, or giving heavy hints to the audience 'yeah, we know this is daft but we're all sophisticated adults let's pretend we're all in the joke together'. But by something more subtle - playing it straight to get the laughs.
I was intrigued by the production, but feel that the cinema didn't do it justice. I hope that the production will turn up at English National Opera soon. I've no evidence it will, but the same team worked on Satyagraha production which started at ENO before going to New York, and the two companies often share productions. And ENO is a good baroque house: in my view they should focus mostly on Baroque and post WWII (though I don't know what that would mean financially). The production used a lot of projections, which may have been magical in the house, but obviously lost something on the flat cinema screen. More importantly, the team interpreted the story and the opera seria nature intelligently. There was a ballet, the details of which I now forget, but I enjoyed very much at the time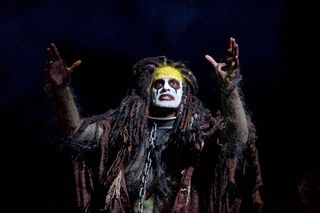 I was initially put off by the inauthentic sound of the orchestra, playing on modern-ish instruments, but I soon got used to it. Even though I continued to miss the authentic baroque sound, I thought the orchestra played well, considering. William Christie was the conductor and he tends to make jolly music sound jolly, and laments sound poignant.
I might as well say I just don't like David Daniels's voice. I doubt anything could change my feelings about it - all the same tone, colour and whinyness. But I know a lot of people rate him, and I couldn't really fault his delivery technically.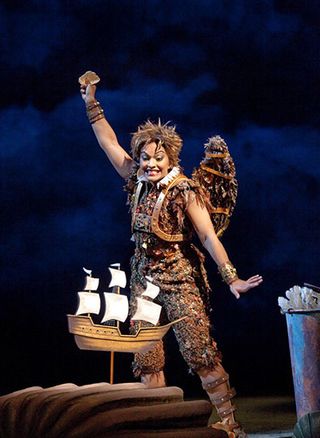 The other main stars were Joyce Di Donato, Danielle de Niese and Luca Pisaroni. Joyce was fabulous, such a rich voice in the lower range and a secure top. Danielle wasn't as annoying as I sometimes find her, and she performed well, sounding sweet and bright, and thankfully, she didn't break into an ill-advised dance routine. Jimmy especially liked her performance.
The revelation for me was Luca Pisaroni. I'm not sure I've heard him before, and, as Caliban, he worse so much make-up I don't think I'd recognise him now even at close quarters. Not an especially memorable voice - but that's not a bad thing - he of all the characters moved me with his portrayal of pathos. 
There was considerable strength in depth, with a wide cast of supporting singers playing minor incidental characters. Particularly notable were Elizabeth DeShong as Hermia and Anthony Roth Costanzo as Ferdinand. He had a lovely aria, whic he sung beautifully; just a shame it was interrupted for several long seconds by a loss of satellite signal.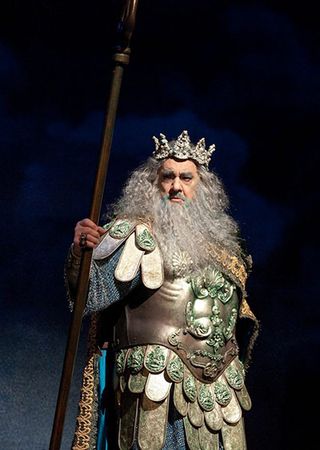 And then there was Neptune, played by Plácido. He had a small part in the second act, but much of his role was in the climax of Act 1. The orchestra played the familiar opening to Zadok the Priest, just building up the excitement, and the chorus sang 'Neptune the Great'. It was all terribly tongue-in-cheek; he was a grumpy irritable king of the depth, and forgetful, due to his immense age, and Danielle de Niese was on her knees in tribute to him being the greatest. Tremendous fun!
In the interval interview he did comment that he wished his part had more to sing, and when they do it again, he'll want a bigger part. 
This performance was on his 71st birthday.
 Photos: Ken Howard/Metropolitan Opera - fairly used in review and critique of Met Opera performance