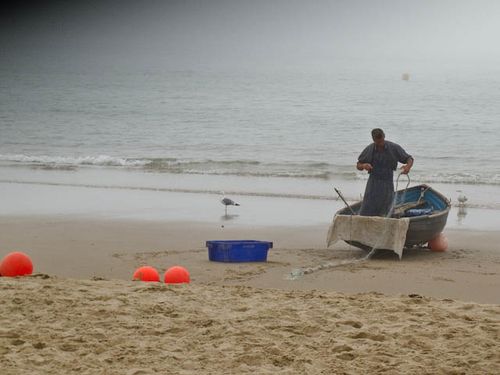 Our first morning in Bournemouth dawned...cold and misty. We dithered and hesitated, but realised that the sun would soon burn away the mist. It was warm enough down on the beach, and, although not busy, there were several hardy souls not letting a bit of chill deter them.
I soon discovered that the sea mist added rather than detracted from my photos. We strolled along the beach for a while, initially with the intent of finding deckchairs to hire and to sit down and relax. I watched a fisherman tidy and secure his boat after an early morning - or overnight - trip.
Another man had been out kayaking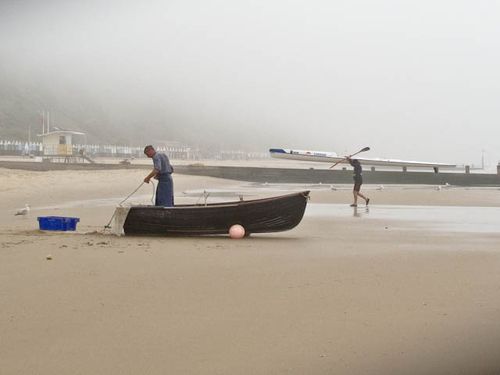 The mist lent a mysterious sheen to the beach
The beach huts stood out against the misty cliffs.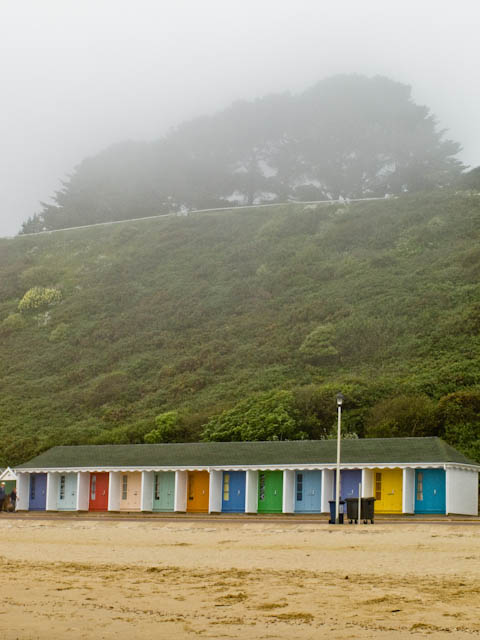 The 'train' that runs along the promenade for the less mobile passed by.
We walked a long way along the beach, looking for deckchairs. Every pile we came to was locked up, and with no sign of any deckchair attendant. Finally, in desperation, I approached the RNLI lifeguard and she showed me to the secret office inhabited by the deckchair attendant. Thank you RNLI, I know it's not your job, but I was very tired and achey by now. 
The beach office was hidden in the undercliff with a very discreet sign. The chap explained that most of the deckchair stacks would not be open until 'summer'. He'd forgotten to unlock the ones that were open. By now it was 11 am; yesterday he had forbidden us to sit in deckchairs after 4pm. I was not exactly chuffed. His job is, basically, to hire out deckchairs (and beach huts). I would never get away with at work if I 'forgot' to switch on my PC.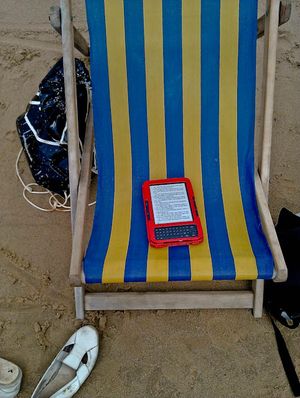 But, still, we had deckchairs, and I was so excited I took a photo with my phone to tweet to my followers. We spent two very pleasant hours lying in the hesitant sun, with light reading to pass the time, and gloriously perfectly relaxed.
But the sun went behind the clouds, so we decided that we would go for coffee. We had spotted a nice looking Italian place, Vesuvio. We were tempted to get more than a coffee. I was very pleased with my smoked salmon and cream cheese bagel, the best I've had away from the shores of the Dead Sea.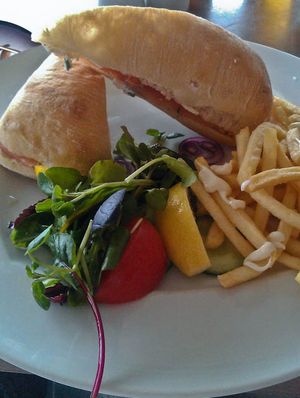 We returned to our deckchairs for half an hour or so, but it was getting cold. I had the stupid idea of climbing up the cliff through the Tropical Gardens, which were pleasant
And we found ourselves in the small but pleasant Argyll Gardens, where we partook of pot-of-tea/ice-cream as appropriate and sat for a while watching the bowls.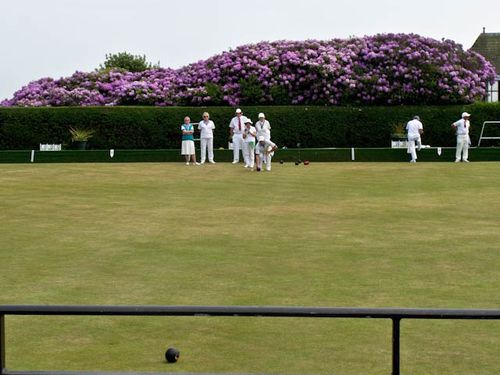 Good to see such a level of activity, including some apparently very elderly people, some of whom got over the difficult 'bending' issue with a bowl and jack pick-up. Some were fiercely competitive and I dreaded to think what levels of politics were at play.
We decided to walk back to the hotel, which is where I realised I had made a schoolgirl error. I had visualised the clifftop as being continuous, but it is cleft by chines - steep-sided river valley where the river flows to the sea through, typically, soft eroding coastal cliffs of sandstone or clays. So, tired, hot, sweaty and footsore, I was faced with a difficult walk inland in order to find a path across to the hotel. Totally exhausted, We ended up descending back to the beach, and, defeated, I was delighted to take advantage of the West Cliff Lift, or funicular railway, as Wikipedia would have it. And back to the hotel for a very necessary pot of tea for a long soak in the jacuzzi and a short swim in the pool.
The next day we thought that we would have a leisurely breakfast and then chill on the beach for an hour or two, and finish off in the spa before catching our train back. The plan went entirely to plan, except for one aspect.
We were on an almost entirely deserted beach, save for three metal detecting men wading knee deep in the water, and the occasional dog walker. Absolutely nobody else sitting on the beach, and very few on the undercliff prom. And then, suddenly, as Jimmy was drifting off to sleep and I was absorbed in my readable if forgettable book, our peace was shattered. Mile upon mile of deserted beach, and some utter wanker of a thug chose to bring his 'bootcamp' to stand right next to us. Bootcamp Beach said the thug's t-shirt, bearing the same logo as on this website. 'Professional and friendly ex-military PT team'.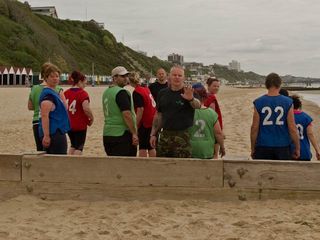 Startled by this oik yelling and screaming barely feet from where we were sitting. I stood up, and this oik leered at me, so I started taking photos. He went utterly ballistic, yelling & screaming at me, telling me I wasn't allowed to take photos in a public place. I calmly explained that he was disturbing us, that there was a whole beach he could use. He repeatedly told me it was illegal to take photos in a public place, I repeatedly asked him by what law, he sneered, asking 'Are you a Member of Parliament?' - because im his small head only MPs are privy to public law, apparently! His body language was aggressive and I felt certain it would not take much provocation to provoke him into violence. Clearly expects women to do exactly as he says. Most of the party were acutely embarrassed and wanting to get away, and indeed they went away, only to return, to more shouting, and one ridiculous idiot of a woman waggling her bum and calling out "We're back, we're back." I felt a great deal of pity for her, so lacking in self-esteem that she pays to be bossed around by someone who attempted to bully me. Exactly the sort of person who gives the army a bad name (if he was in the army at all). I know if I ever decide to do a 'Bootcamp', I will ask very specific questions about the background checks done on 'instructors'.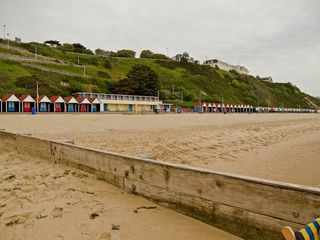 I know there have been many problems with these 'boot camps' taking over certain London parks; and I noticed that the beach at Whitstable specifically banned 'commercial activity'. Bournemouth has a lot to offer, possibly more than any other seaside resort, with the possible exception of Blackpool which doesn't have the high cliffs of Bournemouth. But I thought there was a lazy complacency, from the bars, pubs and cafés unwilling or uninterested in serving, to the poor day-to-day management of the beach by the council. It's got a good infrastructure, and I was very impressed by the Best Western Connaught hotel.