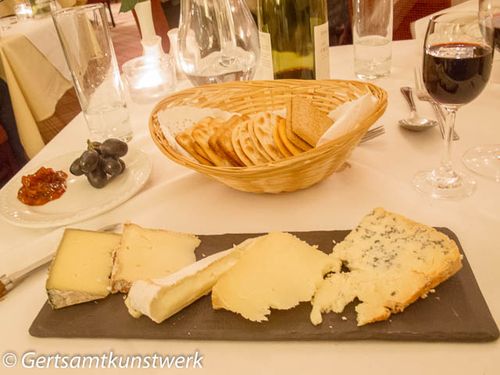 We went to the Connaught a couple of years ago. The restaurant and leisure facilities were a high standard, and the room good enough, and it's situated close to the beach. We got a deal for out of-season/non-Saturday night, and splashed out on a sort of birthday treat.
There's a lot of good things about this hotel, but I'll get the criticisms out of the way first. Firstly, the rooms - they really are nothing special. No specific criticisms, and, indeed, as spotlessly clean as one would hope. But, to be frank, having stayed in a couple of Premier Inns recently, if I was choosing on the basis of room alone, I'd opt for a Premier Inn rather than this 4 star hotel. Premier Inn has better fittings and better bed coverings, the rooms are bigger, and, perhaps most importantly, have temperature/air-conditioning control in each room - in the Connaught, the room was just too warm for a truly comfortbale night's sleep.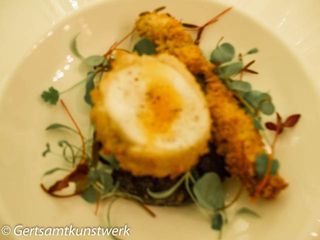 The other criticism was having the one Michael Buble album on loop throughout our entire stay, through both breakfasts and dinners, and at all other times as we came and went in the communal areas. The time we stayed previously, it was a light classics album, more to my liking, but even so, if I never hear Maria Callas sing Casta Diva again, it will be too soon.
The staff are outstandingly good: warm and friendly without being intrusive, and with sufficient attention to detail without fawning. We had two good/very good meals at the restaurant, although to be honest there wasn't one dish - with the possible exception of the cheese board - that really had a wow factor.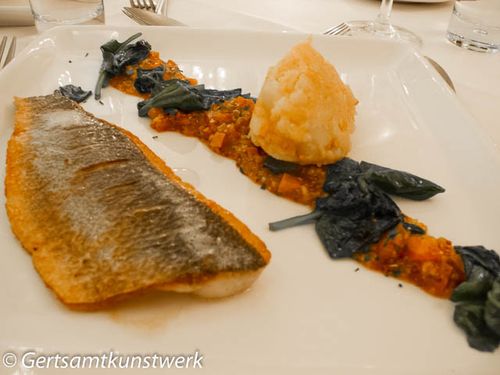 Stupidly, I didn't make a note of what I had to eat and three months later, it's hard to remember precisely. I started with a non-meat Scotch egg, which was tasty, and I followed with a fillet of white fish, served with a variety of vegetables done in different ways. This was faultless and tasted perfect, although I keep looking at this photo and thinking - they've tried to do something with the presentation that didn't quite come off. No matter, it was appetising to the eye and cooked to perfection.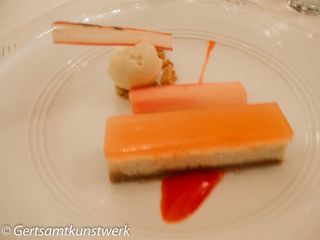 My birthday pudding was a rhubarb cheesecake. I must have been quite squiffy by this point because I didn't notice 'rhubarb' on the menu, just 'cheesecake'.
I hated rhubarb as a child, unfortunate, as it grew in the parental garden. It came back into fashion only just a few years ago and I decided to ignore my childhood hatred and try it again, with little luck. So, in a way, I was fortunate to make the mistake of ordering this rhubarb cheesecake. As you can see, it's presented elegantly, and all the non-rhubarb bits were adorable, but even though I ate the rhubarb, and it was possibly the nicest rhubarb I have ever eaten, it still wasn't for me. So, in future, I can be confident I don't like rhubarb, having been presented with a clearly delicious rhubabrb dish!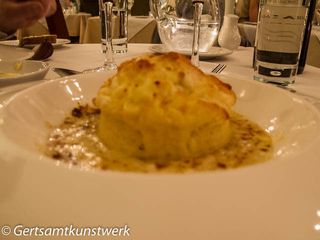 The following evening I started with the double baked cheese souffle, a wise choice, recommended by Jimmy who had had it the previous night. There's a risk that such a dish could be insipid, but this was packed with flavour and was just the right consistency. I'm afraid the photo doesn't do it justice, indeed I'm disappointed with the entire set. I'd like to say that the really rather good wine slipped down too easily - it did - but that's no excuse at Starter time! I think I over-estimated the ambient light.
My main course was pan fried salmon, with parmentier potatoes, shrimp and capers in brown butter, cauliflower florets and wilted shrimps. I had been tempted by the wild mushroom risotto. I do like risotto and I love wild mushrooms, so, obviously, it's a great dish. But it seems that currently, it's becoming a predictable choice for 'veggie option', so I thought I'd go for the salmon. A really good dish, with some classic traditional ingredients combined in an intelligent modern way. And, let's face it, when it comes to fish fillets, you really can't beat a good old pan-frying: ignore the health freaks - grilling's all very well, but nothing stimulates the succulent juices like pan frying.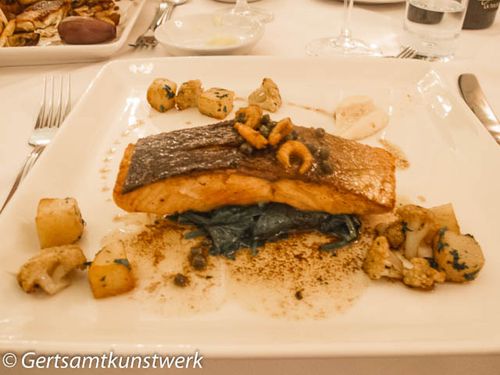 Not too many years ago, I proclaimed that 'cheese boards' were dated and well out of fashion, and no restaurants actually serve them. What an ass I can be. Of course they're not, and of course they do! Nobody does cheese like the English, and 'the West country' probably rivals Lancashire/Cheshire/Shropshire for its quality of cheese.
The menu specifies 'up to 4 cheeses' but the lovely waiter gave me five of my own specification, from Dorset, Somerset and Cornwall. Yes, it probably wasn't wise after a cheese souffle starter, but, heck, that's what Lansoprazole is for. And port, obviously!
A couple more indifferent photos of good food.
If we return to Bournemouth - perhaps if we get a heatwave - we might stay in the Travelodge a few yards away, and eat in Blake's again.