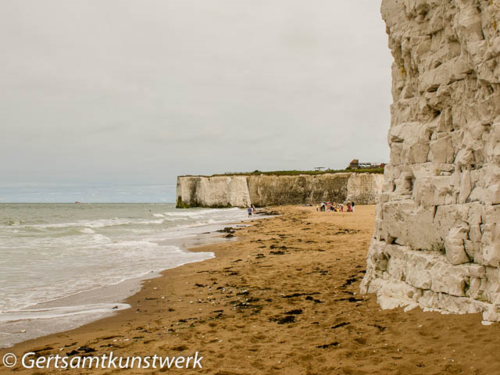 The famous Heatwave of 2014. A grey, rainy, cool Spring looked like there was no end. I got sick of people moaning "We've had no summer". I recounted the years when similar conditions had prevailed right up to the middle weekend - or even the quarter-finals - of Wimbledon and turned into two months of glorious summer. But no one paid me any attention!
The Heatwave broke out and we went to Battersea Park. The next two weekends involved day trips to Hove. They probably merit a blogpost, but on the first occasion I forgot to take my camera; on the second I forgot to take photos.
On the third weekend we booked an overnight stay near Broadstairs, on the recommendation of a colleague. Thanet is close enough to London, but, by train, a bit too far to do in a day and back. 
With the Heatwave holding and showing no sign of relenting, booking a seaside hotel wasn't easy. Most demanded a minimum of two nights stay, others were fully booked on the Saturday night, probably because of weddings. We settled on what was called the Fayreness Hotel, but has subsequently changed hands and is now called the Botany Bay hotel. At the time, I concluded it served our purpose well enough - decent breakfast and clean room, and extremely handy for the beach. And with the change of ownership, any further comment is irrelevant.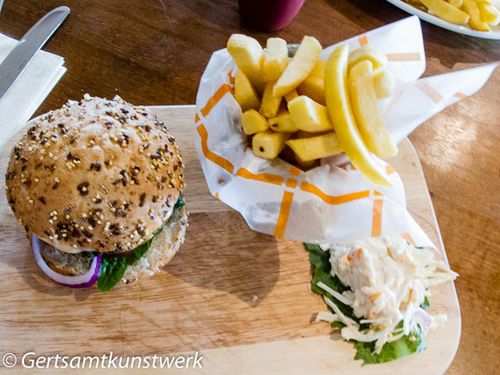 We caught the High Speed out of St Pancras, and on arrival in Broadstairs we walked own into town. I don't know what it is with seaside towns, but they all seem to have their stations well away from the town centre and the beach. We took a taxi to Kingsgate, although we could have caught a bus. We lunched while waiting for our room. I had a decent enough veggie burger, its presentation elegant if somewhat clichéd.
We spent the afternoon on the beach. For weeks before - and to come - Britain had basked in temperatures above the seasonal average. But not that day and not North East Kent. Officially, temperatures were struggling to get out of the teens.
The main beach was full of a 3-coach school party. From their diverse appearance I guess they had travelled from the London area. Well supervised and well behaved - they tidied their litter up into bin bags they left next to the bins - but there was a lot of them, probably Years 5 and 6. I felt a bit sad. Very few of the children went anywhere near the sea. A good few of them remained dressed in layers. The ones that did go near the sea were called back by the adults. (Damned if they do, damned if they don't. Not my idea of fun being responsible for other people's children in a potentially dangerous place. Dangerous especially because it seemed most of the children had no familiarity with beach and sea. And those that headed to the sea, presumably they were experienced, but could the teachers and helpers take that chance?)
We headed along the beach and past a rock that stuck out. That was fine for a while. But it began to feel very cold. It dawned on us we were now in shade, so we returned to the main beach and basked in the sun for another hour or so. There were plenty - but not too many - people on the beach, but no one was venturing in the sea beyond a hesitant paddle.
In the evening we ate in Broadstairs, and returned to our hotel for drinks. There wasn't much atmosphere in the hotel bar. We had tried taking a walk along the clifftops in front of the hotel, but bizarrely, we were swarmed by large hoverflies, which were quite scary. Perhaps not scary like wasps, but they kept flying at me, so my impulses - blinking, swatting, ducking - were in overdrive. I've never encountered anything like it.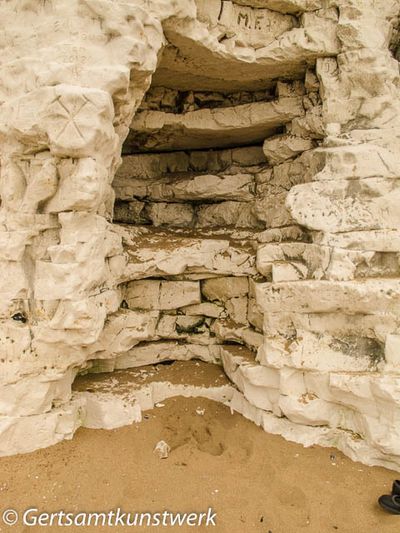 We were on the beach mid morning and again walked along, to get away from what was obviously the main drag. It began to fill up with people, old people and young, couples, friend groups, families. We never felt overcrowded, knowing that if you want beach tranquility on a July Saturday in a heatwave you have to travel. 
One thing I concluded from this visit, and from my two daytrips to Hove is that there's no need to be on the beach early. I should have known this, but too many holidays in Southern Europe and beyond have caused me to forget England. It wasn't really that pleasant in the water at 11am; by 3pm it was gorgeous. So therapeutic. 
This stretch of coast is sandy; even so, I was glad to have brought beach shoes. We sat by some rocks that needed crossing to get to low water and were submerged at higher water. There is no feeling equal to that of floating in the sea on a day that - eventually - became very hot. I do regret that, having set our hearts on (a very fine) afternoon tea, we left the beach too early. We can have afternoon tea any time; sea swimming is a rarity in England - I haven't done it since (I had hoped to in Cornwall, given that the sea is at its warmest in September, but the air temperature rarely rose above 20C).

When we left the beach we had to return via the 'main' part. I gasped at how crowded it was. People's towels were almost touching the towels of their neighbours; there were perhaps a dozen rows of people. We had chosen a better part - but further to walk from the stairs and ramp. But perhaps I shouldn't have been surprised - a week or two earlier, I had seen pictures of 'Standing Room Only' at Brighton beach, such as this one, from Stephen Liddell's blog.
We returned into Broadstairs. The beaches were busy there, too. We wandered around for a while but it was too hot for wandering, so after a drink or two, we caught the High Speed home, avoiding the worst of the rush.
It was an enjoyable time away, but I made a mental note for the future - don't be the person who leaves the beach too early in the day. I'm sure it would have been great for swimming even at 6 or 7pm, and a hellish journey on an overcrowded train would not be the disaster one dreads!