At the end of May, I was signed off sick from work,for exhaustion and pain arising from a flare-up in my fibromyalgia. It is entirely possible that this was brought on by a hideously long period of bad weather. My Other Half decreed that the best cure was a trip to the seaside, especially considering that we actually had a brief spell of hot and sunny weather.
We travelled to Bournemouth on a fast and prompt train, an uneventful journey. We arrived at our hotel, and, unfortunately, our room was not yet ready. The website was very clear - check-in at 3pm, and we arrived long before that. It's a gamble - often you can check in, and, in any case, you can always leave your bags. We should have stopped and thought, and taken the time to grab our swimwear, or at least our shorts and towels. Instead, we went for a walk along the beach.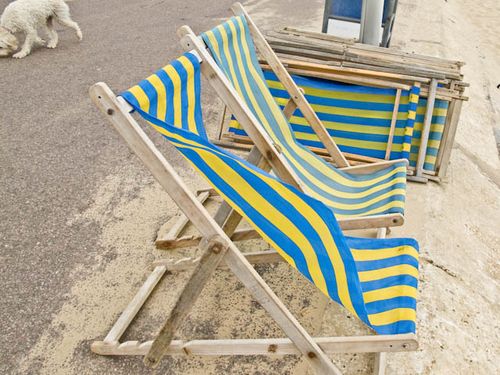 Bournemouth is a popular and well-established seaside resort. We were staying a little to the West of the pier, atop a sheer cliff, with paths and steps down to the beach, a beach consisting of miles and miles of golden sands. We climbed down the steps, exchanging pleasantries with people we met on the way up, laughing at the benches -sensibly - placed at intervals along the climb. Most of the people we met were elderly, many infirm.
We hit the beach at Durley Chine. I suggested to Jimmy a pint in the seafront pub, a Harvester, but he declined. Instead, we bought tea from a nearby beachfront cafe. Bought it, tasted it, and after valiant efforts, chucked it.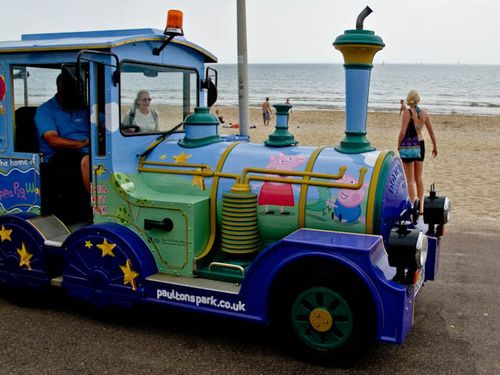 I suppose I have to accept tea served in cardboard. I'm not sure why, really. I can see the risks of breakages on the beach and promenade, where people walk in bare foot, but I can't really see the problem in crockery when sitting at a table on a paved terrace. I can't forgive the horrible taste of the tea. I actually can't understand how it is possible to make tea so badly. Arrogant complacent attitude. I suspect that all the seafront cafes were franchised en bloc. They all sold the same brand of ice cream - a contrast with Lyme Regis just down the coast, where half a dozen different local brands were on sale from different outlets.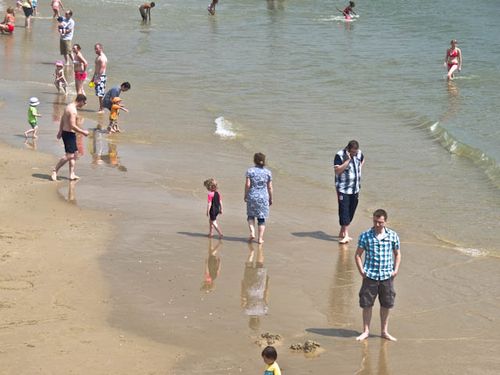 Jimmy stopped at a café further down the Prom, but they seemed uninterested in serving him, or even acknowledging his presence. So frustrating when you're a tourist desperate to buy and eager to boost the economy, however marginally. Finally we found a café by the pier, just next to the Gents loo, where I had a very good coffee, and he had two ice creams which he liked, and we were served by two pleasant young women who 'got' customer service. 
I gazed with envy at the many people who were paddling in the sea, and even more those who were brave enough to be actually swimming. I know it doesn't feel so cold once you're in, but, even so, it takes some teeth gritting. And, in May, however hot the day, it takes time to warm back up again afterwards!
We took a stroll about the Pier, which was oddly deserted. Attractions playing their tinned music, desperate for non-existent customers. But very colourful, and a great vantage point!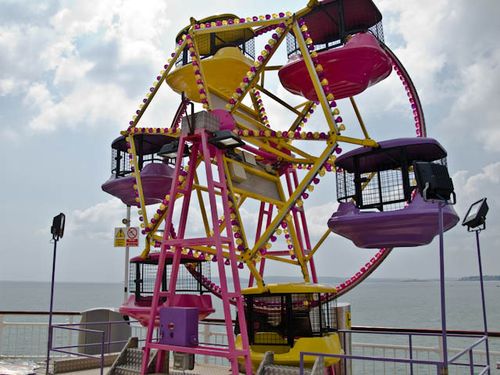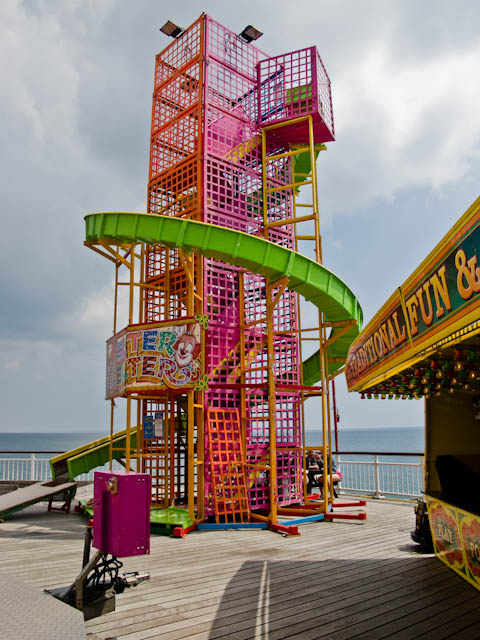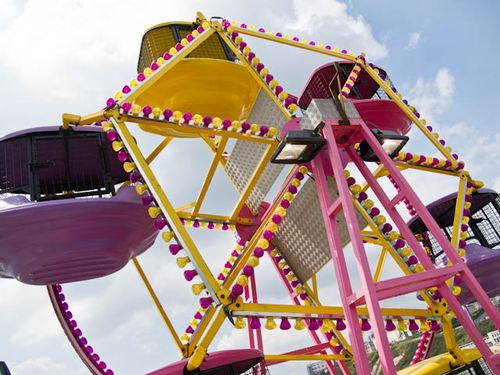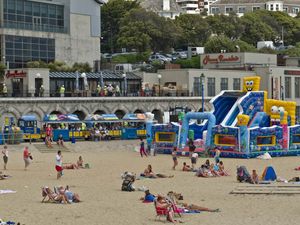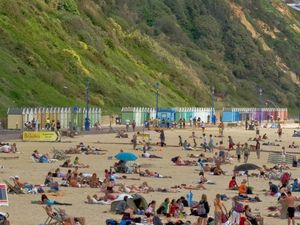 It always fascinates me in places like seaside resorts why so many people congregate at the central point. I'm sure most individuals, when questioned, would give a perfectly sensible reason, such as mobility or time, but the group dynamics intrigue me. The 'attractions' are only a passing interest to me; I'd rather take the time to walk to a quieter spot.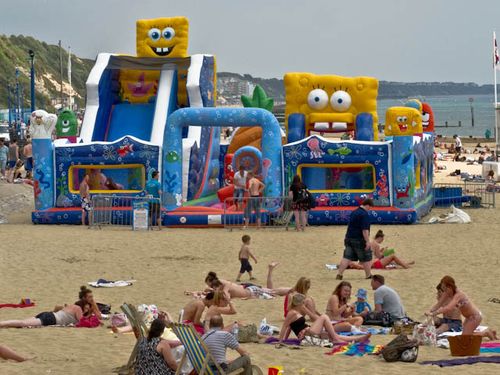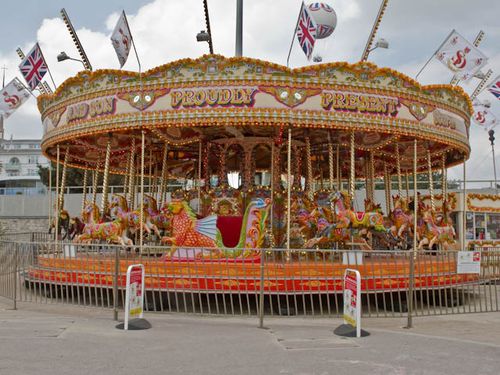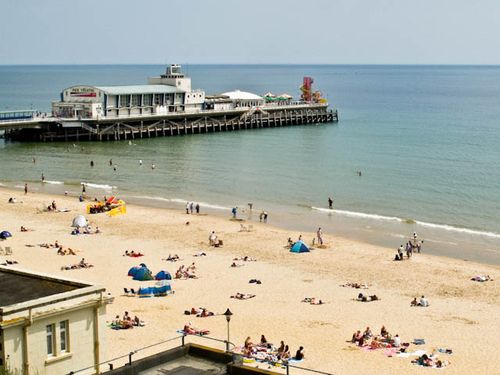 After a look round, we walked back to our hotel. A steep climb up, in the heat of the afternoon sun, this was not really what I planned for my recuperation during sick leave. Nevertheless, we had an impressive view as we walked.
We returned to our hotel and were able to check in and unpack. It was at this point we had a severe miscommunication error. I thought it would be nice to go either to the beach for a swim, or to the swimming pool in the hotel, but Jimmy declared we should go for a drink - there were two pubs nearby. We went into the first, but they had no real ale, they showed a distinct reluctance to acknowledge let alone serve us, and there was a dipstick playing his boombox in the beer garden. The second one we tried looked no better.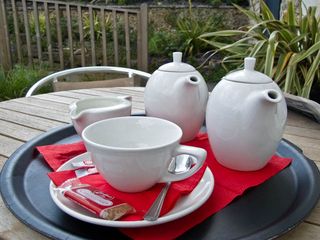 By this time, I was almost in tears. My feet were hurting, the sun was scorching and it seemed that we were surrounded by hills and no decent watering place. Finally, we spotted what seemed to be a café. It was in fact the bar of another hotel, but we could sit outside, and even the sight of this was like nectar from the gods. Quite possibly the best cup of tea I have tasted in my life.
With renewed energy, we descended back to the Undercliff promenade and thought we would sit on the beach for a while. But the boy-child in charge of deckchairs refused to let us hire a couple, because it was four o'clock. Five hours before sunset, and, as I later discovered, two hours before close of service. Frankly, deckchairs unavailable after 6pm is ridiculous. In resorts I have been to abroad, deckchairs are available until sunset, perhaps dependent on tide and weather.
Not especially wanting to sit for long on the sand, we walked to the Harvester, but they seemed uninterested in serving us, or even acknowledging us, so we walked out, and climbed back to our hotel and passed some time in the very nice pool, jacuzzi, sauna and steam room, and a relaxing drink on the sun-drenched terrace by the bar.