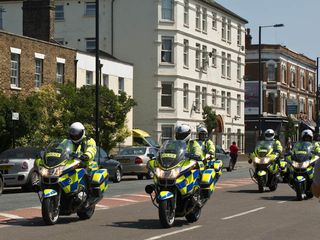 The Olympic Torch has been parading around the United Kingdom - and beyond - for more than two months. I had seen reports from various places: when the relatives went out in their areas, when it was carried by celebrities I like, when I was bored and decided to watch the livestream.
It came very close to home on the Monday, which finished with an event on Tooting Bec Common. I thought of going, then read it was 'ticket only' - and tickets were only available for Wandsworth residents; then I read that the opportunity for Lambeth residents to apply for tickets had closed. I could have gone and watch it progress to the Common, but didn't.
Instead, on the Thursday, I went to watch it on its route in an ever-decreasing circular tour of Inner London (or so it seemed). A show was planned in Brixton, with performers, and celebrity appearances. Sebastian Coe cancelled but did send Edwin Moses in his place, But I decided - rightly, judging from the photos I've seen - that I would get a better view elsewhere, so I headed for Acre Lane and the junction with Kings Avenue.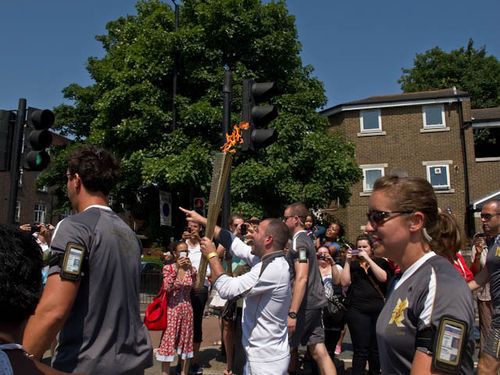 There's not a great deal to say about it. A convoy of vehicles went by. Then someone carrying the Olympic Torch passed by; if I read correctly, this torchbearer was Neil Robinsonand he passed to Harry Urquhart-Briggs just past the junction. That much I knew because someone with a microphone was getting the crowd to chant 'Harry! Harry! Harry!'
If you tried to analyse or deconstruct the torch relay, or objectively find meaning, you wouldn't. But I went out of curiosity and came away with a positive feeling. People out for a few minutes' pleasure, chatting to random strangers, feeling part of a geographically-based community, cheering on, amongst others, the police. 
When it started, I read some people smugly pointing out that the Olympic Torch relay started under the Nazis. Whilst technically correct, it strikes me as a bit of a so-what? It also occurred before the immediately PostWar 1948 Olympics held in a blitz-ravaged London. Were they Nazi sympathisers? Are all people who buy Volkswagens also Nazis? And was there anything in the London 2012 Torch Relay consistent with Nazi ideology? No.
I'm glad that I went, and I'm pleased I got a few usable photos. It started with the police motorbikes...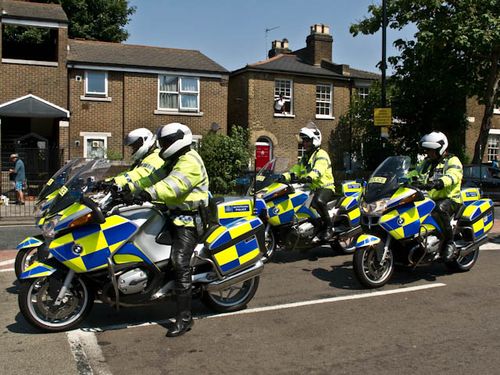 and then the NHS bicycle paramedics, to great cheers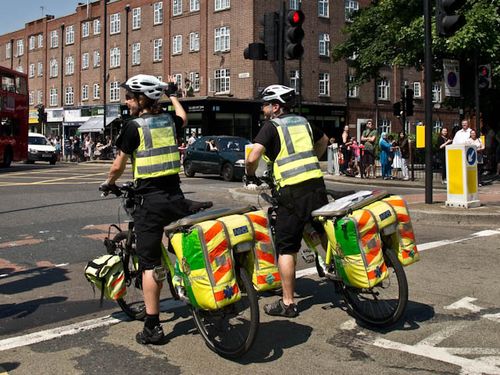 A police car advertising Twitter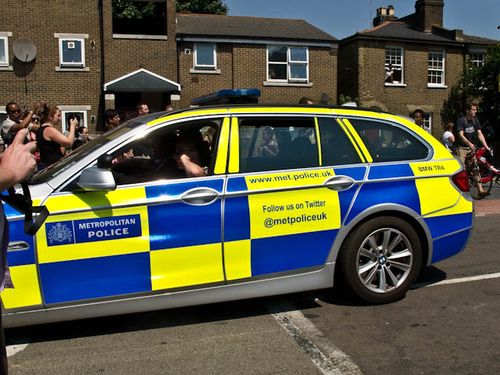 An official Torch Relay car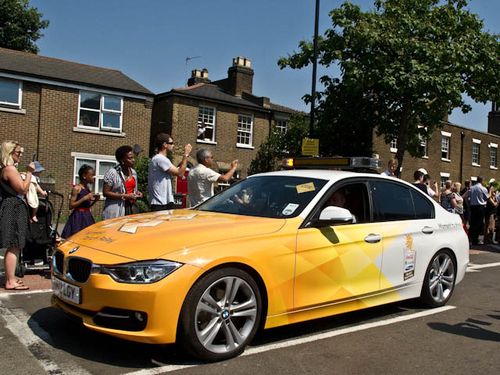 A bus carrying the torchbearers for further down the route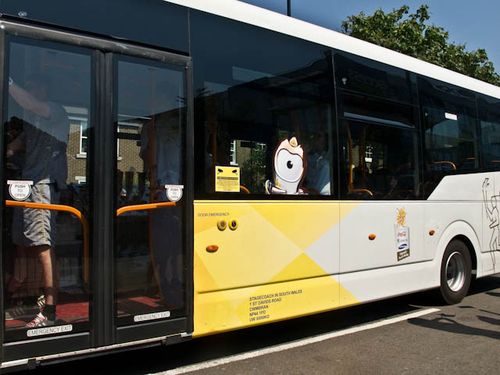 and vehicles representing various commercial sponsors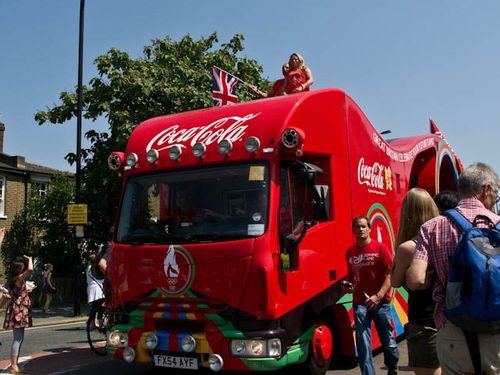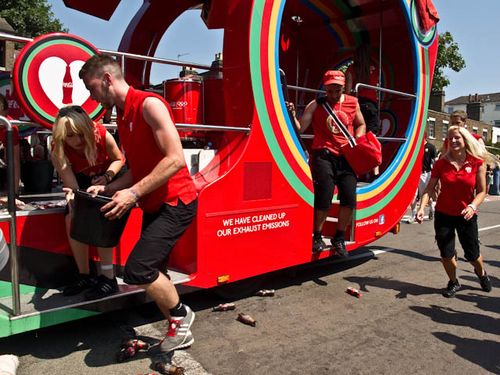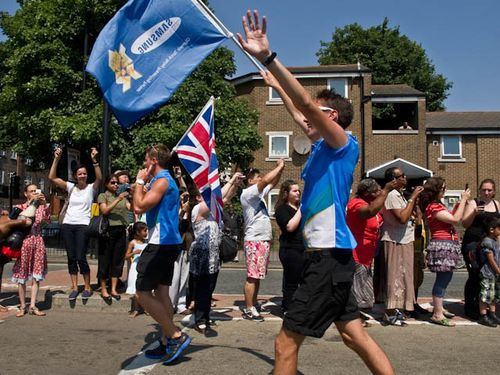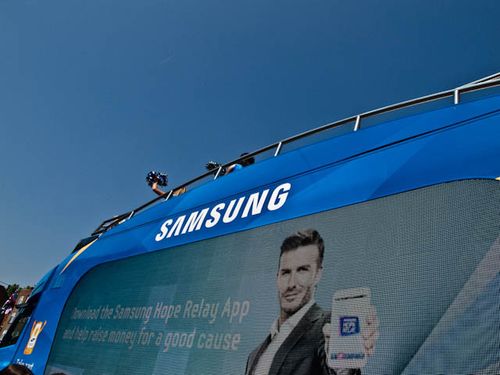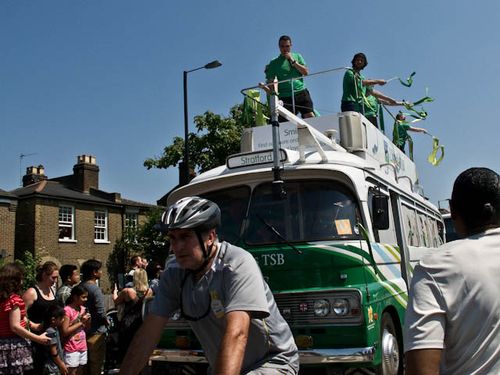 The cyclist in the grey kit was one of many police officers guarding the torch relay
Another coach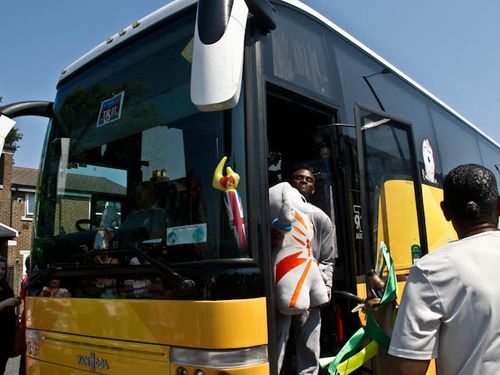 And a logistics vehicle, which carried on its back the Torchcam crew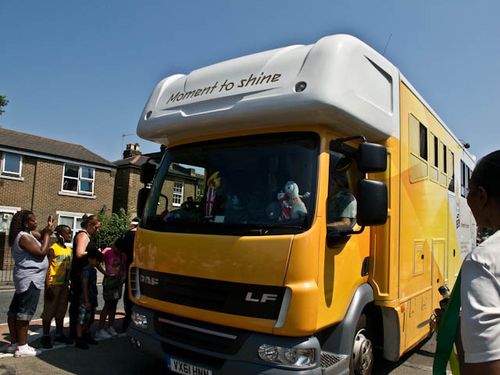 People cheered and took photos