We went on holiday to Dorset for two weeks in late June. We booked the holiday on a glorious sunny hot day in April and it did not cross our minds that June in England would be wet and rainy, and cold!
The Friday was almost a total washout, not only wet but  windy, too. We drifted around. A trip out to West Bay was miserable. We decided to cut our losses and head for the famous Hive Beach Café at Burton Bradstock. Unfortunately, I had misunderstood them being open all day: formal lunch service finished at 3pm, and we arrived at quarter past. Still, we were able to feast on the most scrumptious crab sandwich, but we decided the best thing we could do was chill out in the holiday flat, nipping out much later in the evening, during a break in the rain, to the local chippy. The evening's TV was spectacularly bad, so all-in-all, it wasn't a great day. We had been thinking of going to the beer and cider festival down the road, but we did not fancy standing in a tent in a field while the wind blew and the rain poured.
The weather was marginally better the next day, when we walked down to Asker Meadows on the outskirts of town for the Bridport Food Festival. It started raining just as we got into the food tent. That was good, because we had escaped the downpour, not so good because everybody else wanted to be in the tent as well. In any case, the rain eased off eventually.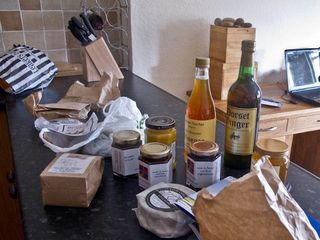 We spent a couple of hours at the Festival, enjoying walking round the stalls. It was fun to taste various free samples and chat with the sellers, many of whom were also the producers. We got a good mix of jams and chutneys, cake, fudge, cheese and so on. We also sampled some produce from the beer tent, but I was only too aware of my limitations on daytime drinking. All seats were taken, and although I don't mind sitting on the ground, I do when it's wet. And there's a limit to how long I can stand. So we retired to a pub to while away some time.
Sunday didn't look awfully promising, although it cleared up later and eventually the sun came out. Again, we joined up with my friend in West Bay and went for a gorgeous lunch at the Riverside Restaurant. When we had first arrived in Bridport, an opinionated and nosey man in a pub told us that the Riverside was the only restaurant in the Bridport area worth going to. He was very wrong - and he gave the impression he never went out anyway - but it certainly stood out as having a touch of class.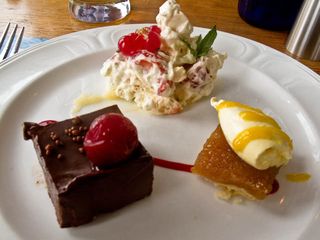 We were sat at a table next to river. It is actually possible to hire a boat and row to Bridport, but we didn't. Light and airy, with very tasteful decor. Good service, that coped well with a busy Father's Day Sunday Lunch without appearing to rush us. Matthew Norman from the Telegraph visited three months after us and clearly hated the fact that he almost liked it. On the other hand, Hugh Fearnley-Whittingstall, who probably knows more than "Matthew Norman" whoever he is, has it as one of the best seafood restaurants in the South West, and it's praised in the Good Food Guide 2012. I had pan seared scallops with apple and ginger sauce; fillet of brill with asparagus and hollandaise; and a trio of puddings - Eton mess, chocolate cake and caramel shortcake with a quenelle of lemon mousse. I was silly only to photograph the pudding.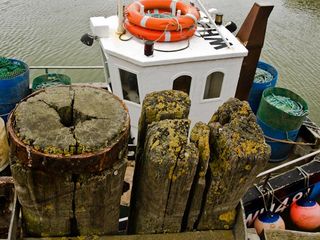 We spent most of the day strolling round West Bay. My friend insisted that I took some photos of a piece of wood in the harbour. I initially shot it in dull overcast weather, so it was nice to have a chance to shoot again in sunshine. And it was very pleasant to watch harbour life, not least the excitement of a boat running aground on the wooden structure of the harbour!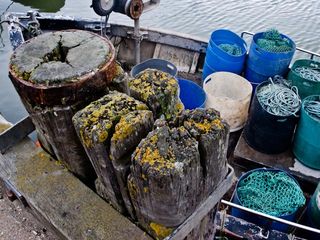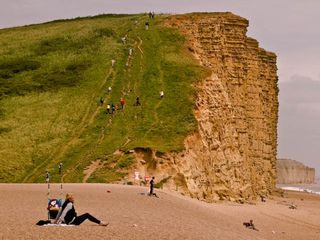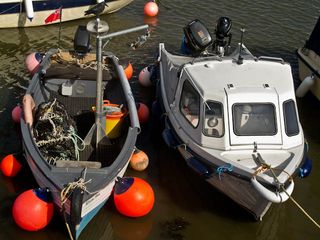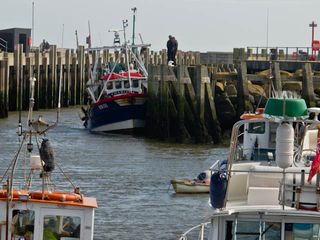 More Dorset photos by me