Day 11 of the Rain-soaked Holiday in Dorset, and Checking the Weather Forecast became of Utmost Importance. Unfortunately, three weather forecasts said three different things, so we were obliged to take a risk. A risk that involved both a Plan B (Corfe Castle) and a Plan C (wandering dolefully around Dorchester). We drove out East, headed for Studland. It is said, and not just by Wikipedia, to be famous for its beaches, its nature reserve, its nudist beach, its Enid Blyton connection and the setting for Thomas Hardy's Egdon Heath. It's where Generals Montgomery and Eisenhower met with the then UK King to observe the troops training for D-Day. But I'd never really heard of it.
Our first stop was at Middle Beach, which contained one of the most complacent poorly-run tourist trap cafés I have encountered since the 1970s. The only coffee available was instant. Probably powder, not granules. We opted instead for a cup of tea, but frankly don't know why we bothered. Weak, and made with water well below boiling point. There was some food on offer but it was appetite-suppressing. The most prominent signage was for Wall's ice cream, which isn't bad, but given the fashion for, and the local glut of, lovingly-made-by-artisans-in-a-twee-sounding-place-with-full-fat-milk-from-named-cows, dismal. Such a place couldn't exist on a high street, but lacking real competition, it disgracefully rolls on. In the car park we passed a group who seemed to be from a Scandinavian country. Knowing they would probably head for that café, I cringed to be English. Oh, and thank you National Trust. We paid a small-fortune for 2 hours parking; the signs forgot to say that we could have paid marginally more for a day ticket valid for all Studland car parks.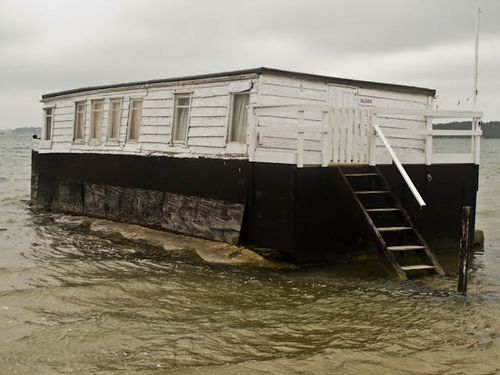 We drove North along the island, and, lacking any more change, we refused to pay to park in another expensive car park near the ferry. Instead, we defiantly parked along the roadside. Many other people did, too. There were no signs saying not to. We clambered over a sandbank and found ourselves almost alone on a small beach overlooking an inlet of Poole Harbour, which I assume to be Redhorn Lake, but happy to stand corrected if I'm mistaken. There were several liveaboards anchored. Neither boat nor house. Intriguing, and for a few moments at least, part of my unfulfilled fantasy of living a slightly alternative bohemian life.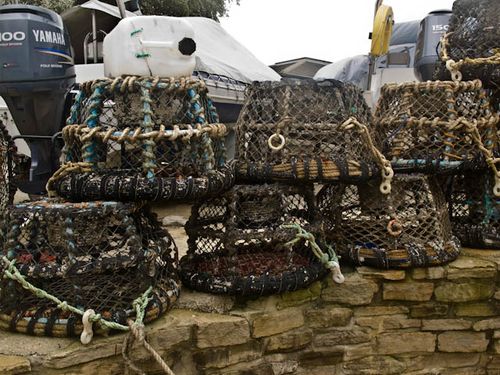 Plenty of evidence of it being a working marina, something I find endlessly fascinating. I could have taken more photos - and, presumably, blown out the sky in all of them - but the weather had turned. It suddenly started blowing what resembled a gale, and spotting with rain.
Fortunately, armed with my Rough Guide, we headed to the Shellbay Seafood Restaurant. Some fine-ish lunching went on round the back, but we sat in the front and munched on a delightful bar-snack of Crevettes and Mary Rose sauce.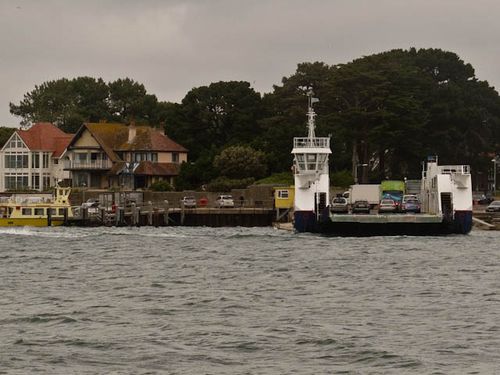 We wandered for a while on shell Beach and watched the ferry wend its way back and forth to Sandbanks. It's a chain ferry, which fascinates me more than it probably should. We even toyed with the idea of getting it as foot passengers, just for the sheer heck of it. But we decided that it probably wasn't worth it to pay several pounds to take the car across just to drive around and look at houses made expensive by their location rather than by their intrinsic architectural merit. Or eat in a restaurant at inflated prices. So we didn't. Writing this now, some eight months on, I sort of wish I'd taken more photos of the details, such as the chain laid down on the pavement, rather than shooting out to sea for dismal photos of distant cross-channel ferries. But you shoot how the mood takes you at the time!
From being blustery and a bit wet, the weather bucked up, and before long we were lying on Knoll Beach. This is presumably the main beach of the area, supported by a huge National Trust car park at considerable price, a National Restaurant of indifferent offer, and a National Trust gift shop, where I splurged, despite my better judgement.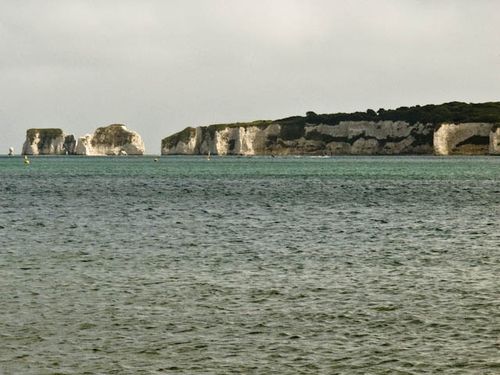 We found ourselves a quiet place on the beach, away from the entrance, and away from those - adults or toddlers - who wanted to play. Alongside, but not too close to, singles and couples who were snoozing or reading. Some left and were replaced by others all with the same desire for peace. Until a family of Primary school age children arrived - begging the question of why weren't they in school - and they proceeded to play noisily horizontally along the beach. We moved, but again they drifted up in our direction. Time to move on.
We recaptured our equilibrium in the large 'beer garden' of Bankes Arms. Nice pint, great location, amazing view, but I'm surprised it gets such a low rating on Google reviews - average 2/5, with some people only awarding 1 because they couldn't give zero.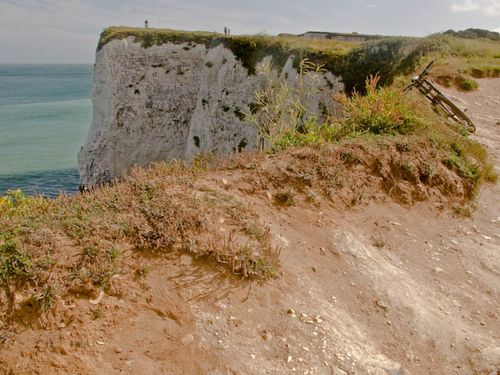 Our final act was to walk to Old Harry Rocks, chalk sea stacks located at the end of a headland. Twenty minute walk, said the guide book. One mile, said the sign posts. They both forgot to say 'and then some', which turned it into good forty minutes there and pretty much the same back. I don't think we were walking slowly, because, despite our best efforts, we seemed pretty much to keep pace with several other groups who started out at much the same time. Thankfully, it was worth it, for the view, for the strenuous but not exhausting walk. Glorious sunshine, heat that wasn't oppressive, gorgeous blue sky, light breeze. Finally, a glimpse of the summer we hoped would dominate our June holiday on the South Coast.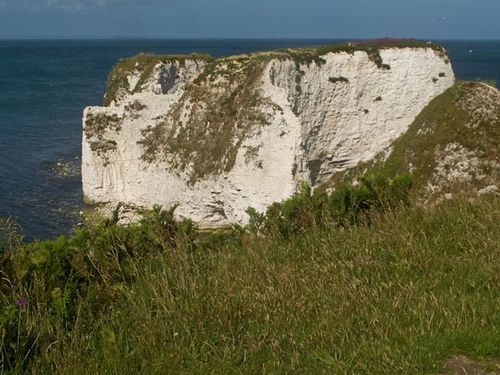 We planned to finish the afternoon in the highly praised and clearly attractive Joes's Café on South Beach, but the walk had taken longer than we expected, so the café was closed. We also managed to get lost, quite a feat in a village with a population of 480, the village that had inspired Enid Blyton's Toytown. There was no sign of PC Plod, although we did see two separate men driving sit-on lawn mowers down the public highway.
Time to drive back in glorious evening sunshine. No hint of fog on the A35. On the car radio, Classic FM played into the 7pm news with a frenetic, lively and exciting interpretation of - arguably - Wagner's greatest overture, Tannhauser - not this recording - which was utterly thrilling as we chased west through the Dorset countryside, and ended up in the car park at the Anchor in Seatown as the final chords of the Bacchanalian orgy struck. Unfortunately, the Anchor was full to capacity and with a long wait for food - presumably because of the sudden outbreak of good weather on Midsummer's Day. Instead we went to the George in Chideock for an excellent fish and chip supper.
We arrived back in Bridport just as the sun was thinking about setting. Somewhat to my alarm, groups of pensioners and teenagers seemed to be heading to the hill behind the town, presumably to take part in a paganistic bacchanalian orgy of their own, to mark the Summer Solstice. I was rather glad to retreat indoors.
More photos of Studland and Dorset are in my Dorset photo album