So many positive reviews exist of Trinity restaurant that combines fine dining with being a short bus ride away from home.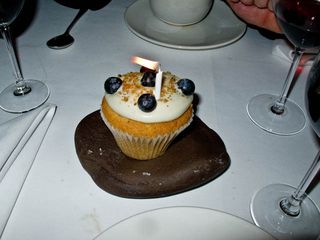 We had been thinking of this as a possibility for my (pre)-birthday meal, anyway. The previous weekend we had ended up in the boozer next door; one thing led to another, and we booked a table. On the Saturday evening it snowed, bringing much of London transport to a standstill. So we felt doubly smug at choosing to dine fine and local.
I was totally and utterly impressed by every single aspect of the experience at this restaurant. Jimmy had a quibble - he found his Terrine of Chicken, Foie Gras and Artichokes, Pickled Apples and Brioche to be quite fatty for a starter; fat combined with wine affects his digestion. But that, I think, is an inevitable consequence of choosing Foie Gras. The restaurant is not cheap, but I felt that it delivered what we paid for. In any case, more than a third of our bill was wine; future visits will probably involve less wine. And they offer a truncated menu as a £30 for 3 course lunch.
We were served an appetiser of radishes and a cod roe emulsion; this was followed by sourdough - they explained that this had been in use for 9 years. I only recently learned about sourdough, and how each batch is made from leavening taken from the previous batch - more in Wikipedia. To be honest, I'm not sure of the objective advantages, but this tasted lovely, especially when served with home-churned butter made of Jersey cream.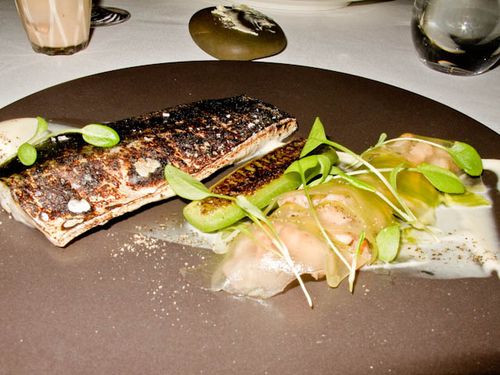 My starter was Charred Mackerel, Oyster Mayonnaise, Cucumber and Shrimps, which looked and tasted much better than it sounds! I particularly liked how the shrimps were wrapped in a wafer-thin sheet of cucumber.
Jimmy's main course was Slow Cooked Veal, Truffle Walnut Pesto, Black Pudding and Artichoke. I'm not sure if he's ever had veal before, but we both watched an episode of Countryfile, which explained how modern British veal is reared, with the endorsement of Animal Welfare organisations. I can't say for certain that this restaurant sources its veal this way, but I'd be surprised if it didn't.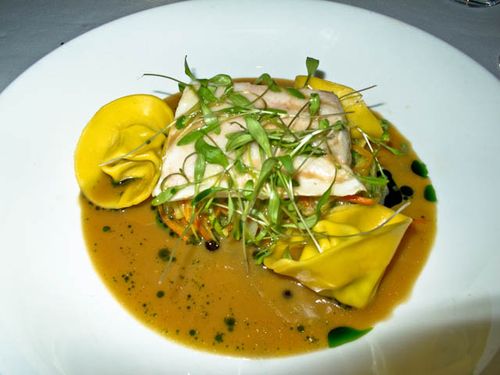 I opted for Butter Poached Halibut, Crab Tortellini, Crab and Ginger Broth. I had been tempted by a bream, leeks and mussels dish but, concerned about the inclusion of bacon, I asked the waiter how integral an ingredient it was and he patiently explained. He also suggested ways it could be made differently eg for someone who didn't like the overt taste of bacon but didn't mind it being part of a sauce. Which was nice, and has given me more confidence - I noticed in Masterchef the other week, one of the previous winners ie a professional chef specifically ordered a scallop and pancetta dish without the pancetta. 
The halibut dish was just perfection. A chunky fillet that nevertheless flaked away at the slightest touch. Even the bed of julienne veg worked well, densely packed almost as a nest, and providing lots of colour. The broth was the foundation of the dish. I find crab an interesting ingredient. The white meat is so delicate, and the brown meat has a robust flavour, which couples well with the ginger - two strong flavours bouncing off each other. And the crab tortellini was just an extra indulgence!
The food was good, but I also found the service to be just right. Plenty of staff but they never intruded. No over-fussy refilling of one's glass every time you sip, one discrete 'Is everything okay?' not while you're either mid-sentence or with the fork poised at your mouth, and, best of all, an easy friendliness that stopped well short of telling you the details of their personal life, their opinion of the food, or 'you've made a good choice' - I'm sure they were confident that every dish met the same high standards, so there couldn't be a bad choice!
They have a very large wine list, which I initially found daunting. But I figured out that, faced with information overload of wines sorted by region - region of France, say, not regions of the world - the sensible thing for me, not a wine buff, would be to select one of those sold by glass & carafe. We chose a New Zealand Pinot Noir which was fruity and very nice.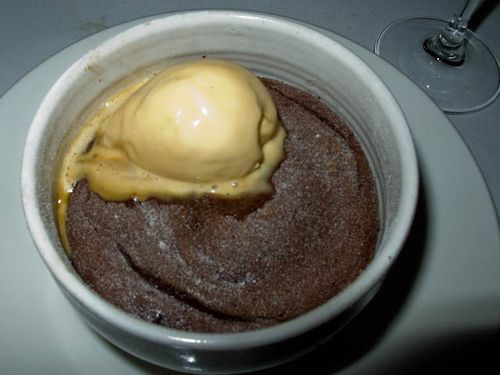 We chose the same pudding: Hot Chocolate Pot - effectively, a fondant - with Salt Caramel Ice Cream. The chocolate was very chocolatey - as it should be, and the salt of the ice cream provided a counterpoint to the bitterness of the chocolate and the sweetness of the caramel. We also took the recommended pudding wine, Domaine Mas Amiel  Maury, Languedoc-Roussillon. The waiter suggested it was like port but superior. Part of me agrees, another part feels that, in being lighter, it avoided the treacly nature of port.
So, a thoroughly enjoyable meal with, really, no criticism. I would not hesitate to go back, and would recommend it to anyone who enjoys good food and good service. I had been slightly anxious about whether I would feel under-dressed, but, actually, most of the diners were in more 'comfortable' clothes than me! Maybe the snow contributed to that.