It was one of those dead days between Christmas and New Year. Neither of us was at work and we vowed we would not waste away the days stuck indoors watching TV that was spectacularly bad even by the standards we've become used to at Christmas. A weather forecast was checked and the rural ways of Surrey were researched. At which point we hit a snag. All the places that appealed as walks were served by pubs that didn't open for food until 6pm. Many of the pubs looked very inviting, but when it's dark by four, or in effect earlier, the last thing you want is to be hanging around until six, or later, for food.
Instead we headed for Kingston. We were going to go by train, catching a bus to Streatham Hill, our nearest station. What bus arrived at the bus stop but a 57, going all the way to Kingston. Genius Gert decided, let's get the bus to Kingston.
That was a long journey, even though we were doing it in almost optimum conditions. It was one of those 'dead' days between Christmas and New Year, so there was little commercial and no school-related traffic. We discovered as we sat in roadworks between Streatham and Tooting, that there was another 57 just in front of us. As a consequence our bus was remarkably empty all the way. We caught it at the second stop on the route and rode it to the terminus. A bit more pre-planning and we could have done the whole route! Part of me is wanting to do a blogpost of the entire route, but, to be frank, riding it once is enough for any lifetime, and I've done it three times. And, in the end, what can I say. Oh, Tooting has a Primark. Blimey, in Raynes Park, the Co-op and Waitrose are opposite each other. Two different aspects of co-operatives.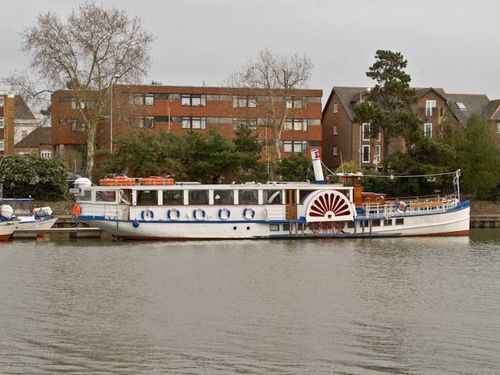 We arrived in Kingston and took of indifferent coffee in a chain, due to our inability to find any independents. I'm sure they must exist, even out here in suburbia, but they weren't obvious.We did the obligatory Streathamite hiss at Kingston's John Lewis, for which Streatham sacrificed the legendary, almost mythical Pratt's, and we headed for the river. 
A moment was spent in amusement as a couple rowed away from the banks, their shopping safely stowed aboard their rowing boat, and a bunch of teenagers yelled 'Faster faster faster', and we headed over Kingston Bridge. Another moment was spent in despair at the sheer weight of traffic, despite it being one of those 'dead' days between Christmas and New Year, but we soon forgot about that as we set off along the almost deserted riverside path.
I say 'almost deserted' but we never really felt totally alone. A healthy number of walkers, and not just the obligatory doggie people. The walk was 'inspired' by page 7 of Walks Around the Royal borough of Kingston-upon-Thames, although I'm not sure one really needs 'inspiration' for a Riverside Walk. Also, 1 hour 10 minutes was hopelessly optimistic, making me think 2.9 miles was an under-statement. Much of it was around the edge of Home Park (of Hampton Court), blissfully cut off from traffic noise, mainly.
We were fortunate with the weather. It had drizzled once or twice when we were on the bus, and had looked ominously gloomy as we set off from civilisation, or, rather, Kingston, but by the time we were approaching Thames Ditton and Hampton Court, the afternoon had turned into a rather glorious pre-sunset, with a spectacular Golden Hour arriving more than an hour before sunset.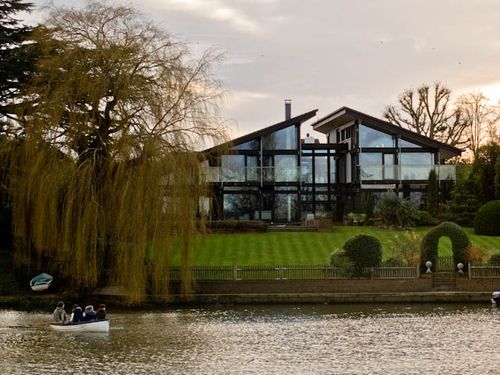 A river walk is almost always charming. I enjoy looking at the boats moored - above is a presumably replica paddle steamer, presumably not run on steam.
I also enjoy looking at the riverside properties, envying them their views. I've always dreamed of a lawn that slopes down to the river, being able to launch a small dinghy from your back garden. I'm not materialistic or driven by a need for great wealth, but, sometimes, just sometimes, I wonder whether my life could have taken a different path. And then I remember: if I could afford a house in such a location,I'd either be working silly hours and never able to switch off, or trapped in an unhappy marriage to a man doing the same. Hence my indifference to wealth!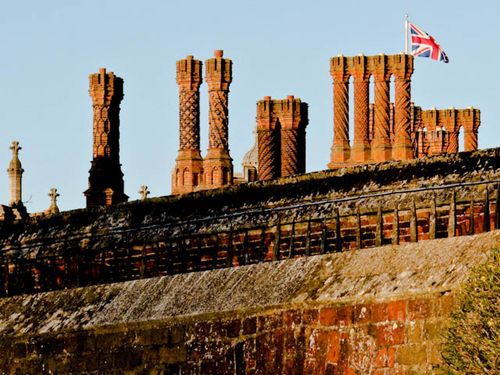 Hampton Court Palace is an impressive building, and one we visited ten years ago. For that reason, it holds a very special place in my affections, because I had only really just started blogging - the original blog was on blogspot - and my reading of other people's blogs, and their trips out, which they photographed and blogged, was a major motivation to me to get out and see parts of London I had never really bothered about. A few photos here.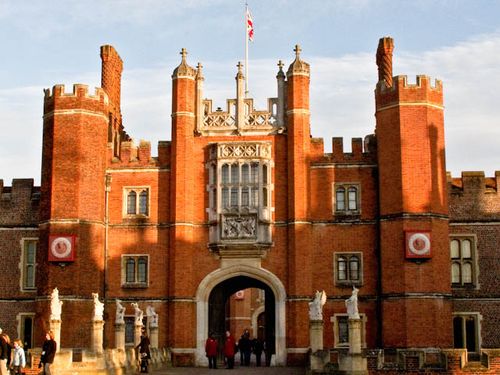 So, in a sense, this was almost a 'tribute' visit. Although we didn't go in. I imagine it wasn't far from closing, and it looked quite busy, partly because there was a temporary ice rink in the grounds by the main entrance. 
Instead, we went to a decent pub, The Albion, outside of which we sat, so pleasant was the late afternoon. someone later tweeted me it was East Molesey's best pub, which I can believe. 

I discovered that Jimmy has a slight obsession about chimneys. Several future days out were to feature him instructing me to photograph chimneys!
A few photos of this and more London treats at London photo album, and also Hampton Court photo album