An extraordinary October Monday, the end of an amazing hot weekend. The sort of weather that demands to be spent outdoor, if possible, and especially when you know it's almost certainly the last hot day for many months. And even more so when one hot sunny day of the weekend had been effectively ruined by a 12-hour boozy communal 'singing' barbecue garden party by some Polish temporary tenants living nearby. Monday was a great day to head for Brighton. It had been so busy over the weekend, as the neat but large piles of rubbish next to full rubbish bins on the Prom testified; a staff member at the 'Spoons at the Marina said they had run out of beer on the Sunday. I don't suppose this was meant literally and totally, but I got the picture!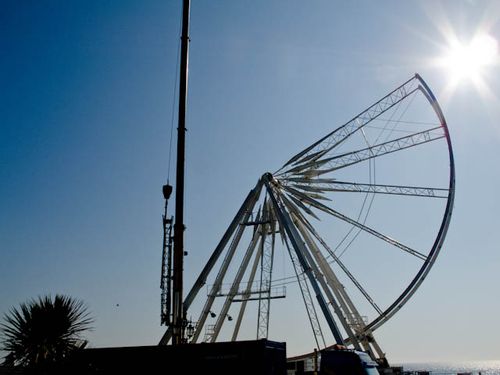 The temperatures were in the high twenties all the time we were there, which definitely counts as 'Glorious Summer Day' but all around were signs of a seaside resort shutting down for autumn.Brighton is more than a seaside resort but we observed some out-of-season decline. 
Most times I have been to Brighton I've stayed West of the Pier. Looking at this map, I see that the main pier at Brighton is actually a continuation of the A23, which I know as Brixton Hill/Streatham Hill/Streatham High Road! I knew the A23 went to Brighton, of course, but it's never struck me before that I live just off Brighton Pier. Sort of! This time, we decided to head East, toward the Marina, which I once visited by taxi. Somewhat surprisingly, this was really the first time  either of us had been east of the pier!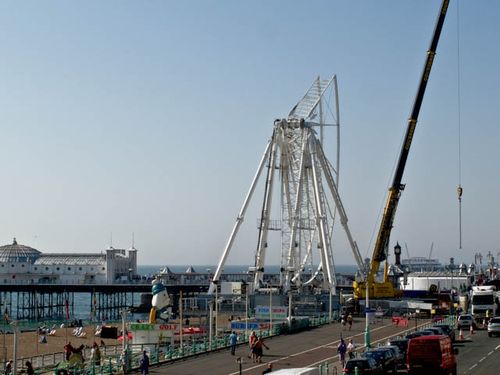 We set off walking to the Marina, which didn't seem that far away. To cut a long story short, it was! It was a good walk, but in future we'll probably get a bus, seeing that there's a frequent service direct from the station. It's okay until you almost get there, but then there's another boring walk through Asda's car-park, almost as if the Marina  and its shops and restaurants don't want pedestrians approaching from the beach.
We saw the Ferris wheel being dismantled, which is a sight you don't see every day.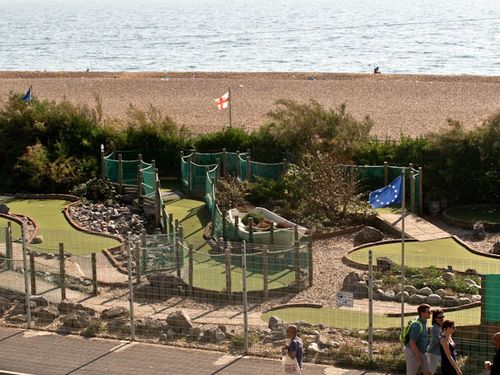 I noted the existence of a Crazy Golf course, but it failed my test of being exciting. I have one very specific criterion for Crazy Golf: it has to be as good as Pirate's Cove, which I encountered on Cape Cod, or Living Legend in Jersey. So far, I have not found one in England. True, I haven't looked specifically but I do like to keep an eye open. This one doesn't do it for me, and I think it was closed, anyway. As was Volks Electric Railway, which had closed for winter the previous week. I did take a photo, but who needs a photo of a miniature railway without a train? It reopens on 31 March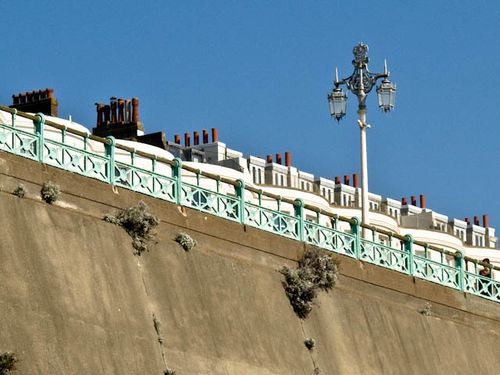 I tend to find Brighton West of the Pier to be quite commercial. Depending what mood I'm in, it's delicious decadent fun or it's way too tacky and 'let's get to Hove Actually as soon as'. East is different. East is less commercial, more genteel, but, also on this hot Monday in October, rather lacking in places to buy water or ice cream. We walked past the naturist beach but it was singularly unremarkable, hidden as it was by dunes; only the bicycles really provided a clue.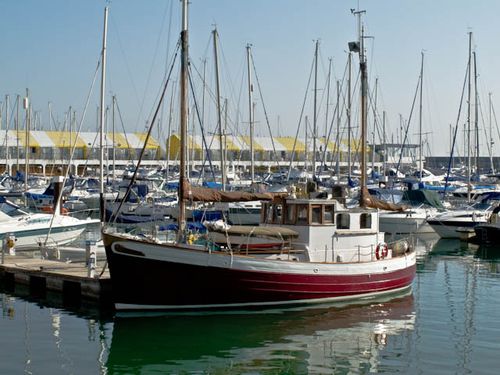 We spent the mid-afternoon in West Quay, the Wetherspoons overlooking the Marina. We found ourselves a table on the balcony, and sat slowly sipping small quantities of delicious real ale. It was one of those experiences where everything seemed to work right: not quite too hot weather, good ale, exchanged a few pleasantries with fellow drinkers, who were mostly as laid back as us, watched the boats and the ducks. It was a superior 'Spoons but nevertheless, it amused me that  hanging around outside was a gang of ducks,and one of the ducks looked a real trouble maker, somewhat excluded from the flock and constantly picking for a fight!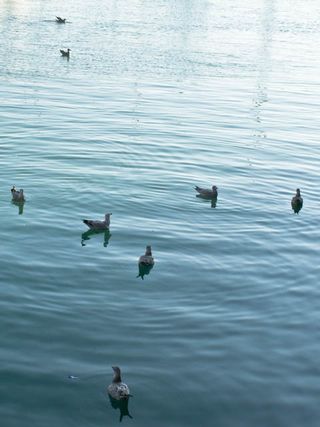 We finished with a meal in Café Rouge, which seemed to have  undergone a makeover. It's a good few years since I have been to one, but on the last few occasions I had - either at someone else's behest or as the least worst option - they had been disappointing. We only actually went there by accident, as the place a few doors down had a better looking menu and seemed to have the advantage of not being Café Rouge.
However, it was also the place with hip hop booming out to a clientele aged 40+, and without any staff to notice or greet new customers. At Café Rouge we had pleasant efficient service, good wine, and a meal which would win no foodie awards but was nourishing, tasty and filling.
More pictures of this and previous Brighton visits are in my Brighton photo album