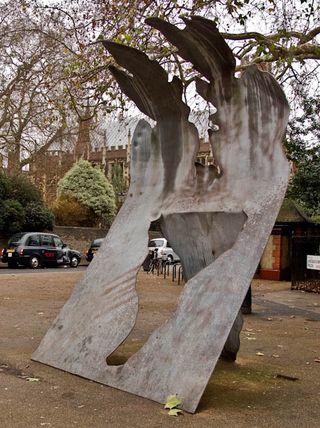 It was one of those 'dead' days between Christmas and New Year, when staying at home was not an option. Not if you wanted to avoid Cabin Fever. Dry, if overcast, and not bitterly cold. We decided to explore a little bit of Offbeat London. We caught the bus from near our house, all the way through Brixton and Kennington, and over Waterloo Bridge to Aldwych. So far, a very familiar journey from numerous visits to Covent Garden for all sorts of purposes.
But as soon as we turned off Aldwych we were in virgin territory. We wandered through what amounts to the campus for London School of Economics and Political Science (LSE) - I had an interview there 26 years ago, but it's changed, and my memory fails. Past The Old Curiosity Shop, which was closed, and into Lincoln's Inn Fields, supposedly the largest public square in London. I've never been there, partly because I've never had reason to, but I later had conversation with someone who used to work near there, who said it was once, not so long ago, a hangout for drunks and other derelicts; perhaps that is why I never thought of going.
On this gloomy day in December, it was just us, another couple, a dog walker, and a father and toddler. Even the café was closed. A pergola in the middle acts as a shelter, supposedly for a plaque marking a public execution, but the plaque was not there, either taken by metal thieves, or removed to prevent such a theft. Yet, outside the locked gates was an abstract sculpture in metal. I later read this to be Camdonian, by Barry Flanagan.
Our guide book told us we were supposed to walk round the square admiring the various interesting and noteworthy buildings, but my companion didn't see the point. We did notice a massive queue waiting to go into Sir John Soane's Museum, presumably to see A Rake Revisited: Henry Hudson at the Soane.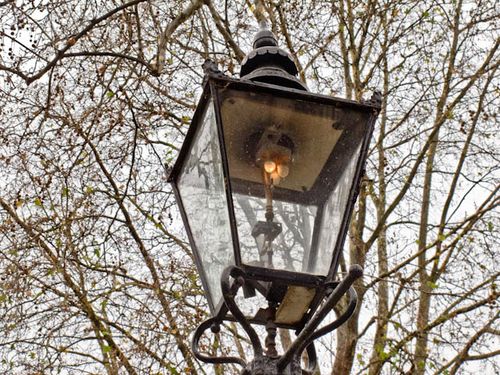 Instead, we went into Lincoln's Inn, one of four Inns of Court in London. A strange place, resembling colleges I have visited in Oxford and Cambridge, with a similar sense of detachment from ordinary life. Depressing to think that many of our judges move from isolated expensive schools to isolated elite Universities to isolated office space. I know they are all academically successfully, and many intelligent, and, no doubt, some live in mixed neighbourhoods or volunteer to help disadvantaged people. Some will even encounter ordinary lives in their legal cases. But it doesn't exactly inspire one that society is classless with equal access to justice.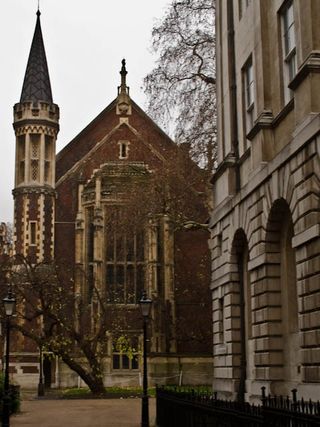 It was pleasant to wander around the Inn, although it started to rain heavily while we were there. It was so gloomy that my photos of gas lamps lighting up are timed at quarter past two. I feel I should return in better weather to take some photos, not of the big splendid buildings, but of the details of the carvings and crenellations. Even though I felt slightly as though I was trespassing (I wasn't), it was pleasant to be in there, relatively cut-off from traffic noise, and with not too many other tourist types there.
Because it was raining, and because we were due a sit-down, it made sense to go to an interesting-sounding pub which was specifically mentioned in the guide book - the Seven Stars. Over 400 years old, it survived the Great Fire. I was interested/amused that we were on Carey Street, possibly better known as Queer Street. There were a lot of plus-points to the pub - a decent selection of real ales, a serious looking food menu, and a welcoming atmosphere. It's a very small place, and internet reviews suggest it gets very busy after office hours in term time. The landlady was away on holiday, but I sensed that a landlady with a larger than life personality was one of the 'attractions' of the pub. Unfair to judge in her absence, but I tend to steer clear of 'larger than life personalities' because it's often forced and usually a tad wearing.
We walked down Bell Yard and onto Fleet Street. Just a few yards away, Fleet Street meets The Strand, and the City of London meets the City of Westminster at Temple Bar. The rain was becoming more persistent, so it was with some relief that we realised that the Royal Courts of Justice were open.
Of course, that shouldn't have been a surprise: it's actually a vital part of a democratic society that the public should, in general, be admitted in to observe court proceedings. Security was strict, with airport-style scanners and bag X-Rays, although on inspection they were relaxed about the tiny penknife Jimmy carries on his key ring. There were signs up stating 'Strictly No Photography'. It was quiet and we were unsupervised, so I did consider sneaking a few. However, I could hear persistent banging coming from the cell block, undoubtedly the poor soul who had previously attempted to take photographs. Besides, the lighting was subdued, almost church-like, so I would have had to use flash, and it would have been a dismal failure.
Being one of those 'dead' days between Christmas and New Year, very few courts were sitting. Indeed, I was surprised any were. The News had told us that the Central Criminal Court 'The Old Bailey' was sitting extraordinarily to conclude the trial of two of Stephen Lawrence. Depressingly, all the cases seemed to be personal bankruptcy cases. Seemed suitably Dickensian to think of these poor souls ending up on Queer Street. 
We emerged into the rain and had a peer at St Clement Dane's, known as the RAF church. It was closed, and, in the fading light, my photos were fuzzy and blurred. I took one final photo of Australia House, and although it will never be a favourite, I liked that I inadvertently got the foreground people in a blur, which seems to be currently 'on-trend'. I presume it was the exposure time of 1/8 second, perhaps combined with ISO-100 that did it. 
We finished off the afternoon out with a trip to Hotel Chocolat, before catching the Tube. At the bus stop, we bumped into a friend, and we said we'd been for a walk; he thought we were a bit daft, walking in the rain. On New Year's Day, I insisted we go for a walk, and although it was dry and clear when we left the house, it started chucking it down while we stood at the bus stop. The same friend walked by, asked us where we were going. For a walk, we said. He actually said we were quite mad. To be honest, as we squelched through the mud on Streatham Common in the pouring rain, I had to concede, he had a point!
More photos of today, and hundreds of others, are in my London photo album.