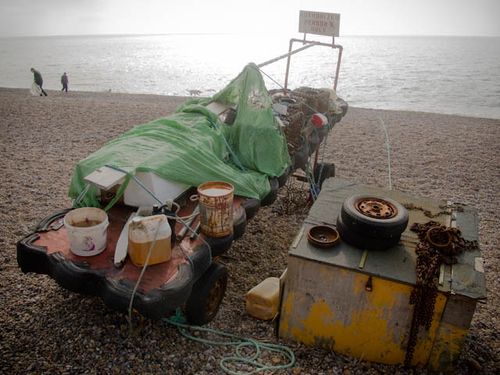 When we were in Dorset, it seemed only right to venture over the border into Devon. The nearest places were Seaton and Beer, sitting as they do in Lyme Bay, much of which is in Dorset. I have a mug at home, from the Seaton Cider Company, which my parents brought back for me in 1987. The Seaton Cider company is no more and its premises lie derelict, but my mug remains*.
Out of season and on a weekday, the Seaton Tramway was not running. I suggested that we explored the Nature Reserve just outside the town, but it was put to me - not unreasonably - that sitting in hides waiting for birds that I can't distinguish from other birds is not my thing.
We walked along the beach, which was pleasant enough, but when we reached the small marina, the signs made it clear that we were not welcome.
Seaton struck me as being quite an elderly person's resort, and, indeed, after I returned, I discovered that a friend's parents have retired there. I can certainly see the attraction - for a relatively small town it's reasonably well served by buses and supermarkets, and isn't difficult to move around. And we enjoyed shopping at a well-stocked delicatessen: eggs and cheese, souvenir shortbreads and marmalades, and lots of fudge!
But, I have to admit, I found very little attractive about the town. It's not picturesque or photogenic, and it was quite a challenge finding a decent place to drink a coffee. The Terrace Arts Cafe was late opening and a coach party arrived just as we were stood opposite, so we went elsewhere and were disappointed.
This block of flats really summed up Seaton for me. Stunningly ugly, yet, situated on the seafront, south facing, affording a wonderful place to sit and soak up the sun even on a chilly March day.
We left Seaton and started to follow the signs to Beer, but the signs were less than helpful and we ended up getting lost. This was the occasion where I realised that an Ordnance Survey map that includes both Brixton and Brixham is not ideal for navigating B roads, and phone-based maps are entirely dependent upon having  a phone signal stronger than 2G.
But we got there and immediately concluded what a lovely little village it is. Very steep, though! We parked the car on a slope overlooking the yacht club. Rain was threatening so we made immediately to The Seafood Platter. We hadn't booked, so we were lucky that they could squeeze us in - they later explained that the local caravan site had opened just that day. Now, I want to make it clear that the staff at the Seafood Platter were warm, welcoming, polite, friendly, and service was fine. I do have to laugh at a paragraph on their website
At the end of March 2009, Robert and Eva fulfilled their dream by emigrating to New Zealand with their three lovely children Maximilian, and the twins Constantine and Soraya. Then in July 2011 they had Caspian.
Also, the youngish man running the place, charming and otherwise unfailingly polite, addressed everybody as "You guys". At one point I was definitely the youngest person in the place, and until a 20-something couple,arrived the average age must have been 60+. I really really wouldn't address retired ladies as "You guys".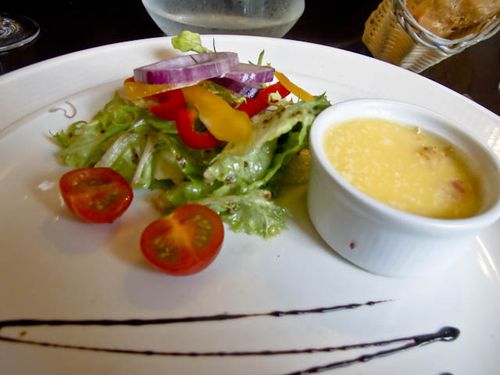 The food was excellent. I started with Potted shrimp, which was delicious in itself, and was accompanied by a salad of the highest quality. Look at the juiciness of those tomatoes, the crispness of the lettuce, and the vinaigrette, topped by the crunchy sweetness of the red onion and peppers. Eye-catching, and exactly how a side salad should be. I ate and enjoyed it. In many pubs etc, I'd've just left limp leaves and tasteless tomatoes for the compost bin.
My main course was, if I remember correctly,  Fillet of Hake with sauce vierge. It came with sides, too, but sides rarely photograph well. As you can, a chunky piece of fish, cooked to perfection, and presented elegantly with just enough sauce to enhance, but not drown the fish.
This must count among the top pub meals I have eaten, and the prices seemed very reasonable for fresh, local seasonal quality ingredients, seemingly cooked to order. It's unlikely I shall return to Beer in the near future, but if I do, I would head straight here.
We managed to dodge the rain for long enough to take a short stroll up the cliff gardens and enjoy the views.
I couldn't resist calling this photo Beer Garden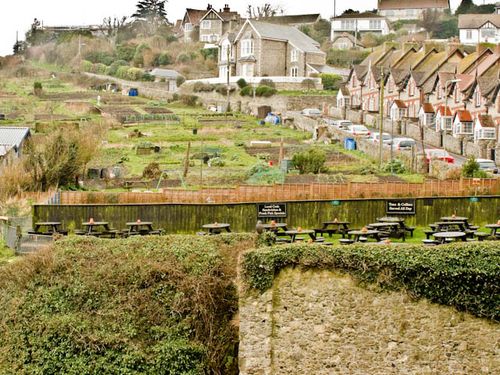 The fishing boats and tractors were eye-catching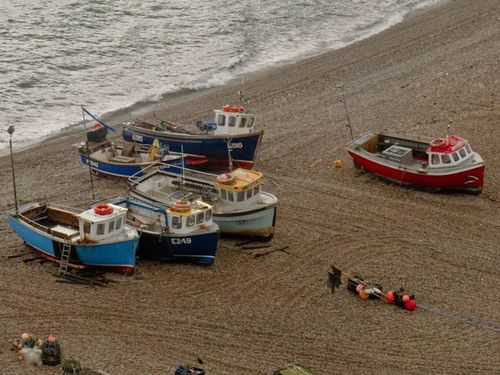 I was puzzled why someone started a fire on the beach, but no one seemed to mind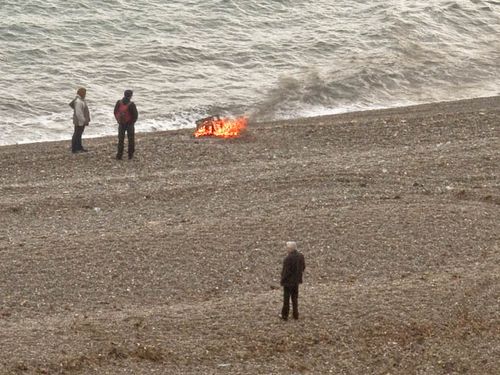 We had a slightly strange experience as we climbed up the cliff-front garden. The garden is terraced, and the terraces are linked by steps. At each level there is a clearing, often with a bench. We were in no hurry and we paused at each level. Three times this group of rather odd looking women came and joined and stood a little bit too close to be, well, normal. The first time, we felt somewhat pressured into moving off. On the second occasion we lingered, to give them the chance to overtake us. On the third level I made loud pointed remarks about personal space and weird people. It wasn't like it was a narrow passage that we were blocking them from passing. And I appreciate that they wanted to pause and see the view at each level, just as we did. But their behaviour was borderline aggressive. And just rude. I think they were walking the coastal path to Seaton. I only hope they got well and truly drenched.
There's a semi-culverted stream down the main road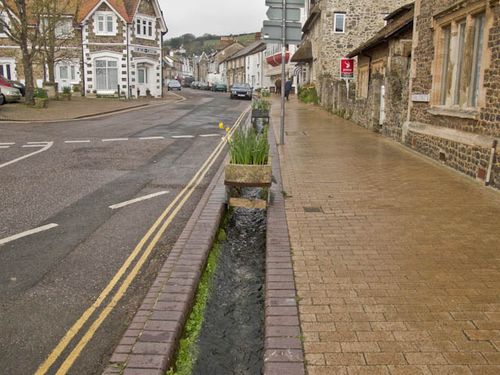 And a local pub provided a preview of what has turned out to be a leitmotif of the summer of 2013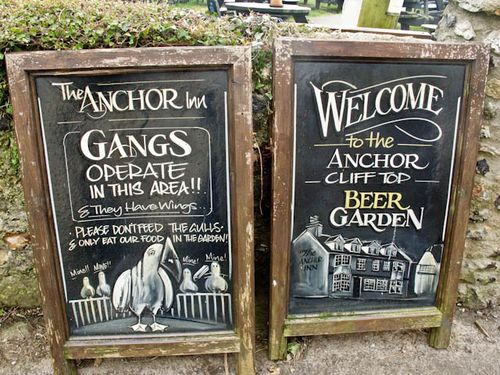 The rain began to get heavy, and we decided to leave town. I don't know why, but I had it my head it was some quaint little village. To be honest, it wasn't much. And then I directed my driver to drive across country to Honiton to pick up the main A35 back to Bridport. He didn't much like driving across country. He's so urban!
* I realise I ought to bring you a picture of said mug, but it's in a cardboard box, under the stairs, and not on the top level.  Life is just too short!