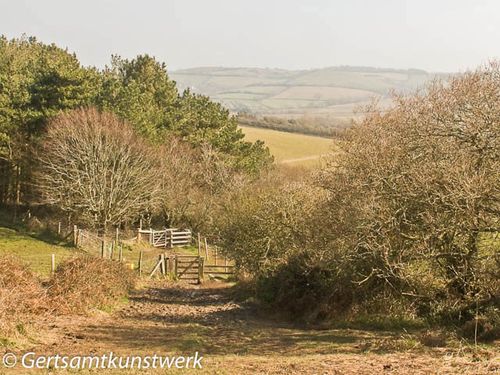 I referred to my book of Short Walks in Dorset and decided on Golden Cap. The house pack also recommended a walk there, starting and finishing at the house.It is said to be the highest point on the South Coast of Great Britain. I suspect that that sentence should end 'if you exclude such-and-such which doesn't technically qualify'.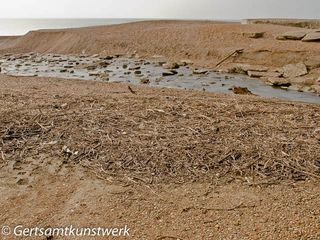 The book wasn't that good in deciding where to start the walk. Indeed, we started by walking down to the beach, before deciding that was the wrong direction. At the top of the beach carpark a house was being refurbished, including re-thatch; the workmen gave us directions.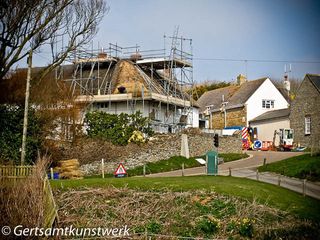 I took a photo of a stream, even though I have no recollection of doing so, or how it fitted in relative to other points of interest.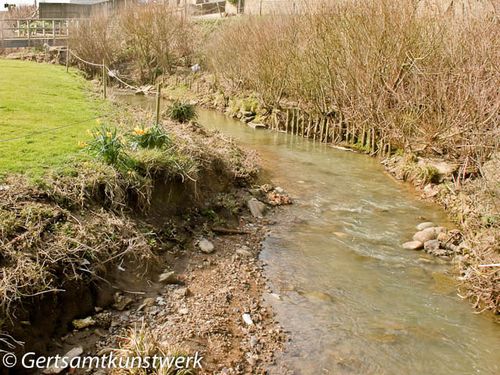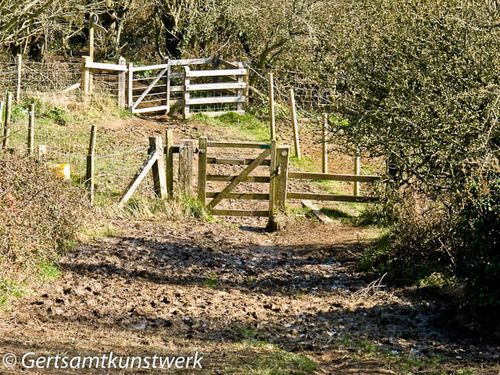 We walked across a field, which was quite nice, as fields go. And through several stiles to set us on our path. Our path which was, basically, a quagmire. Everywhere in England was unusually damp, so it was no great surprise to encounter mud. Rather more surprising to find myself flat on my back in the mud. And, of course, really struggling to get up, every scrabbling effort covering more of my outer garments in mud. This happened again. The third time it happened, Jimmy declared that enough was enough and we were turning back.
We turned back and went to the pub, for a coffee. It was perfectly pleasant to sit outside, basking in the sunshine - and it was only March. Only a couple of days later, it snowed heavily in many areas, causing massive drifts and creating severe problems for farmers with sheep that were lambing. Such a contrast.
My coat, trousers and shoes were covered in mud, so we decided to go back to the cottage for me to change, and we returned to the same spot for lunch.
But first, we played on the beach. Carefully, of course.
We ate lunch outside, and very nice it was, too. The Anchor's a good pub, and perhaps unique in that I was recommended it by my brother (but I had already been) and it has also been visited by an internet friend and someone I work with!
From here, I took Jimmy on a magical mystery tour, all the way to West Bexington. West Bexington lies hidden at the bottom of a cliff below the scenic Burton Bradstock to Abbotsbury Road. It was pleasant to spend half an hour so there, and I'm sure it's even nicer to visit in summer. However, they warn 'swimming is recommended only for strong swimmers'
 We decided that we wanted Afternoon Tea, but first, I needed cash, and Jimmy wanted something or other. So, off the Morrison's. Morrison's is a large supermarket on the outskirts of Bridport, and, like all such places is surely covered by CCTV. At half four or whatever on a Friday it was pretty busy with customers and staff, including security staff. Inside is a branch of Santander, nicely carpeted, more staff, CCTV and an ATM. An elderly woman was using the ATM, so I stood back. Well back. Arguably, unnecessarily far back. Off the carpet. She sensed my presence and turned round to look. Fair enough, always good to know who's behind you at a cash machine. She did that three times, each time getting glarier and glarier. She finished using the machine and was taking her time putting away her cards, cash receipts etc. I made no attempt to move. I adopted a pose of utter indifference and extreme patience. And she glared at me as if I had coshed her over the head with a baseball bat!
I was still ranting about this as we drove down the A35 to our destinations. "Bet the bitch hasn't even earned that money. Bet it's her late husband's, and she drove him to an early grave being a bitch". I can be a bitch myself in private. JImmy said I was being unfair. I was. But she had glared at me like I was a criminal, even though I had done my utmost to be entirely non-threatening.
And a flash goes off. Chideock has a horrendous traffic problem, even reaching Wikipedia: Chideock was the first village in England to have two speed cameras installed in response to perceived excessive speed. Basically, vehicles come down a long steep hill in a 60 zone, into the village with a 30 limit. Absolutely right to have speed cameras installed and working there. And, for the first time in over 40 years of driving, JImmy ended up with speeding points. All my fault. And the afternoon tea place was closed. And we even messed up the refundable pay-and-display parking tickets when we reverted to Plan B, cakes from Waitrose!