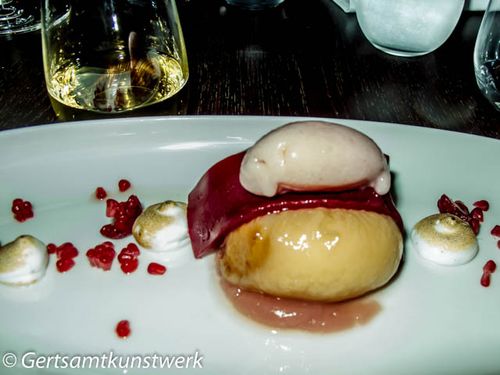 I've blogged about Upstairs before, and have been back. I went in November but didn't take photos of my meal because it was really quite dark - we sat in the bar area rather than the dining room! I have adopted a rule from somewhere of generally not taking photos in a restaurant with flash. It may not apply in a loud and larey bar, but in an intimate restaurant, definitely so. At the time I tweeted my selection: At Upstairs I started with Wild Mushroom, Celeriac, Prune; then Plaice, Romanesco, Walnut; & Baba, Quince, Vanilla. I also commented on my liking of the small choice of dishes and the spare description. I suppose if you're a fussy eater, it could be a problem. I don't know if my non-meat-eating classes me as fussy, but as a fish eater I never have a problem.
We also went in August last year. It was a warm, but not too warm, summer's evening, and we sat in the Upstairs dining room, light streaming in through the windows. Unusually, every party there consisted of two people, one female and one male, probably couples. I was amused that, barring one, every man wore a formal striped shirt, open at the neck, no tie. The exception was a man in his mid-to-late twenties who wore a t-shirt with some logo on. I forget now whether it was for a band, or a product, or what. But it set me thinking.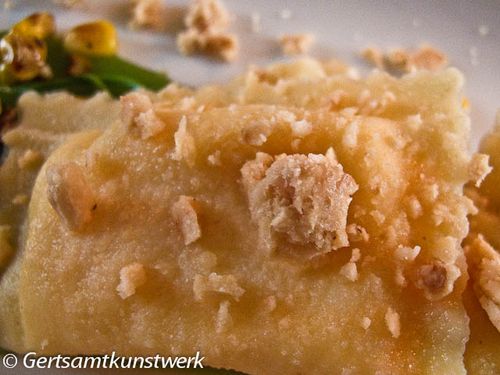 This restaurant has no dress code, yet most of the men had opted for an unspoken uniform. And the women's dress, although more varied, was consistent with this. The young man wearing a t-shirt had no negative effect whatsoever on my dining experience, nor, I assume, the other parties'. He was otherwise unnoticeable, unassuming and well-behaved, the sort of customer any restaurant would want. I pitied his female companion for being with a man who has no dress sense or sense of occasion. But that is very presumptive of me. They may celebrate that they are different, and don't feel the need to conform; up to a point I agree. They may dismiss the other men as boring or bland - although in my experience non-conformist clothing is often worn by people lacking in confidence in their character. This paragraph is woven with judgements and assumptions, and I acknowledge that it's none of my business what this man wore. But it bothers me, and I can't fully understand why!
The night we went in August last year was a glorious night for British Athletics (we actually won some medals in the Olympics which partly justified the huge and disproportionate amount of public funding and TV coverage devoted to track and field sports relative to many other). I sneaked a few glances at my phone, but I can't really summon up emotions beyond indifference when it comes to this particular sport.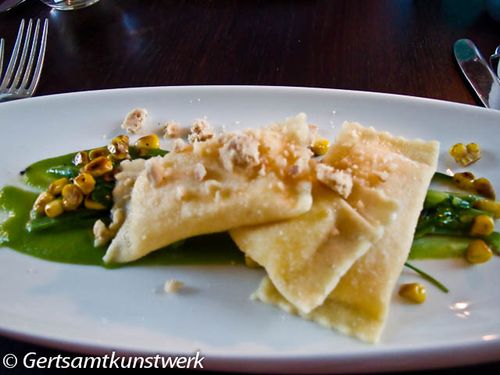 The restaurant had recently featured in a New York Times article on must-do non-Olympic things to do in London during the Olympics. But I confirmed with Phillippe that this hadn't started a flood of Americans seeking out the imprecise territory between Brixton and Clapham.
I started with lemon ravioli with rocket and sweetcorn. I then moved onto Wild Salmon with crab, butter beans and watercress, like so - although I apologise for the poor quality photo taken in fading light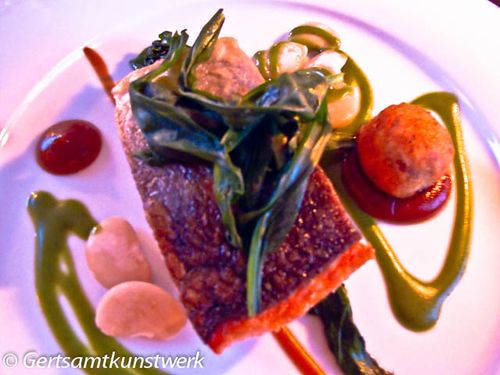 And I finished with white peach, raspberry and vanilla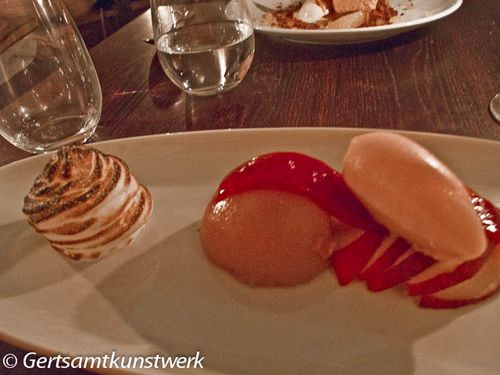 Altogether, a lovely evening, with tasty food prepared and presented faultlessly.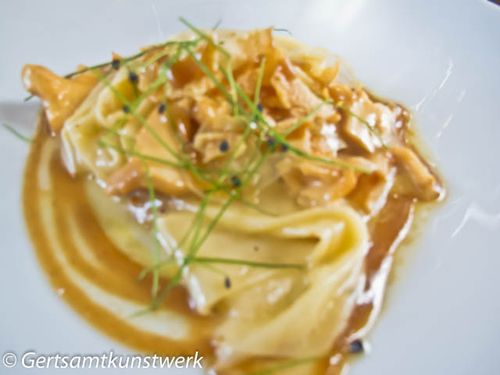 We went again in June and although I found service to be generally very good and the food largely up to my expectations, I do have a serious niggle. It was again a warmish evening, and, as well as ordering cocktails and wine (at prices I wouldn't call exorbitant but reflect the market rate for a decent London restaurant), we also asked for tap water. The tap water arrived and wasn't even lukewarm. It tasted as though it had been poured from a mixer tap without even being run off first. And no ice. We rejected it and ended up with bottled water, (at a price, with service charge on top). No real apology and, I have to say, verging on the mean-spirited. It wasn't as if we were drinking just tap water (and even if we were, it's still not acceptable).
I started with Fazzoletti, girolles and hazelnut, basically an open ravioli dish, which was a brilliant combination of good quality tasty ingredients.
Main course was wild salmon, peas and chervil. It was listed as 'sea trout' but before we ordered, the waiter explained that they had been unable to get sea trout so had substituted wild salmon, which was fine by me. The dish was faultless, but it lacked a 'wow' factor. Jimmy had a meat dish, which he thought was poor, although I can no longer remember why.

 I finished with Raspberry, vanilla and almond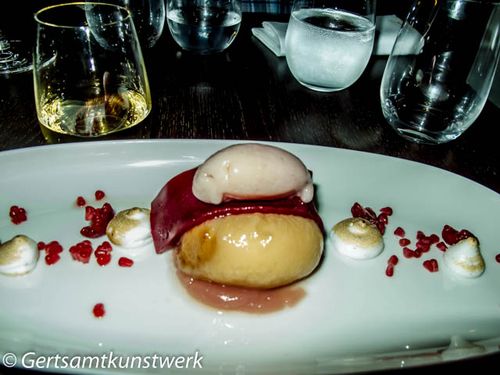 To conclude, I think Upstairs is an extremely good restaurant, but can be somewhat variable. Jimmy compares it unfavourably with Chez Bruce, but Chez Bruce has a Michelin star. Jimmy says we pay more for dinner at Upstairs (£35) than lunch at Chez Bruce (£27.50), but the latter charges £45 for dinner. I'm glad I live where there is both Upstairs and Chez Bruce. To moan that a neighbourhood restaurant is not up to Michelin star standards is unfair and mean. It's the best restaurant I've ever known in Brixton, better than anything in Streatham, and only a bit behind Clapham's best restaurant, Trinity (which can also be variable!)