Almost exactly a year ago, in the interregnum between the Olympics and the Paralympics. Inspired (perhaps) by the glorious gold medal winning triumphs of Our Cyclists, we got on our bikes. Well, we got on the train, because, you know, riding to Carshalton wouldn't be that much fun. And I had discovered a direct train between Streatham Hill and Carshalton Beeches. From there it's downhill to the source of the Wandle, Carshalton Ponds.
As an aside, there are two sources of the Wandle, the other being in Wandle Park Croydon. Sustrans start the Wandle Trail in Coulsdon, as I blogged previously. The River Wandle companion suggests that on prehistoric times it may have risen in the Weald and flowed through a gap in the North Downs near Merstham.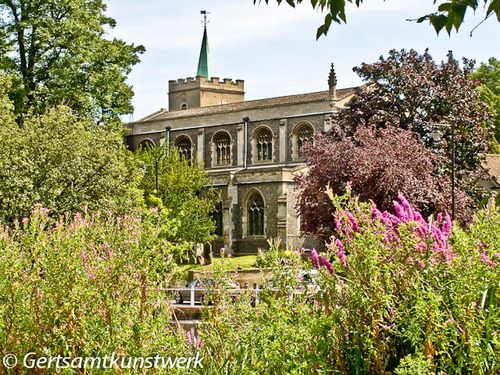 It was a lovely day, bright sunny and dry but not hot. We free-wheeled into Carshalton and were taken by surprise. I don't think I have ever properly been to Carshalton. Twenty-odd years ago I visited a friend on Wrythe Lane a few times, but I must have taken a bus or taxi from the station away from the Wandle.
Before we even found the Wandle we found the Greyhound, a Youngs pub. I enjoyed my coffee, and Jimmy enjoyed his ale. What more to say!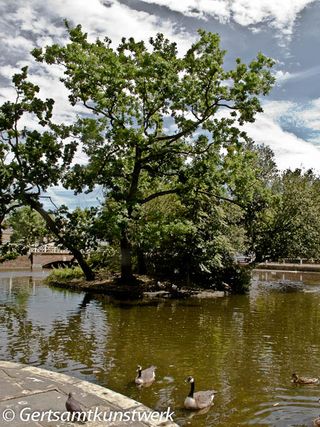 When I was a kid my aunts and cousins lived in Thornton Heath and I grew up with the belief that Carshalton is posh. I don't hold that view now, having been back in the area a few times, but it's certainly pleasant. And, frankly, given that it is firmly Greater London, you can't argue with the views. One could live the pretence of semi-rural life yet with regular trains to town and a pretty decent bus service!
Sutton Council helpfully explains the origin of Carshalton Ponds - they're not natural! There is a museum, the Honeywood, but it was closed when we visited.If you read the Wandle Companion, it gives instructions for a pleasant little walking tour around Carshalton. This book, by the way, really is a must-read for anyone interested in the history and geography of the area. Perhaps not the most elegant prose style but nothing egregious and nothing really to interrupt the flow of my reading.
It was pleasant to stroll around the pond, watch children feed the ducks and feel a step removed from the incessant traffic.
There are some historic buildings in the area, and a fairly large park called The Grove. Some of the buildings are now used as council offices by Sutton. Perhaps not the best use, but better than them lying derelict or arguably, being in private hands.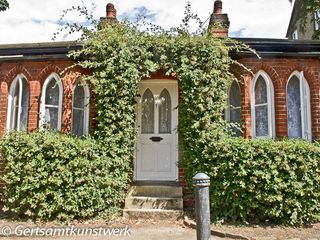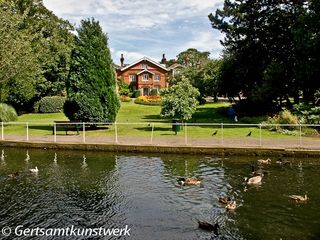 The Grove is a lovely park. It serves a dual function, a run-of-the-mill park for the local community, and host to the River Wandle.
It was pleasing to see children playing in an old fashioned way - wading in the river, splashing in the waterfall. Best not to photograph these, though. Two Nursery/Infant age children, actually being played with by their parents; a group of upper junior kids unsupervised but self-contained, lively but undisruptive.
The waterfall is pretty impressive!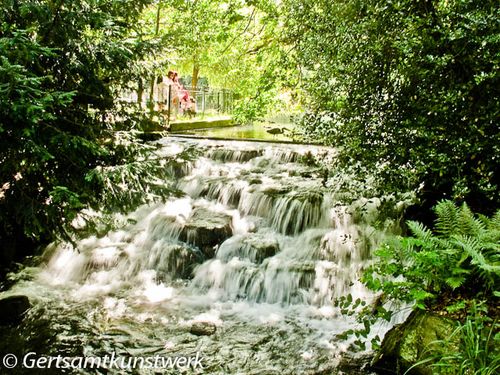 We cycled out of The Grove and onto Wilderness Island, barely noticing what was around us. The downside of cycling - an overview of the bigger picture but lacking in any detail. And I forgot to stop and take photographs.
We finally managed to work out how to get between Poulter Park and the Watermeads. The Watermeads is a National Trust nature reserve, not generally open to the public, which I am fine about, this isn't my normal anti-National Trust rant. It just makes access to the Wandle from the North West confusing. From the South East, it makes more sense. And it felt rather wild to be cycling along a path barely wide enough for a bike, with brambles and nettles on each side, almost losing my shoes at one point.
It was nice to get to Ravensbury Park and stop for some water and a sandwich. I've never actually been into Ravensbury Park proper, which I assume is a standard local authority multi-purpose space (and that's not a criticism, Britain's parks are vastly under-valued). The stretch beside the river is one of my favourite places in London, so peaceful. From there to Morden Hall Park, another hidden gem. We didn't linger this time, wanting a cup of tea, and not sure we wanted to pay National Trust prices whilst surrounded by out-of-control kids, perhaps an unfair judgement.
I had an incident on the path leading down to Merton Abbey Mills. It was slightly busy, and in such circumstances I am careful about how I cycle - I am stronger, faster and more powerful than pedestrians, especially small children whose parents, understandably, believe the path to be traffic free. Therefore, it is my responsibility to take care. But I draw the line at annoying small dogs that career at me, causing me almost to fall off, only to be told 'He's only a puppy'. Irresponsible dog owners!
We stopped for tea and a snack at Merton Abbey Mills. It's a frustrating place, full of potential, but not quite meeting it. But, really, other than Sainsburys and the National Trust (plus a pub called the William Morris which we had forgotten about), there isn't much in the way of refreshments round there. And then we got lost on the way to Haydon's Road station, where we had to wait 27 minutes for the train, and then cycle back through Streatham.
It was a nice day out, but in retrospect it was really quite draining, and I know I didn't take on enough liquid whilst sweating freely in temperatures that were steadily rising. We didn't return to the Wandle for several months after this.However, I have over a hundred photos taken this year in a Folder called 'To be blogged/Wandle'. So, watch this space!