If it wasn't for the hyperlocal social media internet, I would never have known that Upstairs exists. It has been there about five years, and is not very far from home. An interesting restaurant, quite different from anywhere I've been to before.
It's not easy to find, the entrance being a door on a side road with a very small sign visible only when you are actually at the door. Buzz the entry-phone and climb several flights of stairs to the bar. We made a mistake in not going to the bar; I think you're supposed to sip cocktails and peruse the menu until called to the dining room. Part of an attempt to create a more intimate setting than one usually finds in a restaurant.
The dining room is several floors up, and a window seat gives a good view of Acre Lane, and, until the sun sets, the far vista of London. Cocktails and an amuse bouche were followed by our selection from a small menu - which changes every two weeks. I'm becoming more a fan of the tiny menu. Even though my non-eating of meat limits me, I feel more satisfied making a choice from just one fish and one veggie dish than worrying whether I've made the 'right' choice out of several, or wishing I could have this piece of fish with that accompaniment. Also, a smaller menu gives a higher guarantee of the food being cooked fresh, rather than taken from vast reserves in a freezer and pinged in the microwave.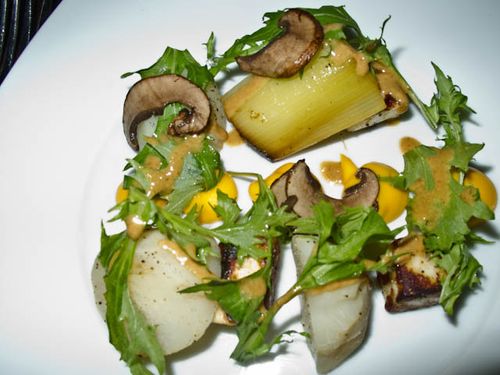 I started with a Warm Jerusalem Artichoke Salad. I doubt I would have chosen this from a vast array of starters, simply because I'm unfamiliar with Jerusalem Artichoke, warm or otherwise.
It turned out nothing to be frightened of! The waiter explained the various ingredients, but this was some time ago, I didn't take notes, and I had a fair amount to drink - hence my current frustration. But note the dainty arrangement of ceps, and an emulsion, which, IIRC, was made from a root vegetable. The Jerusalem artichoke dominated, but the dish tasted as a coherent whole, not a main ingredient indifferently supported by others. Jimmy had Confit Pork Belly & Kumquats and expressed his satisfaction.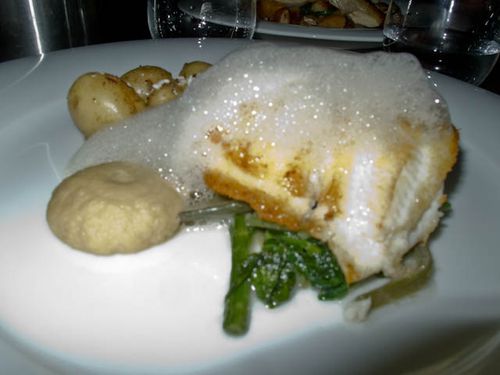 For my main course I went for Lemon sole, Alexanders, and Jersey Royals, a daringly early exposition of Jersey Royals, which has clearly become a 'must-eat' of this season. Is this despite or because of their drought-caused rarity value. Nice to see something so traditional and seemingly humdrum as a potato acquiring almost celebrity status. 
I was not previously familiar with Alexanders, which is, apparently, also known as 'Horse Parsley' and has a flavour between parsley and celery. "It is common among the sites of medieval monastery gardens".  I was not overly thrilled at the prospect of a lump of fish, some boiled potatoes and an indeterminate greed veg, so was relieved and pleased when presented with a thoughtful dish. Again, the flavours all complemented each other. Most importantly, each element was cooked perfectly, allowing the flavours to linger tantalising in my mouth. Jimmy had Blackleg chicken & walnut gnocchi, with a veritable cabaret of additional adorning ingredients, each patiently explained by the engaging waiter.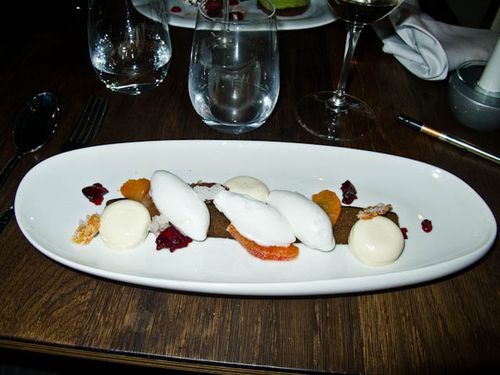 We were undecided about pudding, changing our minds several time. Against my better judgement, I was talked into having the Blood orange & gingerbread, which turned out to be a delicious combination of all sorts of seemingly random ingredients. They included gingerbread (obviously), fresh and frosted blood orange, quenelles of mousse and sorbet in subtle flavours. There is another ingredient, visible at the front on the far left, that added some extra crunch; again, I can't remember what it was. The surprise ingredient was beetroot jelly. Slightly anxious, not being a big beetroot fan, but this Really Worked. A gently sweet taste and a smooth jelly substance, it didn't really taste like my bad experiences of beetroot. Perhaps close to a blackcurrant jelly but without any tartness. And, of course, adding an extra dimension of colour.
Jimmy went for Mint mousse, chocolate spaetzle & raspberries. Overall, he enjoyed it, including the additional unlisted ingredients, but the spaetzle just didn't work for him. The internet suggests that 'spaetzle' are German dumplings, typically an element of savoury dishes working similarly to pasta. Chocolate versions seem to be one US cook's idea, and, according to Jimmy, not that good an idea. But of all the ingredients in six dishes, this was the only one that didn't work.
We came away with mixed feelings. Very good service and an intimate atmosphere. Good attention to detail. I really liked everything I ate, and found the presentation fun and appetising. Jimmy enjoyed just about everything, appreciating the fresh ingredients and the attention to detail in the cooking. But, I think, ultimately he was disappointed. The dishes were too delicate, too 'poncey', and too much about presenting a variety of different ingredients. He didn't  feel as full as he felt he should have done after three courses. But he's a bit capricious. He referenced another restaurant previously visited as being 'hearty and wholesome' yet just a few days ago he stated he wouldn't go back there 'because it's nothing special'.
We also enjoyed the cocktails, which were different from the usual run-of-the-mill predictable names. He had several of an Irish whiskey based one, with 'Celtic' in the name, and I had a couple of gin-based London ones, which I would definitely have again.
We will definitely return to Upstairs. With an ever-changing menu, I'd happily go every month, if not more frequently, and I'm sure Jimmy will entertain another visit some time this year. Not least because it's so close!