We spend the morning and early afternoon on the beach at Charmouth. We had intended to get some food from the cafe inside the Visitor Centre, but it was uninspired mainstream run-of-the-mill. Instead, I suggested we drove down the road to the George Inn in Chideock. My friend had recommended it, and although I didn't know at the time, the couple running it had experience working for Hugh Fearnley-Whittingstall. We liked it so much at lunchtime that we went back again the enxt week and had one of the best plates of fish-and-chips that one could possibly imagine.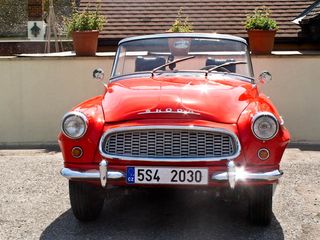 I was unduly excited at seeing a genuine cheque aged Skoda in pristine condition. I am old enough to remember when cars from the then Soviet Bloc were never seen in England, and although Polish and Romanian vehicles are everyday occurences nowadays, this was worth pausing for a photo, and even chatting with the man who I guessed correctly to be its owner.
I had a slightly strange experience in the beer garden. When we arrived there were two women with two children of about 6 and 2, who were being unduly noisy and disruptive. If I hadn't been so hungry I would possibly have said 'Let's go' even though everyone else looked entirely civilised. We got our beers and ordered our food, and Jimmy went to the Gents, putting his beer underneath the table to shade it from the fierce sun. I was sitting at my table, looking to the casual passer-by like a sad solitary drinker. I noticed that the two women went to the Ladies together, leaving the 6 year old in charge of the 2 year old. The 2 year old started screaming; in her buggy, she had her back to where Mum and friend had gone. 2 year olds tend to panic at that. The two adults returned, the 6 year old got a beating because the 2 year old was crying, and the party, thankfully, departed. But up a flight of stairs into the car park across my line of vision. "What you fucking staring at you fat cow?" screeched this 'mother', who, frankly, was a minger. For a split second I felt awful. I had been silently judging her, maybe that reflected in my face, even though I was actually staring into the middle distance directly ahead of me. Then I realised that everybody else in the beer garden turned round to look at me - with looks of friendly, sympathetic support. And when ChavMum had departed, the atmosphere changed to one of relief, as disparate parties of 2 and 3 - couples, elderly mum/middle aged daughter, workmate - relaxed, enjoyed their food and kept themselves to themselves.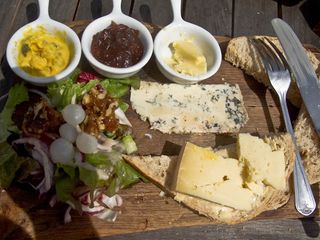 I ordered a Ploughman's, which was a good choice! Fashionably served on a piece of bark - and why not - it consisted of three cheeses from neighbouring counties, chunky local bread, local chutney and a tasty enticing salad.
Afterwards we drove down a narrow twisty road, single track without official passing places, to the beach at Seatown, a massive car park and a delightful pub called the Anchor.
"This coastal area of the parish of Chideock was the second wholly-natural World Heritage Site to be designated in the United Kingdom, and enjoys its status as an area of outstanding natural beauty."
We spent an hour or more snoozing in the bright sun halfway up a hill, gazing on the Golden Cap, before retiring to the pub for one more drink. Seeing the menu, and what was served to other customers, we knew we would return. 
In the evening we ate in Bridport, at the George just opposite where we were staying. Not an outstanding pub, but the beer was good, and at the time I recorded that I had a starter of potted crab, toast and a dressed salad, and I was 'stuffed' already. Jimmy had lambs kidneys with bacon in a cream & madeira sauce. I didn't record and no longer recall what we had as main courses, but I clearly remember them being very pleasing, and the generous servings were filling. the staff were friendly and helpful enough, and I was kept entertained by the conversation of the nearby table which appeared to be a meeting of some feminist academic action group. I also noted that the local Pagan Moot had met there the previous week for a talk on Witchcraft & esoteric development. I realised why some people call Bridport 'Notting Hill on Sea"
Update: I later remembered to tweet my main course: Roast cod & duck egg on crushed potatoes, with asparagus & beurreblanc. Delicious!