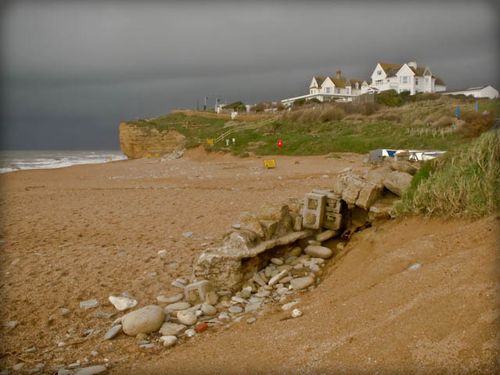 When you book a week away in March, you don't plan on the assumption of good weather. I see a forecast of 'showers' as also being a forecast of extended dry spells. With a hire car, fold up waterproofs, and sturdy shoes, no excuse for not getting out.
Jimmy has an obsession with the sea. He says it gives him energy. I love the sea as well, although I think his obsession means that we don't spend enough time in the inland countryside. We headed to Hive Beach at Burton Bradstock for a morning coffee. However, although it was 'morning' to us, it was lunchtime to everyone else. We went into the cafe, and saw that there were two free tables each for two people alongside each other. I had this weird exchange with a rather odd young man, accompanied by his aged father. His words were that we could have a table each, but his demeanour, facial expression, body language and aggressive behaviour made it clear he wanted both tables. We decided to leave. This is absolutely no reflection on the management of the cafe, who were busy elsewhere and whose attention we didn't attract. Sometimes you just get a feeling it's not worth the hassle.
We walked down to the beach. We were there 21 months ago, and had walked in a North-Westerly direction both on the beach and along the cliffs. Last summer, horrifically, a young woman was killed by a rock-fall; the beach and cliffs now have 'Beach closed' signs up. This page shows that there have been further rockfalls. On the very day we visited there was a headline on the BBC News website 'Large crack' opens on Dorset coastline, albeit further along in Weymouth. Since our visit, the Dorset Echo has run Coastal path affected by new landslips near Lulworth Cove. Since we visited it seems that the clifftop path - coastal walk - has reopened, but the beach remains closed.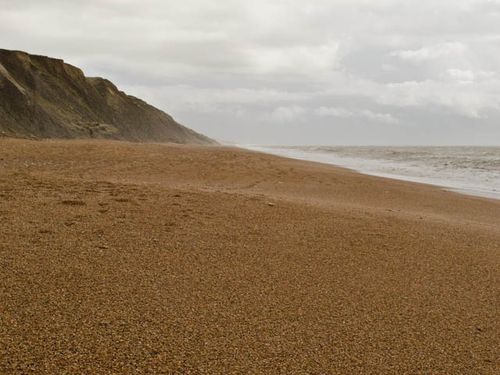 Instead, we went to the South East. Just us on the beach. Until we were joined by dog people. When I say 'joined by', I mean that, despite there being quite an expanse of beach to choose from, this man insisted on having his dogs run right up to me, repeatedly. If they had come any closer, they would have been touching me. Apparently, this is acceptable behaviour? He tried to make conversation with us about the weather. Of course, it's difficult when you're visiting an area - the locals tend to think of a beach as being their property, and, as a visitor, you don't say anything. Clearly the man was lonely, or disturbed. Probably one of those who think that people who use the social internet as being 'sad', needing to get a life. His life - harassing strangers with his dogs and not clearing up the dog's faeces. NB, not the people pictured below. I only noticed them when I focused the camera directly at them.
I don't let these people get to me. Instead I stood and watched the waves, and took photos of the beach. If you want one tip on photography, let it be this: do not assume that a sunny day is the best to take photographs. Yes, there is something magical about blue skies, but dark or threatening skies can be good, too!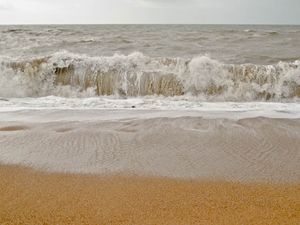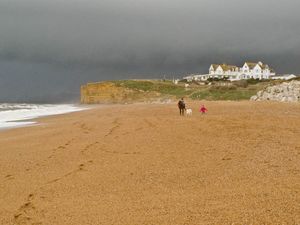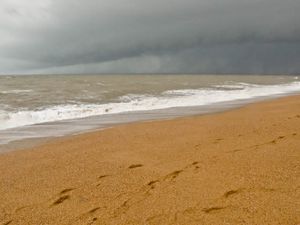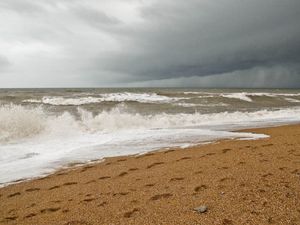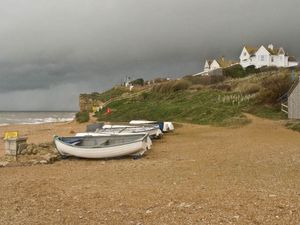 We left Hive Beach and drove along the spectacular coast road to Cogden. 
Nobody in their right mind would install a pay and display meter in the middle of nowhere.  Unless, of course, lots of people want to park there. That pretty much sums up Cogden.
Well, yes, but...About three years ago we visited Milford on Sea in Hampshire on the Hampshire coast near the New Forest. Every where we went, pay-and-display was operated from the beginning of April until the end of September (or somesuch). However, we didn't even see the pay and display machine until we had decided not to descend the cliff to the beach.
Driving further along, I spotted a place called the Egg Cup Tea rooms. Interesting psychology, but if they had called it the Egg Cup cafe, would I have visited? If, in some parallel universe, I ran a tea shop, the Egg Cup would be exactly how I would run it. Pity I didn't think of photoing the bright and clean interior. A good mix of standard English breakfast menu - veggie option, Glamorgan sausage; daily specials; and tantalising cakes and scones. A really nice place - I particularly liked the collection of pottery decorative eggcups. And I welcomed the absence of children and dogs running around!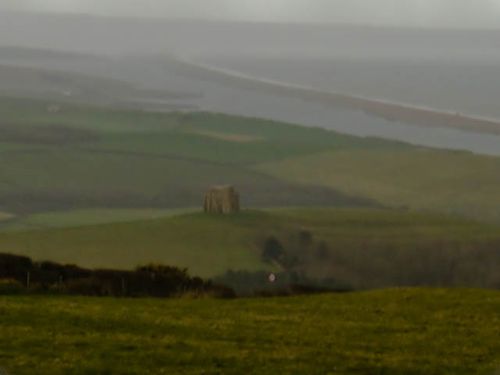 The weather changed dramatically after we left the tearoom. The views from the Coastal Road were dramatic and looming. I did try and take photos but they weren't successful. This is probably the best of a bad bunch, showing the chapel at Abbotsbury and the view of the Fleet Lagoon - look at these pictures from two years ago for context St Catherine's Chapel and Fleet Lagoon and Chesil Beach. We drove onto Abbotsbury. As, by now, it was chucking it down, we thought we would park up to wait for the storm to blow over. However, we discovered that the minimum parking fee was £4, so, thank you, National Trust, that's pretty exorbitant for twenty minutes on a rainy Saturday in winter. We didn't stay. Instead we returned to Bridport to stock up on supplies before embarking upon the second part of our sight-seeing day.