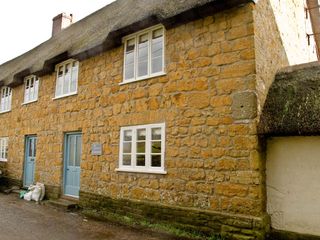 It wasn't planned as a 'winter' break. Spring was in my step when I booked this in the Autumn. Middle of March, I said, bound to be sunny with mild temperatures. I hadn't bargained for the coldest March since 1975. But I knew back in November that we would need a 'quiet' break as respite from our ongoing building-related noise nuisance.
We were extremely fortunate on our journey. You think of all the possibilities for delays, and consider the stories of people stranded for hours in stationary traffic, so it was brilliant to do the journey in less than 4 hours, including one motorway stop. We were able to 'cross' London (from South West to South West) in barely an hour, and with only one minor hold up due to local road works. It's the third time we've done at least part of this journey now; if you have to motorway across country, there are worse routes than the M3 through Surrey and Hampshire. The motorway runs out at the New Forest, and from there it's trunk roads. Sometimes multi-lane dual carriageways and sometimes relatively narrow single carriageway. Sometimes the road passes through pleasant suburbs and towns of Middle England, or passed the green and pleasant arable land. At other times, the road crosses moors rich in bracken, even in this delayed Spring, displaying some splendid colours.
We arrived at our rental cottage. Isn't it always the way that you plan your holiday, pay for it, pack and travel, and you arrive at your destination. What's it actually going to be like? Fortunately, we were very impressed by the cottage we had rented, and I almost immediately ran around to take some snaps, before we unpacked and messed the place up!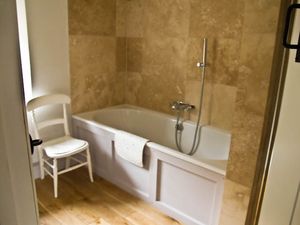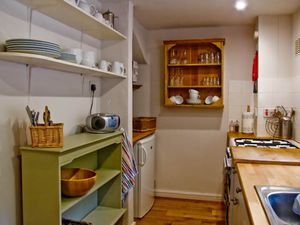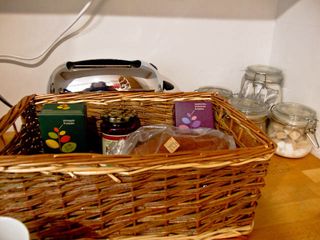 It's a small detail, but it's pleasant to arrive at a place and have a 'welcome hamper' of basic provisions, all, as far as possible locally sourced. indeed the book of instructions and guidance that come with the house try to encourage guests to shop for products that are locally sourced, from local independent shops. The company that owns and operates this and other local properties even have a Guest Environmental Charter

We stayed in a village that is outside Bridport although barely distinguishable. Unbelievably quiet at night. Actually, pretty quiet at all times. There's basically one road that forms a crescent round the village, with a dead end leading off it. Just a pub, church and Primary school, although they're planning to open a shop and café in due course. We did go in the pub, which was nice enough - friendly local people, which is always a bonus. 
On our first evening we went into Bridport for our main meal, at the highly recommended Long's. We had previously been to their West Street branch; the King Street is more restaurant than fish and chip shops. 
I have slightly mixed feelings. For example,when we arrived some officious person asked us whether we had made a reservation. We said we hadn't. This was clearly an annoyance to us, and she more or less said "Oh I suppose we might be able to fit you in". The place didn't get full throughout out entire stay. the waiting staff were very good - friendly enough, without being intrusive or overbearing.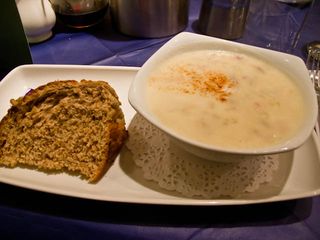 As a starter I ordered a seafood chowder. I was perturbed to find that it contained chopped up pieces of cheap ham. I realise that, in culinary terms, there are arguments for and against including smokey bacon. I just feel that in this day and age, there is an onus on restaurants to be a bit more transparent about their ingredients. If I'd wanted a ham soup, surely I would have ordered a ham soup. It was a big surprise to find that pigs are counted as seafoood in Bridport. I have actually heard of pigs flying but swimming is taking it a bit far. And if they had made it 'properly', with smokey bacon lardons, surely that would have smothered the seafood taste, somewhat defeating its purpose.
On the other hand, the fish and chips, and garden peas were beyond comparison. I had the small fillet; there was also a large!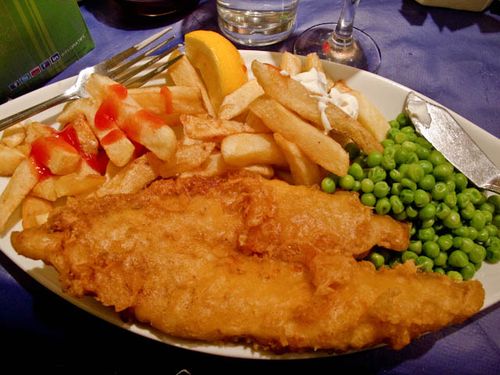 After a quick trip to Spar, to stock up on booze to be consumed indoors, we retired back to our holiday cottage.