Dispatches from the Tour de France - Ned Boulting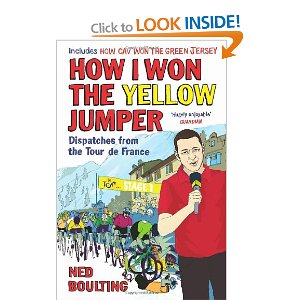 I read this book a while ago now and would strongly recommend it to anyone who has an interest in cycling but isn't especially a fanatic. I don't think Ned is aiming at the self-appointed expert. He has been called cycling's equivalent of gardening's Monty Don - attractive to those, like me, who know next to nothing but too superficial for the obsessed. But what do I know - I am a very passive gardener, and more of a leisure cyclist than an aficionado of road races on the TV. It avoids endless lists of statistics and results,, which is definitely a good thing!
The title refers to one of his opening salvos in becoming a cycling reporter on the TV - actually referring to the the iconic legendary maillot jaune, or yellow jersey, as yellow jumper. He also refers to disgraced former icon Lance Armstrong as Larry. I read this after 'Larry' had declared he would not contest allegations of drug cheating, but Ned wrote this long before. His scepticism, and refusal to hero worship the Doping cheat is admirable.
Ned tells a great story about life on tour as a reporter on the Tour de France. It's not really the life of glamour that I would imagine - I think a lowly auditor such as myself travels and hotels in more luxury than a cycling reporter. Indeed he mentions in passing how one day ,as a football reporter, he's sharing a studio with Michael Owen, flown in by private jet from Madrid to comment on a Liverpool European match, and a few days later, he and Olympic Champion Chris Boardman are stowing equipment dressed in dubious cagoules in pouring rain.
The book opens with Ned being taken into A&E at Lewisham hospital. My already decent opinion of him climbed further when he tweeted about, and joined, the demonstration to try and save Lewisham hospital.
It's readable and certainly informed me about the Tour de France, if not particularly profound.