Ages ago, I decided that I would blog my entire record collection before I'm forty. This includes operas, whether audio only or video presentations.
And I got into a bad situation that I couldn't motivate myself to capture the words to describe one of the greatest operas ever written, Don Giovanni, the 'D' of the ABCD of opera.
I have two versions on DVD or video; I saw the 'notorious' Calixto Bieito version at ENO some time ago and I have booked to see the Royal Opera House production twice next summer.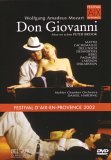 One of the versions was shown on TV a couple of years back - a Peter Brook production from Aix en Provence: the Mahler Chamber orchestra conducted by Daniel Harding. When I watched it, I made the following notes:
Not especially starry cast.
Don Ottavio sang a gorgeous Sulla Pace and Il mio tesoro; La ci darem was nice enough. DG is easy on the eye not so easy on the voice. Nice modern dress and minimalist sets. Not especially gripping dramatically.
I did like Donna Elvira
Pleasant and enjoyable to watch once. Not sure I would again.
DG Peter Mattei
Leporello Gilles Cachemaille
Masetto Nathan Berg
Don Ottavio Mark Padmore
Donna Anna Alexandra Deshorties
Zerlina Lisa Larsson
Donna Elvira Mireille Delunsch
Il commendatore Gudjon Oskarsson
At which point, I think: Ah! Don Ottavio, gorgeous voice, Don Ottavio Mark Padmore. Of late I have almost become a big fan of Mark Padmore, albeit with reservations, so it's good to know that there is some consistency in my feelings.

The other version I have is a Zurich Opera Production under the baton of Nikolaus Harnoncourt, and a strong cast led by Rod Gilfrey.
I have to say that I have considerable difficulties with this. I think all the cast turn in good performances, with really no weak link, although Liliana Nikiteanu is a bit squally as Zerlina. I happen to like Laszlo Polgar's Leporello, both the stage portrayal and his 'character' voice; perhaps some people would prefer a more lyrical bass, and the 'Madamina, il catalogo' loses something, which I think is largely to the insipid interpretation by Harnoncourt in the pit.
I have considerable problems with Nikolaus Harnoncourt. In particular his tempi. I don't think this is bad as his Cosi fan Tutte, on which I have blogged before, nor his Messiah CD, which I have to keep for a great bass role, but the tempi drives me mad.
A really good example of where the tempo is disastrous is La ci darem le mano, which is the greatest musical portrayal of lust-driven seduction. Rod Gilfrey is in fine voice and portrays the cynical charisma of the Don to great effect, in this and throughout. But despite this, I'm afraid if I was Zerlina, the pace of the music would make me think "Limp dick..." and that would not seduce me.
I don't like the sets and I can't work out why. Except that I don't like them. I don't actively dislike them, which, if I did would at least make the blogging easier.
It's interesting reading through the comments on Amazon. For many products there is a general consensus with little variation except in the details. In others there are fiercely argued polarised positions, often by people who are blind in their enthusiasm answered by those who are scornful of such an ignorant and blinkered approach. This is interesting because most of the seven comments are thoughtful and appear to have come from people of knowledge, and they are wildly divergent, yet with no axes to grind.
Opera Nights recommends . This is the Calixto Bieito production that I enjoyed so much at ENO, although the DVD is from Barcelona, and few of the cast means anything to me. Production-wise I would confidently recommend it over the ones I own.
And as an audio recording they recommend , although it is also available in the packaging of the EMI Great Recordings series - sometimes, I think, packaging does matter.
It's not surprising that it's in the ABCD of opera, although I think it is a clear second in Mozart's portfolio to Le Nozze di Figaro.It even has two decent tenor arias in it - unless you're very unlucky an done gets cut. Sadly, many tenors who are cast in what is a lesser role are often not up to them; Il mio tesoro, if sung by a wimpish tenor, it's nothing special, but it can sound like one of the greatest tenor arias if the tenor has balls.
The synopsis of the opera is here. Even though it is set in Seville, and a time unspecified, but presumably 18th century, and although it can't really be transformed literally to another time and place, it is such a universal story. The characters are very easy to identify with, and opera fans with an intellectual-bent can have great fun interpreting the metaphors and deconstructing the characters.
I think its purpose is to illustrate the amorality of a character like the Don - based loosely on Casanova - and in the end he gets dragged down into hell, so a nice morality tale. My problem is that I do rather like the character of Don G. and perhaps in there lies the attraction of the story. I know life it isn't black-and-white. It is not always clear where the line lies between rape and the seduction of a willing victim, and of course that is troubling to me. I'm not alone. I don't feel the need to write a humourless feminist tract but I do think that the behaviour of the Don is reprehensible, taking advantage of his aristocratic position to abuse women - and he treats his manservant Leperello disgracefully.
And yet, we know that there are women who are susceptible to the irresistible charm of a bastard ; numerous pop-psychology books are written on the subject. So there is some discomfort in watching this, if you watch it with this thought in mind.
Alternatively, you can just sit back and listen to the gorgeous music of Mozart at his best, with the great words of Lorenzo da Ponte, and unless you're very unlucky, some lovely singing: arias, duets and some wonderful ensemble pieces. There are so many I really can't list my favourites, without it turning into a 'catalogo'. Oh I suppose I'll admit it's Il mio tesoro - see, I'm that much of a tenor nut that even in an opera that's really a baritone/soprano vehicle, I have to go for a tenor aria. So I've decided to up load my favourite tenor singing it - Il mio tesoro*
Operabase lists 239 performances of 46 productions in 45 cities between now and the end of July; this list excludes the Royal Opera House, who disdain to give their info to Operabase, and La Scala who are ending their season with it as I write.
* you have to be a member of my Yahoo Group to hear this - go to here, and I'll approve your membership, assuming you are a human person and not an automated bot!