It's been a multi-hit few days.
Two weeks ago Saturday Jimmy and I were in the Piazza at Covent Garden, doing bits of stuff in town - I wanted to do a ticket exchange at the Box Office, we had already picked up his photos, we had spotted a premature 'End Brown's War' t-shirt near Parliament Square, and we later went to dinner at the Angela Gheorghiu/Roberto Alagna Tribute Restaurant. Crossing the Piazza, we bumped into Steve who mentioned that Faye and Helen were at the Stage Door, so we went round to say hello. As we were saying 'hello' Anna Netrebko arrived in a dreadful rush, and Jimmy later came out with his unstarstruck comment. This was followed a week later by him saying he had been watching CNN who had had a long feature on her. "She's a really big star, sells more records than pop stars, and here's me thinking 'who dos she think she is?' ". Jimmy went to the pub and Erwin arrived.
Last Tuesday after Don Giovanni we waited outside the Stage Door. This was possible on that particular evening because it wasn't actually raining! There are advantages and disadvantages in hanging back and being non-pushy. In general the advantages outweigh the disadvantages.
We had a really nice long chat with Kyle Ketelsen (Leporello) who came over as being pleasant and thoughtful. He mentioned that he is Escamillo next season, so we were chatting about the horse. He will have the opportunity for extra practice specially with the horse. He and Carla had a long chat about The Rake's Progress (2010) but as I don't (yet) know the work, it was well over my head.
Ana Maria Martinez was met by her cousin and therefore naturally was in a hurry to get away. I just said 'thank you' to her, and she thanked me, which was nice. Faye went inside to get Anna Netrebko's autograph. By the time Anna got outside onto Floral Street, she was disinclined to pause further, which is fair enough because a) she had spent a considerable time already inside the Stage Door a b) not one of them is under any obligation whatsoever to pause for one moment to sign autographs, pose for photos or chat (and I expect it can be mentally tiring especially for those who are neither native nor fluent English speakers).
Erwin emerged and we had quite a long chat with him. He was a bit cagey about future plans except a Figaro revival. He asked whether we had enjoyed the performance; I said I wasn't sure so I was coming back the next week to make sure, which in retrospect was a particularly stupid thing for me to say! I explained that I would have liked to take his photo but I had left the memory card for my camera at home! At one point someone came over and asked him a question (which year was it he won Operalia). When he had finished chatting with them he returned to us and said "Carla, you were saying..." I find him very impressive, quite apart from the excellent work he does on stage, because he oozes charisma and has a definite 'star presence' yet at the same time there is absolutely nothing primadonna-ish about him. Very down-to-earth, approachable; I feel chatting with him like I feel like I'm chatting with a colleague or a 'friend of a friend'.
On Monday, after Katya Kabanova we waited at the Stage Door briefly for Toby Spence. He was clearly in a hurry and under no obligation to pause, but he did. I took a photo of him and Faye, and he checked that it had come out all right and was patient and pleasant as I took a second one. I am not a massive fan, but I do think he is talented, I considered him the best of the pundits at Cardiff Singer, and although I did not especially enjoy Katya Kabanova (review anon) I do recognise that his performance was excellent. He is blond and pretty, and I did have a sense of him fulfilling an ex-public schoolboy stereotype but my albeit fleeting encounter has left me with an impression of a gentleman.
But Wednesday was the Big Night. To my surprise and relief the rain held off for a while, although as it happens, that was not an important consideration because we were inside the outer Stage Door. We knew not to expect Anna Netrebko because she had been taken off at half time with a metatarsal injury cold, to be replaced by Marina Poplavaskaya who had scored a goal in time-added-on acquitted herself marvellously.
We had a chat again with Kyle Ketelsen. I wished him a Happy 4th July, and he pointed out that he was wearing Red, White and Blue, although he realised it was a bit pointless because our flag is the same colour. Faye suggested he had should have worn his flag at the Curtain Calls, as Bryn did in Die Walküre when Wales won the Six Nations. But as Kyle says - Bryn runs this place. We gave him advice on how to get tickets for Bryn's Sweeney Todd this weekend (I suggested he pulled some strings, this clearly hadn't occurred to him). Brenda commented that it would be quite quite wrong for an American to be flaunting a flag on American Independence Day in the UK (with which I agree; I had been at a professional event and some prat had wished us all a 'Happy Independence Day' obviously too stupid to realise what he was saying). I got the impression that Kyle felt it would be a mis-step to flag wave (presumably as a well-travelled, sensitive, thoughtful American, he is aware of how such things can be massively misinterpreted). In any case I assured him that we are considering Revoking the Declaration of Independence.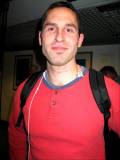 Marina Poplavskaya emerged. She looked somewhat like a rabbit caught in the headlamps, a bit overwhelmed, although she had paused to talk with the gathered Russians. I said 'thank you' and she smiled and thanked me. I felt she thought that I was thanking her for 'saving the day' but in fact I would have liked to say "I think you're wonderful; I heard you as a Norn, I heard you at the Cyrano Insight evening, I was delighted to hear you as half of Donna Anna, and I am so looking forward to seeing you as Elizabetta". But I missed the chance to get her photo.
Robert Lloyd came out, and although I like him tremendously, I left him to Brenda who is a massive fan.
Then Erwin emerged and he stayed for ages, and we had such a good laugh with him. Whilst he was busy entertaining us, Ana Maria Martinez came out. I said how much I had enjoyed her performance, and also I had seen her in concert in Dublin a couple of years ago and really enjoyed that. I don't think she particularly understood me, although I hope she understood that I was being positive and complimentary. I got the feeling that she was a bit daunted by the group of fans, although that may partly be the language thing.

Erwin was wonderful, putting on a show after the show. We asked him again about his future plans and he said that he had things pretty much sorted for 2009-12; he's intending to do Faust! At which I exclaimed "Ooh, the Dress!". Brenda suggested that his chest isn't hairy enough for The Dress, so she would buy him a chest wig, but he said "There's this thing called shaving!" He said he was only prepared to be Mephistopholes if he could wear High Heels and play it as Drag Queen, and he started mincing around as if he was in high heels - and very convincing, too. (later, Faye said 'I'm so looking forward to Erwin as Mephisto and I could have sworn she said Frankenfurter).
We did the photos. He congratulated me on bringing my memory card and teasingly made some comment about the mistake I had made in not bringing it. I did think of saying that the following day I had been thinking of heading to Downing Street but realised it was a bit pointless greeting a new Prime Minister without a memory card. But I didn't. He posed for a photo, saying "This is me as Don Giovanni!" So I said, "Take you clothes off, then..." (yes, I did, really...).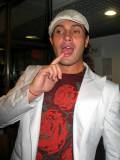 He insisted on posing first with Faye and then with me. He was showing us photos of his daughter; someone asked if she was going to be a soprano "God, I hope not, a mezzo I hope." But then said that most of her repertoire is bass-baritone and he treated us to an impromptu compilation of excerpts.
We were also talking about the astonishing numbers of singers emerging from South America,and he ws saying how the schools in Uruguay are filled with music, very small children actively making music. I should have asked whether this was like Venezuelan 'El Sistema', which is the most amazing and remarkable social inclusion programme, being copied in many countries (including Scotland, but not - yet - England...attention Ed Balls).
A woman arrived and said she had come from France for the performance and it had been worthwhile. He asked to sign her programme (I like the way he does that; it makes fans feel less like we are imposing!). He asked her where she was from, she said Chamonix, so he asked whether she was Linda di Chamonix. I think she was a bit bemused, being the late comer to what was becoming a party of much laughter. He asked me what was happening in London, and I made some comment about the rain, then realised he meant the security alert. I wasn't really sure what to say - other than something about comedy terrorists - because I am increasingly conscious of what should and shouldn't say. Also, I suppose, I've been in London 16 years, the South East 18, and frequent visitor prior to that, and regard security alerts as just a way of life. I'm not sure how long Erwin has been visiting London but I presume he wasn't around when security alerts were an everyday irritation that we just worked round. And, judging from the internet as well as my Real Life socialising, people are talking about the freak weather more than the failed terrorism.
I know some people think it is a bit adolescent to hang round the Stage Door; I also know that some people mistake the genuine warmth and friendly nature of many stars as being genuine friendship. I sense that some performers, still on an adrenaline high after the show, actually enjoy the opportunity to shoot the breeze; they wouldn't be human if they didn't also enjoy the admiration and adulation. I also respect that others want peace and quiet, or their trusted friends, or a meal, and being pestered by fans is a bit of an ordeal to be endured. And I do not for a moment think that having a chat and a laugh means we are best buddies, any more than I think that exchanging pleasantries with my auditees makes us friends, as such.
And one thing is absolutely certain, both from the performance of Don Giovanni and the post-show backstage, Erwin Schrott is megastar material.