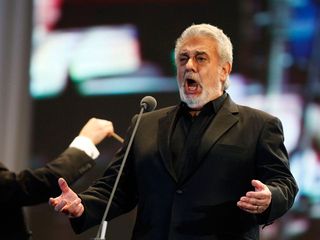 I had originally planned to stay up on Saturday night to watch this 'live' as it was streamed on Facebook (dread word), but a 1 am start (my time) was delayed until a 2 am start, and I figured I wouldn't get to bed until at least 5am. (At which point I am showing my age...!), and I certainly didn't want to 'do an Alfie Boe' and fall asleep.
I saw that it was avaialble to stream from 4 June to 12 June and decided that I would forego the frisson of 'live' in order to watch when I was actually awake. I tried to watch on the Sunday when I had hours of leisure time, but it just wouldn't load. I tried again on Monday night, and it was available, and I decided to watch it after I'd done something or other, but I realised I was fidgety and restless, so here I am on Tuesday evening, still light outside with a lovely midsummer glow of endless light evenings and lazy nights.
And blogging my thoughts as they occur to me - more or less! (I know the format of the concert, I know when's for writing, and when's for staring at the Full Screen Streaming!). No note-by-note micro-hyper-analysing!
Also, I don't like Sondra Radvanovsky's voice. I see no further need to comment negatively on it. To me it's an ugly sound with no subtlety, very little differentiation in tone and unremittingly loud. By all accounts she is a very nice person.
I didn't pay much attention to the opening number, obviously programmed as an ice-breaker, because I was running around setting things up, brewing tea etc. Sorry!
Plácido began with O souverain!, which is amongst my favourite of the pieces he does in concert. I think he often chooses it as a opening number as a sort of prayer, (which really isn't me, but I'm fine about that), and I do very much think that it's apt. A moving performance, although vocally he wasn't at his best.
The kindest thing I could say about the Father -Daughter Boccanegra reunion duet is that I am salivating at the prospect of hearing him sing this with Angela Gheorghiu at the O2, should be worth the price of admission in itself. Unfortunately, Strident Sondra continually drowned Plácido out with her wobbly scream, especially when he was singing piano (ish). I don't have a score in front of me, but guess that if he was singing mp and she was singing fff, the score probably said mp. So when I heard his cadenza, I was stunned by his beauty.  I'm sure this duet has probably looked like a mother - son reunion before, but, really, Sondra, d'you have to look so matronly? She's younger than me!
Then she sang La Mamma Morta from Andrea Chenier.
Plácido sang Nemico della patria (also from Chenier), which I have to say is one of the most boring arias I have ever heard him sing. Not a reflection on him, and certainly not on the impassioned performance this evening. I love love love the story of Andrea Chenier perhaps almost more than nearly any other opera, but sadly, for me, the music doesn't match it, and especially not this aria...must dig out my DVD with all those tenor arias!
The orchestra and chorus under Eugene Kohn performed the Triumphal March from Aida. What's not to like about this piece? I'd be interested if anyone reading this actually dislikes this piece (rather than, merely, tired of it being played too often as incidental music)
Act I ended, as Act I should, with Già nella notte densa, which entirely changes the tone of this blog. He began, she took over, she mildly irritated me, I hoped that maybe we'd get this at O2, don't know if Angela sings it.
Then, while dear Sondra was squawking her bit, he just gave her a look which made me think 'You charmer, you seducer'. And then he took over the vocal line, and reader, I have to say, I was knocked sideways, in bits, on the floor. I became entirely oblivious to Sondra/Desdemona, not even an irritant, not even wallpaper.
Such a compelling portrayal of Otello, captivating, spellbinding. And as it finished, I had to bring myself out of a trance where I believed I was watching a man in his forties in full Otello costume. Amazing!
Act II opened with Mira, d'acerbe lagrime from Il Trovatore, which was well delivered from both of them, despite sharing all the drawbacks of the Boccanegra. I also felt that Sondra hadn't been treated kindly either by her hairdresser or the cameras. I don't consider her beautiful or pretty but she is striking, and I just didn't get that this evening.
Then Poet and Peasant, a Suppé overture - a sort of guilty pleasure for me. I like it, though I don't find it in the slightest bit profound and can't say much more than I like it!
Some Enchanted Evening. Oh, Plácido...please sing this at O2. In fact, scrub that. Plácido, just be half this wonderful at the O2 and I'llbe able to float home...! I was watching a film the other day and this came on, sung by some crooner - for all I know someone who was famous for singing it - and I just sat there thinking 'I wish that was Plácido singing!'
I Could Have Danced All Night. I actually preferred Sondra in this to her operatic stuff, and she certainly compared well to many genuine MT divas, let alone operatic ones I have heard.
DAMASCENE CONVERSION! KLAXON KLAXON
Gert absolutely loves Sondra Radvanovsky in Musical Theatre numbers!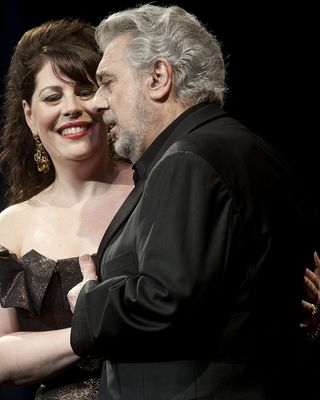 Tonight from West Side Story, probably my favourite musical, anyway, but they were steaming! They were so loving this, and the chemistry, whether stage or real I don't care...there's a look that Plácido gives, which is one of the most wonderful feelings a woman can experience. And then he sings... 'Sleep well and when you dream
Dream of me', I just whisper, "Yes, I will".
Then Sondra sang I Want to be a Prima Donna, which I've never heard before, but I thought was jolly, and wouldn't mind hearing again.
Before Musica proibita, Plácido gave a little speech, more a chat, really, where he stopped just short of over-doing the cuteness. I don't know this song; Google suggests strongly to me I ought to!
Sondra sang O sole mio in a satisfactory matter. They duetted in the delightful Non ti scordar di me
Next came the climax to the concert proper:
No puede ser. I think I may have mentioned, perhaps repeatedly, how much I love the timpani in this, which is true, but also ridiculous. What I love most about it is Plácido. I heard a note, and he sounded a bit strained, or tired, and a few more notes, he sounded croaky, and then he was fine, and I remembered, the man is 70 years old and I'm moaning, one note is strained. I tell you, if he happens to sing this at the O2, there is a possibility I might scream like a schoolgirl groupie!
As I had planned, I went to get my bedtime milk and tablets after this (I know how to live!), and realised I had an entire cup of tea, cold and abandoned at my hand, next to the PC. Which is quite a statement of how engrossed I was in the concert!
Before singing Vissi D'Arte, back in her opera voice, Sondra mentioned how she delighted she was back in her hometown - her hometown being where she lives, not where she grew up (I had a discussion with someone a ocuple of weeks back where I insisted that Sondra had a Canadian connection!).
I don't really understand Spanish, but I assume from the way Plácido sang Besame Mucho that it's Spanish for 'something moderately filthy, in a gentlemanly way'. Sí?
 Sondra sang Somewhere Over the Rainbow. Not quite Judy, but pretty damn good.
Plácido sang Granada as only he can. Wonderful. What more can I say. Together they sang a number called If I Loved You, which I don't kow, but how could anyone not enjoy that?
Then Lippen schweigen, which is even sexier in English. He has.no.right.being.so.meltingly.seductively.sexy. And it's a jolly good thing the camera did plenty of facial close-ups because otherwise, the way he moved round stage, and, most of all, sang, Iwould have assumed he was about forty, and I would have developed a crush on him or fallen in love or something. Which would never do!
The concert finished, somewhat to my surprise, with the Hallelujah Chorus, Plácido conducting. (I like my Handel to be delicate, on period instruments, but once in a while you can't beat a belting Hallelujah, with added fireworks!)
To summarise, I would strongly urge you to try and get to watch this before it disappears on Sunday. It costs USD 15, which is a bit steep if you're on a budget, but from my point of view it's money really well spent - don't hesitate, this is a really good concert. In my opinion Plácido is in exceptionally good voice and is on good form, holding nothing back.
My only criticisms are that I can't find a way to keep it for posterity - I'd love it if they released a DVD - and sometimes the picture pixellated though it was mainly very sharp and clear. Obviously, that fault could be occurring at my end, on my lappy or router,  or at the exhange, but it did diminish it slightly.
BlackCreek preview: Plácido Domingo and Sondra Radvanovsky
Domingo and Radvanovsky Deliver the Magic at Black Creek
Concert review: Domingo and Radvanovsky open BlackCreek
Placido Domingo dazzles an early summer night
In match between Rexall Centre, traffic chaos and bone-chilling cold, new concert venue squeaks out a victory