Some lovely photos from the concert in Tokyo a month ago
En imágenes: Plácido Domingo conquista a Tokio junto con soprano argentina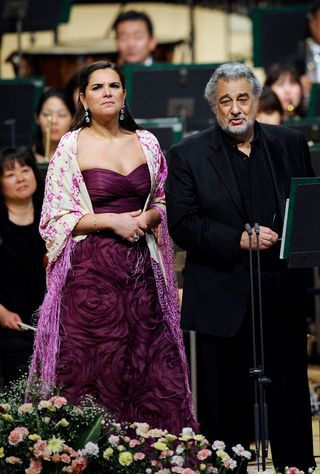 A clip from Israeli Tv, including an interview, in Spanish with Hebrew subtitles, and footage from Iphigenie en Tauride in Madrid
A picture with Ana Isabelle, with whom he appeared in concert in San Juan Puerto Rico on 17 April
Jukéate con Ana Isabelle @ concierto de Plácido Domingo
Conductor Alondra de la Parra interviews Plácido in the Mexican magazine Quién, Queridísimo Plácido
Plácido Domingo en una velada inolvidable - Ve vídeo y fotos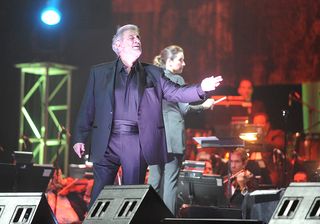 And from Mexican magazine, ProOpera:
Plácido Domingo: "La ópera es lo que más me inspira"
Seis décadas de Plácido Domingo en México
(these last 3 are .pdf files, so a bit difficult to run through Google translate...I shall just have to read them very slowly!)
The Blog Villazonista has the interview on site
Video advertising his concert in Toronto on 4 June
Placido Domingo: "The song is not yet finished."
Interview in which he outs himself as a Beyoncé fan...
Interviewed on video by Marvin Hamlisch, last Friday. This was hosted by Facebook, and I assume you have to be a member of FB to watch it. It also presents the opportunity to pay to watch the Toronto concert live - on Facebook (except if you're in Canada). It seemed slightly bizarre - or demeaning - watching Marvin Hamlisch explain how you can pay using 'Facebook Credits', but I demeaned myself and paid using some Facebook credits which turned out to be £7.72 (YMMV). That will be something like half one in the morning for me. I'll double check before my disco nap that evening!
An interview and feature, from the time of his 70th birthday gala in Madrid. Definitely worth a read, all 11 pages. (In Spanish)
And, finally
Washington National Opera closes season with a lackluster 'Don Pasquale'
Watching him working his heart out in the pit, giving it his all, but drowning out the singers and leaving ensemble sections adrift in the process, I realized that Domingo conducts much as he sings: with ardor, complete commitment, slightly overdone gestures and an involuntary tendency to focus attention on himself. These are all great qualities in a leading tenor, but they aren't so great in a conductor, particularly in an opera that calls for a light touch and an adroitness with ensembles.
Oops...
(I think it's itme to publish this blogpost, even though I am sure there are lots of articles etc I have missed - so I might make a follow-up post, soon)