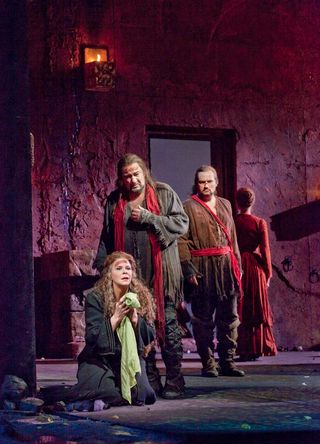 I may seem a bit tardy in doing this round-up of reviews. The trouble is: do it too soon after First Night and there's a long tail just of First Night reviews. This is a routine revival of what I saw in New York...I was going to say a couple of years ago but it was December 2007...and in Valencia in 2008. Also the same role he (Oreste) was singing in Madrid just last month.
Do not forget the live broadcast to cinemas next Saturday. 6pm my time (I think). And repeated eg on Sunday
Domingo, Having Turned 70, Returns to Met Opera:A few weeks past 70, Placido Domingo returns to Met Opera in Gluck's 'Iphigenie en Tauride'
But what Domingo lacks in youthful appearance he makes up for with intensity and impassioned acting. His tenor, with a strong middle register and superior coloration, remains a marvel.
Critical of the conductor.
As much as I love Placido Domingo, it feels like he's slumming here in a bit of luxury casting as Oreste.
(I understand what he means but although it's not actually a very long role, it does require a topnotch singer)
Grecian formula works for Domingo
70-year-old Placido Domingo is still giving performances singers half his age could be proud of.
In Dark Temple, Antiquity's Sober Doings
Mr. Domingo, a savvy, intelligent performer, plays Iphigénie's long-lost brother, Oreste. Through canny pacing, charisma and force of will he manages to surmount some shaky sustained tones and a lack of flexibility in faster passages (the man is 70, after all) to create a noble, physically fearless, satisfyingly sung performance.
With inspired cast, Met's "Iphigénie" still a powerful experience, the dancing apart
Domingo's Oreste finds few opportunities for any such release, not least of all because he is almost always in chains. His voice has lost some of its polish with age, but its emotional and dramatic core remains powerfully intact. His runs in O Dieux qui me poursuivez came out uneven, though that may have something to do with the sets by Thomas Lynch which compartmentalize the stage into unequally resonating boxes. But by the final act, when he recognizes Iphigénie as his sister, it was as if the chains had fallen off his voice, too, revealing a glorious, burnished sound.
(A report from Wednesday evening's performance, when Elizabeth Bishop covered for Susan Graham, who had a cold, as did Plácido, who sang nevertheless)
The 70-year-old super-tenor managed some fine, heroic singing despite his illness. There was nothing wrong with his acting.
Susan Graham in Iphigénie en Tauride at the Met
Placido Domingo's performance as Orestes simply cannot go unnoticed.  How this man at 70 can still deliver such a refined and polished performances is beyond me.  Orestes isn't the most challenging role in Domingo's repertoire, but nevertheless, Domingo's performance hinted at what this great singer was like at his prime...But Domingo's clean line and near perfect tempo...left the audience (and, admittedly, Family Circle) breathless.
Link might not work: It's from Gene Lavergne and dated Wed, 16 Feb 2011 23:10:50 -0500
Plácido Domingo as Orestes was announced as having a cold. Every tenor in the world should be blessed with his cold! The voice was full and radiantly beautiful! The man is 70 and going strong! What a gift that performance was!
A nice little story from someone who was taken to Iphigenie for not-Valentine's Day