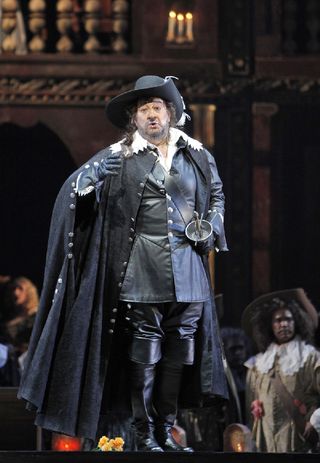 This opened on Sunday just gone, a matinée, and plays again tonight and Saturday, and the 2, 6, and 9 November.
The San Francisco Opera has a nice mini-site for the opera with a swish photo gallery and a video clip of highlights - the photos are also available as bigger picture lower resolution files here
Several previews before the event:
Plácido Domingo perfect to play Cyrano in S.F.
This article points out that he was in rehearsal for Cyrano in between performances of Il Postino - and Le Nozze di Figaro in Los Angeles.
He talks about baritone roles he is looking at:
I have three or five in mind right now, including Di Luna in 'Il Trovatore' and the Doge in 'I Due Foscari.' Maybe Ernani or Nabucco...These roles are hard
(of course, anyone who's read  My Operatic Roles will know that all roles are hard!)
(a headline which makes it seem that Cyrano is a baritone part. It isn't)
But, to be the man who takes the girl – you have to be young and handsome – you know?"
(Erm, actually, no, Plácido, not necessarily young, y'know)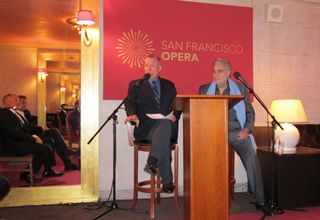 Feature: Plácido Domingo meets the Californian press before his Cyrano de Bergerac
Plácido Domingo's SF Opera Press Event
Placido Domingo delights SF with surprise appearance at Cyrano panel
 He twiddled his fingers.  He clasped his fingers together.  He fidgeted.  The hands kept moving.  He literally twiddled his thumbs.  He touched the matching finger tips together, then intertwined.
Yeah, we know, he's a fidget!
Placido Domingo: world's most famous opera singer, in conversation
Saturday, he finished his run singing the role of poet Pablo Neruda in composer Daniel Catan's "Il Postino" at Los Angeles Opera. Sunday, he finished conducting "Figaro" at Los Angeles Opera. Flying to San Francisco for "Cyrano" rehearsals amid this whirlwind has been exhausting, to be sure. How, Gockley asked Domingo, does he maintain this sort of schedule? To be a singer, a conductor, a general director and a restaurateur, as well: How does he do it? "You re-charge," Domingo said, "by the results of what you are doing — when you see the public being happy."
Placido Domingo explains Cyrano to David Gockley at the Opera
In the long, narrow room, his warmth and sense of humor projected intimately as he spoke in a mellifluous voice without affectation...
...At his advanced age some clueless critics suggest he should give up singing and stick to directing at Los Angeles Opera. The operatic world's chronic over-achiever said "I am not going to retire one day earlier than I can sing."
Domingo: Comfortable as an ageless 'loser'
and reviews after Sunday's premiere: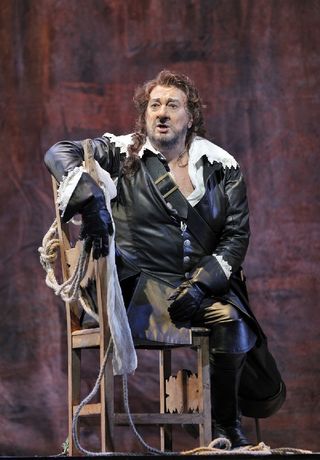 Domingo's Great Cyrano de Bergerac
he sounded wonderful at Sunday's opening matinee...
Despite General Director David Gockley's announcement after Act 1 that the tenor was feeling indisposed, Domingo carried on. The bit of a hard edge that I could detect from Row H soon vanished, leaving Domingo's prized, darkly shining tone unblemished by illness or age. I know it sounds as though I'm respectfully overlooking inevitable signs of vocal decline, but in this role, I didn't hear them. Domingo sang magnificently through the opera's conclusion, with no signs of fatigue or pushing.
'Cyrano': Domingo and more
As for the star, there was a potential crisis that might have stopped the show at Sunday's matinee opening. About 50 minutes into the opera, Domingo's voice turned slightly raspy; until that point, he had been singing beautifully.
After a long pause following Act 2, Scene 1, General Director David Gockley addressed the audience, announcing that Domingo had become "indisposed after the beginning of the performance," but that he decided to continue, asking for the audience's indulgence.
As Domingo returned, the roughness in the voice was gone, he finished the performance without any noticeable difference, except for a small reduction in volume, producing a less ringing tone. But the sheen of the voice, the ever-thrilling element of Domingo's singing, was gorgeous as ever.
  Review: Even when 'indisposed,' Plácido Domingo shines in 'Cyrano de Bergerac' at San Francisco Opera
A bizarre-beyond-belief article that states:
"Cyrano de Bergerac," by composer Franco Alfano, amounts to only half a show. Its first half is a voluptuously scored spectacle, its second half pure tedium...The final two acts are loaded up with sword fighting, gunshots, cannons and bells. But it's all so much window dressing as "Cyrano" has lost its interest.
So go for the first half. It's worth every penny.
And yet everybody I have ever spoken to who has  reservations about the earlier acts is in agreement that the final act is something special - indeed, Plácido has introduced the final act into a gala menu with the final acts of Otello and Carmen.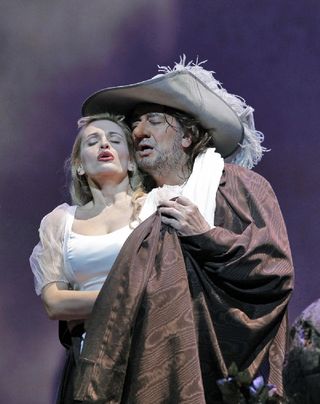 Still, the reviewer also writes:
In a strong cast Domingo was a cut above. Even at the tail end of his career, he sings with such ease, almost conversationally and without a hint of the self-consciousness that affects many good singers.
Sunday, there was a hint of a rasp in a handful of Domingo's spoken lines, but his singing rolled along, his voice warm, darkly colored and nimble. Moments after Gockley's announcement, Domingo caught a delicate high note, dropped down an octave and drove on to one more passionate exclamation of love for Roxane.
Cyrano de Bergerac, War Memorial Opera House, San Francisco