I really enjoyed Il Postino, music and libretto by Daniel Catan (who, incidentally, died subsequently to me buying my ticket). I was buzzing with satisfaction afterwards, in addition to the excitement I felt about being at another excellent performance from Plácido.
I thought it was musically pleasing, with a storyline that, although not gripping, was absorbing enough. A beautiful set and intelligent production, and good performances. I would like to see it again, although I am not sure I would travel at enormous expense.
I did tweet at some length, both at the time and the afternoon that followed, so I see little point in reinventing my early thoughts, so here they are, with just stylistic editing:
Wow. This opera is *much* better than I ever really expected. It's beautiful, intimate, touching, visually delightful. It has its flaws, inevitably, but they shouldn't detract from its overall gorgeousness.
And Placido? He's Placido! Lovely & lovable, vocally rich. Exceeding my expectations. Again... *sigh*
Act 3 was a poignant contrast to the previous two acts; judging by the sniffing round me, I wasn't alone in crying. Overall, an immensely enjoyable & accessible work, and definitely worthwhile. Brilliant production, some good use of video/audio recording without the audio/video becoming gimmicks for their own sake. And probably the best table football scene in the entire operatic canon; the music was superbly orchestrated. The characters were rounded & believable though not especially complex.
Flaws - like most modern operas it was mostly sung in the idiom of speech. At times, orchestration too big for vocal line (compared with eg Verdi) or vocal line not written to ride orchestra (compared with eg Wagner or Puccini).
Ultimately, the intimacy & domesticity I so loved proved unable to portray any great universal observations. The use of fascism/communism as mood-music/background left many questions unanswered, perhaps uncomfortably so.
At the time the opera is set Neruda was 48, so Placido is way too old to play the part (but no more so than Siegmund or Oreste).

I found the love scenes to be intimate & mature rather than passionate, & arguably all the more erotic for that
Of course, Placido's voice is not what it was, but it's rare to hear a singer with such secure line & lack of wobble/breathiness. The part, written for him, eminently suited his range - not too high, and lower than you'd normally expect for a tenor. And many times I heard that inimitable purr his voice has, unblemished by time, & I had to catch my breath
Charles Castronovo Daniel Montenegro* was superb vocally & dramatically as the postman; Cristina Gallardo-Domas so-so as Mrs Neruda. She seemed a bit strained at times, but didn't squawk. Not entirely convincing dramatically, but did nothing to offend.
Amanda Squiteri was excellent as Beatrice Russo, the postman's love interest. The supporting roles were all sung as fine as one can judge in an unfamiliar work.
Placido gave a characteristic performance. Mesmerising & charismatic. Very different from other roles I've seen him in.
I was most intrigued by the intimacy of the story. In my experience of operas and/or productions, even when they are played out mainly in the domestic arena, as this was, there's a tendency to go for the grand. And I think this was touching partly because of its ordinariness.
For example, the now notorious undressing scene - this was tasteful and so natural. Obviously, I need to point out that my reaction may be influenced by how I feel about Plácido, perhaps if it was played out by someone I was indifferent to, I might have felt differently.
But to me, it was a very sweet evocation of the feelings that exist between a couple who are comfortable together. And I think that's unusual in itself - so many operas are concerned with the first lustful bursts of early passion. This was reinforced by a couple of scenes set in the couple's living room.
In one scene, there was a clever device where the wife (actually, future wife) put on the record player, and played a recording of Plácido singing. She started to sing along with it, and then so did he, which was quite amazing. I think the song was a tango (although I have to confess to being a bit ignorant about subtleties in different sub-genres of music).
As I said, it was a quite different role to what I have previously seen Plácido play. Not just the domesticity and the restrained eroticism. Obviously, I've seen him play 'old' characters before, and, as I say, in actual fact Neruda was only 48 when this was set. But although he didn't exactly portray a 70-year-old grandfather, he seemed different from, say, the ageing Boccanegra. I can't honestly say that I found his portrayal to be sexy, but his voice is just so gorgeous...! It must be said that I didn't feel as though the costume suited him at all, shapeless Fifties' suit, and a 'delightful' Arran cardigan not at all slimming and somewhat ageing.
A shame, because Cristina's costumes were seriously gorgeous and Amanda's were nice. The phrase 'Madmen inspired' went through my head, but of course, they would surely have been based upon the fashions of the time, a slightly earlier era.
Visually it was delightful throughout. A fairly simple set, with beautiful blue tiles, and a platform that moved back and forth, removing the need for scene changes to interrupt the pattern of the opera. The background to the story included an election campaign and action was punctuated from time to time with scenes from the election campaign, quasi-fascistic flags and marching bands, which however one feels intellectually certainly add spectacle to an opera. One of the final scenes was of a Communist rally at which Mario the Postman was killed.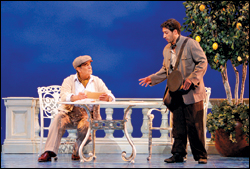 Soem of the action was set in the garden of Neruda's villa, which I believed to be high on a cliff overlooking the sea, although this wasn't explicit in the scenery. In the final act, a video was projected to portray the sea as Mario the postman went out to record the sounds of a fishing community. I have seen better use of video - Birtwhistle's Minotaur for example - but it was effective. They used video sparingly elsewhere, too, mainly to portray events far away - Neruda delivering a speech, and a letter from his secretary in Chile.
I enjoyed the comedy in the piece. I was surprised actually, because it's sung in Spanish, a language I barely understand, and the subtitles were in French, which I do read, but not at any level of complexity, and I found myself laughing at the often verbal humour, as well as the physical. Conversely, I didn't feel anyone around me was laughing because they felt they ought to, to impress their neighbours at how clever they are (I so hate it when that happens!)
There was one scene where I was very glad that Jimmy wasn't with me. In the garden, Plácido as Neruda is chopping vegetables - or attempting to chop vegetables - in the manner of somebody who clearly doesn't chop vegetables very often, or hs never been taught how to hold a knife. Much as I love the man, my opinion of his attractiveness fell (but only slightly!). I would never had heard the end of this from Jimmy, who generally accuses me of being a slow veg chopper, though acknowledges I do know what I'm doing
I think ultimately, it probably isn't a great work. the music is pleasant throughout and often luscious. I would agree with the critics who carped that there is nothing innovative in the score, but, actually, I think that that's a good thing. I don't generally like atonal music, and don't think that, in 2011, it particularly counts as innovative. It's not remarkably melodic, difficult to describe really, and I certainly don't think that it's a work to be listened to on audio-only, especially if you don't have pictures in your mind. But my friend reminded me that it was recorded by LA Opera for delayed transmission on Big Screens, and that that recording will be shown on Sky Arts in the UK. Google also tells me there are plans for DVD release.
Operacake who didn't like it, carries the promotional videos from the three producing companies, which together give a good idea of the visual impact and a fair representation of the music - although I do feel that the music sounds better played through than extracted in disembodied chunks.
Synopsis and libretto from LA Opera website
The conductor was Jean-Yves Ossonce
* thanks to Miriam for the correction!