It's going to to break my heart to blog about this. I love the opera Iphigenie en Tauride with a love so exquisite it hurts. I was so hoping to go to and see it in Madrid , and tried in vain to book tickets, even though reason after reason have presented that it wouldn't be good to go abroad at this time, and anyway like so many other people I am to all intents and purposes broke*.
It takes a long time to go through all the available articles and selsct the best bits, and my new years resolution is to go to bed at sensible o'clock on Tuesdays and Wednesdays. (And I'm aiming to be out tomorrow night).
But as a taster, a photo from the Dress Rehearsal of Iphigenie en Tauride, which opens in Madrid tomorrow (Thursday) night, with a second performance on Sunday and others subsequently.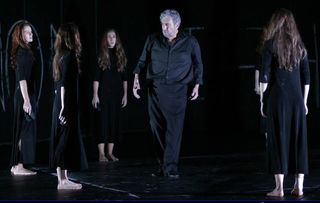 Source: Comienza el maratón Domingo
Which mentions his desire to carry on singing for another 3 or 4 years - he's slipping, for the past nearly 3 decades it's always been 'another 5'!
If anyone who is going wants to write a piece to be put on the blog, full credit to the writer, do let me know!
By the way, this is the same production that I saw in London with Simon Keenlyside as Oreste (both with Susan Graham and Paul Groves...very good in their roles). Simon also did it in Chicago and San Francsico, IIRC. He spent most of the Act II Mad Scene walking horizontally up walls, much to his vocal detriment. I hope for everyone's sake that Plácido doesn't attempt Keenlysidesque acrobatics. Otherwise, I seem to recall I did enjoy the production greatly.
* Not being dramatic, certainly not seeking sympathy, still looking forward to Il Postino in Paris and Tamerlano in Barcelona. Feel enormously privileged but wish I could be in Madrid