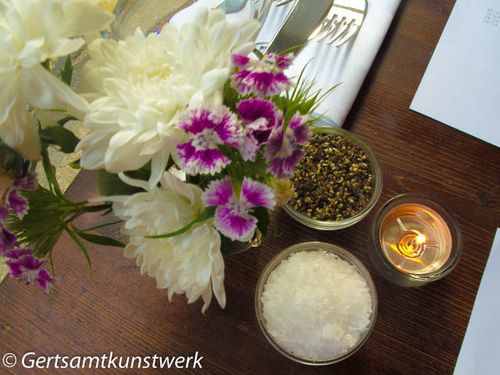 We stayed one night in Botany Bay. In the evening we went into Broadstairs to sample a well-reviewed modern British restaurant, Wyatt and Jones. Independent, family run, seasonal local produce. Also, I notice, our childrens menu consists of a selection of smaller portions from our adult menu. I know people who are frustrated because far too many 'restaurants' think children's food should be mechanically processed offcuts deep fried and served as finger food. So, although I have no direct interest, I will praise any restaurant which overtly states such a policy!
They open for breakfast and lunch (I've been told good things of their breakfasts) but they don't open all day - they close for three hours in the afternoon, presumably for staff lunch and rest and for dinner preparation.
Before settling down to eat I took a short stroll to the shore to capture the glory of the evening sun.
I started with a fish soup with scallops, prawns and mussels. Substantial, wholesome and tasty, although I'm not sure 'soup' is the right classification, but soup or stew it hit the spot. Good tasty fresh pieces of seafood and fish, and a sauce with robust flavours.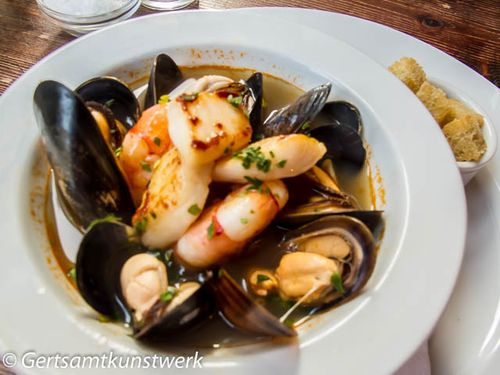 My main course was cod loin in garlic butter, creamed greens, fried potatoes, clams & asparagus veloute.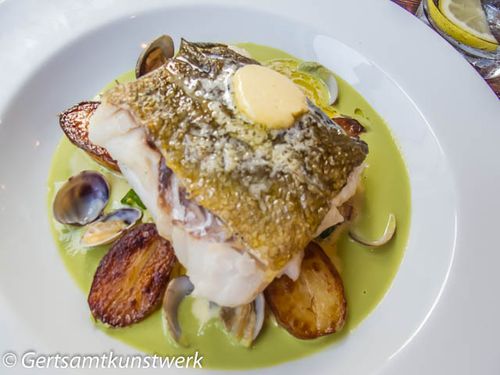 The sharp-eyed among you will have noticed I don't eat meat but I eat a lot of fish and seafood, especially when dining out - when I'm cooking for myself at home I like both big pulse-rich foods with lots of spice and also egg-and-cheese heavy dishes. But, possibly, my most favourite food group is sauce. And this is why I love Modern British food. Sauce, bringing the dish together. I have been in restaurants abroad - such as Spain -who have served up a lovely fresh piece of fish. but with no or few vegetables, and no sauce, the result is disappointing. (And I'm no fan of Nick Clegg, but his wife his Spanish, and he has made a similar complaint about Spanish food).
And this cod dish was an exemplar of great Modern British food. Ostensibly the cod was the star of the show, but the falvoursome veloute brought it together as a dish of balanced elements, each mouth ful a flavour sensation.
Furthermore, it was delightful to find this restaurant in Broadstairs. I fully admit to having misjudged the town, influenced perhaps by MArgate's reputation as a downmarket seaside town past its best (not entirely true). Nevertheless, it doesn't have a foodie reputation, and the town and area's marketing is driven by sandy beaches. I travelled for the bech and I found a restaurant that, although not 'cheffy' (or 'poncey' delivers good quality fine dining.
However, it turned out that the starter was far too generously portioned, and I didn't have room for pudding.