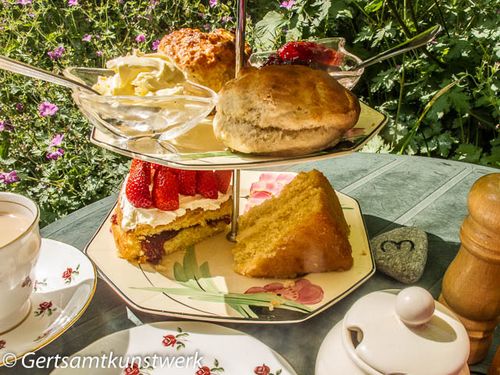 I consider myself an aficionado, or even a connoisseur of Afternoon Tea, but before last year I could count on the fingers of one hand the times I have sat down for the full afternoon tea experience. I've had plenty of cream teas but not so many Afternoon Teas.
The definitions of 'Tea' are quite clear. Tea is a word used in some parts of England to describe a meal that in other parts may be named dinner or supper. In my mind, dinner tends to the formal. Supper perhaps is eaten later, after an activity. Tea is what you have when you get home from work and want something quick and easy but nutritious and filling.
A Cream Tea is available in most tourist haunts and consists of scones, generally with clotted cream and jam, and, of course, tea, the drink. Afternoon Tea is very precisely sandwiches or perhaps other cold, finger-savouries, scones /jam/clotted cream, cakes, and, of course, tea. High Tea isn't just a way to make Afternoon Tea seem posh;  High Tea must include a dish that needs a knife and fork to eat. But not too fancy - Welsh Rarebit or scrambled eggs make an excellent High Tea first course.
Many places include 'champagne', or, at least, cheap sparkling wine, as an optional extra or as part of a deal. For some people, perhaps, part of the justification for eating Afternoon Tea is an excuse to drink cheap sparkling wine before sundown. But who needs an excuse? (and, let's be honest, a lot of the plonk that's sold as a lifestyle choice simply isn't up to the quality of less conspicuously fashionable still wine!). 
I indulged in Afternoon Tea three times last year, and, already twice this year, with another one staged at home, and yet another booked for a future date. The quality has varied, but, to be fair, broadly speaking in line with the price.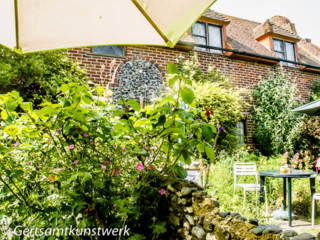 The first occasion was when we went to the Kent coast overnight for the heatwave. I had spotted this quirky place near Broadstairs on Trip Advisor* and wrote it down in my notebook. Somehow the idea became fixed and it became a 'must-do', perhaps a mistake because we ended up leaving the beach far too early. In retrospect it would have been better to stay on the beach and await the break in the weather for an afternoon tea.
Having said that, it was lovely. The Botany Bay Tea Gardens are the front garden of someone's house, and, in essence, they open weekends and Bank Holidays between Easter and September. They have a wide menu - Afternoon Teas and Cream Teas, but also a decent range of lunch/snack items. Very appealing but perhaps not to the two tattooed Polish builders who scrutinised the menu and reeled away in disgust! (They don't have an alcohol licence).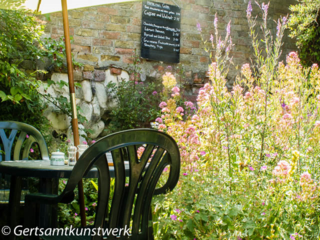 Chalk boards hung in the garden list what home made cakes are available. We had a choice of  7, and it seemed that another two had run out. We made a mistake in placing our order, and the man, presumably the proprietor, helpfully followed what we said - that is, that I don't eat meat. So he brought us double helpings of the vegetarian sandwiches. Unfortunately, Jimmy doesn't eat cucumber, so I ate just cucumber sandwiches and he ate just egg mayonnaise. But this was our fault, not the proprietor's, and we have learnt our lesson for subsequent outings.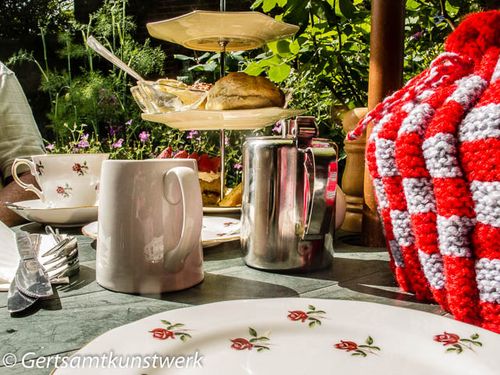 Tea came in a pot. It was teabag tea, but good quality tea bags - I could tell by tasting. It came with a hot water pot, and the the teapot even came with an old-fashioned tea cosy. Very welcome and refreshing after several hours on the beach in the Heatwave.
China plates and cups that matched each other, but not the cake stand nor other tables' china. Some places distribute china entirely randomly, as if they're the remnants of family heirlooms. Of course it's not significant, but I like to make note!

The sandwiches were served on fresh non-processed bread. The scones were fresh and big. I had a delicate tasty lemon drizzle cake, and he had a decadent strawberry and cream affair. I could easily have gone back for more if I wasn't so stuffed! 
To summarise, a solidly good traditional afternoon tea at a reasonable price delivering everything it promised in lovely surroundings in a slightly surprising location.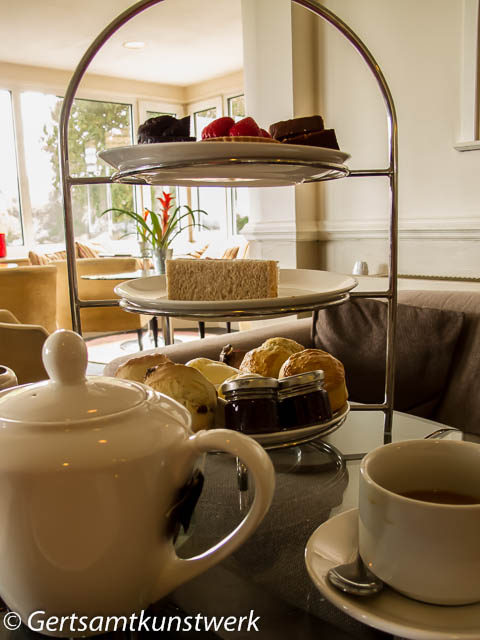 Our next Afternoon Tea came at the end of a mini-break in the Lythe Hill hotel and spa. Like many hotels, on your last day you are expected to vacate your room by 11 am, but you still have use of the - excellent - leisure facilities until late in the afternoon. Early breakfast, check-out, relax a little, then the full swim, sauna, steam, jacuzzi, probably twice, interspersed with laying on the sun terrace.
And rounding off the day with Afternoon Tea. Also in the restaurant was a hen party, and an elderly woman was awaiting the arrival of the other guests for a friend's 80th. Down by the lake the staff were setting up for a wedding reception. Our new temporary friend went to investigate. My favourite phrase for several days was 'a veritable Miss Marple'.
The afternoon tea pretty well summed up Lythe Hill. I do so like the place and you can't really fault them in terms of getting things right and delivering a good standard. But there's a little niggle that some aspects are just a bit corporate or impersonal. Standard bland catering tableware; big name tea and jam albeit good quality big name jam, and decent enough tea. Sliced bread. I imagine the cakes were bought in, again albeit from carefully selected mass catering suppliers.
I am certain that head office would have been delighted that all the boxes were ticked, but there was a part of me that felt I could easily have assembled the same selection from an upmarket supermarket or even Tesco without a diminution in quality. Sticking precisely to a well-established formula, served in the impeccably sterile surroundings of the hotel bar.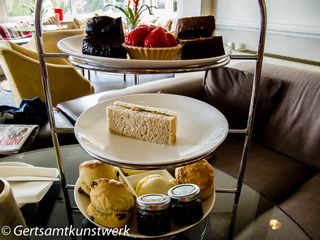 * I have a blog post pending about the advantages and drawbacks of Trip Advisor.