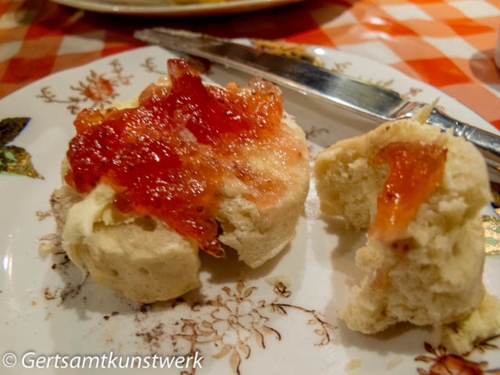 The cold dark days of autumn, with nothing to look forward to except a few days off work for Christmas. I fell upon the Afternoon Tea website, an entire website devoted to Afternoon Tea. I searched South London and came upon a place which, interestingly, is no longer on the website, and they no longer have Afternoon Tea on their own website. So this blogpost is somewhat redundant in respect of Lost Society Clapham. 
It was an interesting experience, and although I have several criticisms, overall I thought it was a decent offer at the lower end of the London price range. My criticisms probably boil down to one particular member of staff. I think he fancied himself to be cool, or cutting edge, or down wivdakids, or something, but he just wasn't very good at his job as barman/waiter. He initially greeted us with an insincere over-familiar 'Hi guys'. We are a middle-aged decidedly untrendy woman and a man who is technically a senior citizen. It's a bit bizarre addressing us as if we are sallow youth. Perhaps revealing this man's lack of real life experience.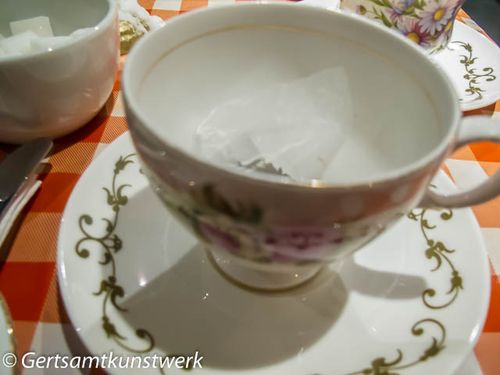 We were seated and he took our orders for tea, the drink. This consisted of him bringing over a cardboard box containing about ten cardboard boxes of teabags and hesitantly going through them. The women at the next table asked for a written list, which wasn't available! I chose Teapigs' Darjeeling Earl Grey.
The choice was various Teapigs and Twinings. Both companies do a wide variety of both straight and flavoured tea. If providing them just requires buying a few boxes of teabags, frankly, I would have tried harder. He plonked my teabag in a teacup and filled it with hot water from a teapot, which he left on my table gradually to lose heat. I was irritated. I had booked for Afternoon Tea. Being able to make a cup of tea wasn't too much to ask, was it? Later, I summoned another member of staff and requested the teabags be placed in the teapot and covered with boiling water. The women on the next table also endured the teabag-in-a cup before requesting the teabag in a pot method!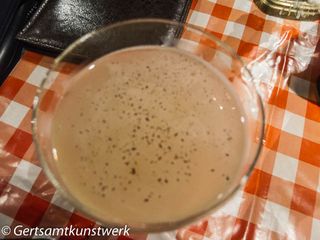 Later I decided to have a cocktail, and when he took my gin-based order he said "That's a good choice".
I suppressed the urge to ask for advice on what would have been a 'bad choice' or, indeed, why a cocktail bar would bother offering cocktails which are 'bad choices'. Or indeed, how could he possibly know it was a good choice for me, given that tastes vary, and what's good for me may be quite unpleasant for you and vice versa. 
He was basically a prat and not very bright, but I wasn't going to let that spoil the afternoon.
For contrast, we later moved on to a more traditional pub in Clapham and I decided to stay on the gin. The choice was Gordon's or nothing. There's nothing wrong with Gordon's, but this was supposedly 'trendy' Clapham, in 2013. The mixer choice was between Schweppes original tonic and Schweppes artificial sweetener tonic, neither of them pre-chilled and both served on ice-cubes that had been melting on the bar for at least half an hour.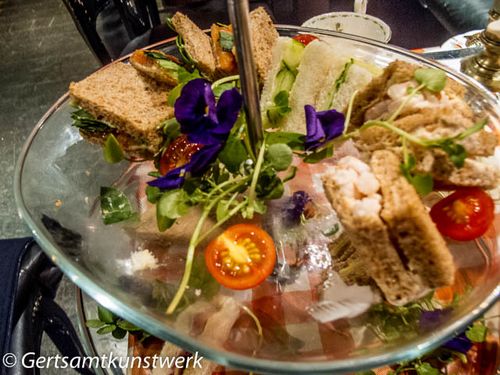 Otherwise I was impressed by the afternoon tea. The sandwiches weren't exactly 'traditional', and were all the better for that. They were plentiful, well-stuffed, well-presented and in classic flavours. I liked the cherry tomatoes - succulent and full of flavour, not always guaranteed, especially not in December. The bread was fresh and 'proper', perhaps bought in from a decent bakery (and if so, the right thing to do).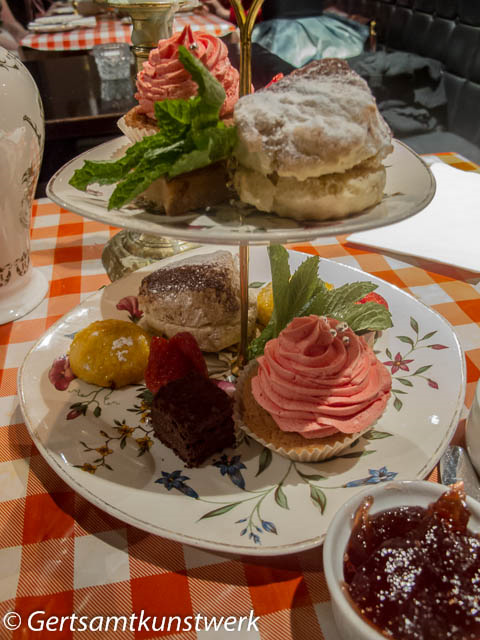 We finished with a lovely variety of cakes. Again, I was impressed. I know some places offer quirky or themed cakes, as you will see in Part 3, but it's possible to offer something different from the well-tested formula without having an artist-in-residence. Adding fresh strawberries was a nice touch aesthetically and for the tastebuds. 
The photos illustrate that someone in the kitchen or in management knows what they are doing and has a clear vision of how they want to present a quality afternoon tea. But it is so important to ensure the staff know what they are doing.
Often, Afternoon Tea is more of an event than dinner - the women on the next table were celebrating a birthday and were dressed in eye-catching vintage finery - not my style and perhaps OTT for a pub on a Saturday afternoon but illustrating my point that people expect good service.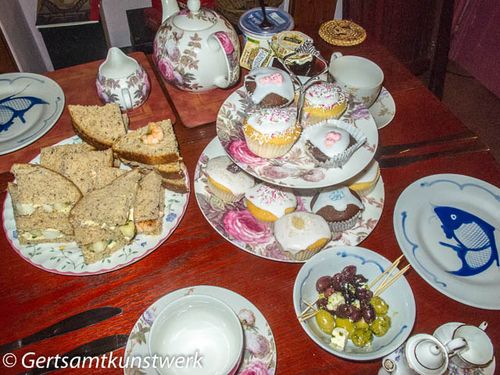 One dull January day, we recreated the afternoon tea experience at home. It's quite some work to do authentically. The great thing about eating out is the variety, without the waste. When this photo was taken, the table was only partly set with a 'shabby chic' mix of china and crockery acquired over the years. It made perfect sense to start with olives and feta. 
This was only a selection of the sandwiches; there was another load being prepared in the kitchen. The fairy cakes were easy enough to do - mix up the mixture, pour half into cake holders, add the chocolate to the remaining mixture, repeat, cook and dollop with icing sugar/water mix. I'd also knocked up some scones, out of shot on a cooling rack - see the posh jam and plastic carton of cream. We drank Darjeeling leaf tea straight out of the cupboard, and, much later in the day, we finished with a slice of eternal Christmas cake. If we had been entertaining we would have made more effort to introduce a wider range of cakes, but for the two of us, this was sufficient. To be honest, I was pretty stuffed after just sandwiches!