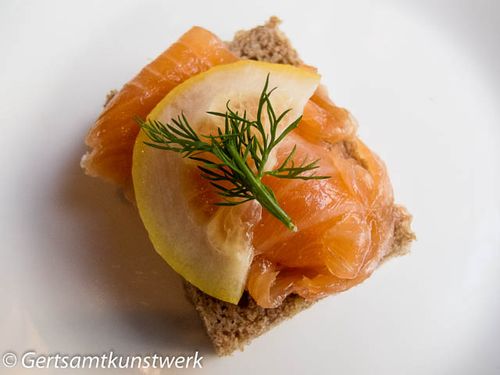 Part 2 is here
I booked One Aldwych before Christmas, as something to look forward to on a dark dreary afternoon - that, ironically turned out to be sunny and bright. Having sampled very few posh London hotels I can't truthfully say that this is 'amongst the best' but it is certainly on an equal footing with the Lanesborough and the Savoy. In fact I only have one criticism! 
When the waitress seated us she explained that the tea was 'Charlie & Chocolate'. In fact, it was a tie-in with the stage musical of the book Charlie & the Chocolate Factory, which is probably trade-marked. But that aside, she was excellent as was her colleague. Both were unintrusive but were there when we wanted them at the right time.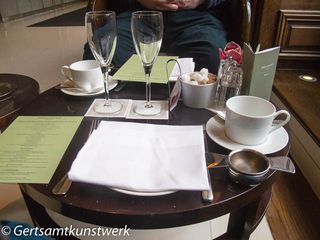 We were offered the 'optional extra'  of either a cocktail or champagne, and despite an earlier decision not to, we fell for it (and, later, a second, making the costs half as much again). This was the time also to choose a flavour of tea. I chose Jewelled Apple: The finest black tea with wild strawberry leaves, caramel and real apple pieces. Also on offer are Smooth Caramel, Queen of Berries and Organic Lavender Grey.
The table setting was modern-corporate-bland, and we were lucky to be seated by the window to enjoy the late afternoon winter sun.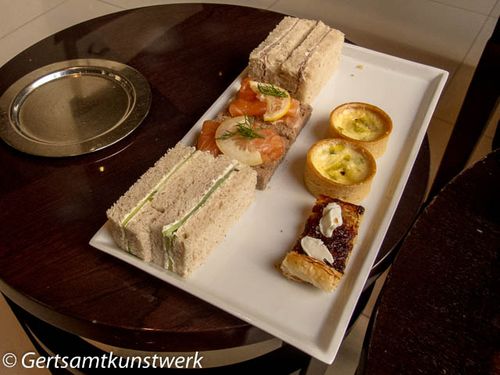 The savouries arrived and there was a good variety - two closed sandwiches  - roast beef and horseradish on onion bread, and cucumber and chive crème fraîche on wholemeal bread, The keen eyed will note that that's beef for Jimmy who doesn't like cucumber and cucumber for me who doesn't eat meat. We shared the smoked salmon on rye, and the heritage tomato tart, and leek and Stilton quiche. The last two, of course, outside the strict definition of Afternoon Tea, but, not needing forks, not yet 'High Tea'. The savouries were truly excellent - not much else you can say when they are perfect and exactly as you hope (but don't necessarily expect). Greedily we accepted the offer of a free refil. Possibly regretted that later!
The scones and 'cakes' arrived together. Oh my!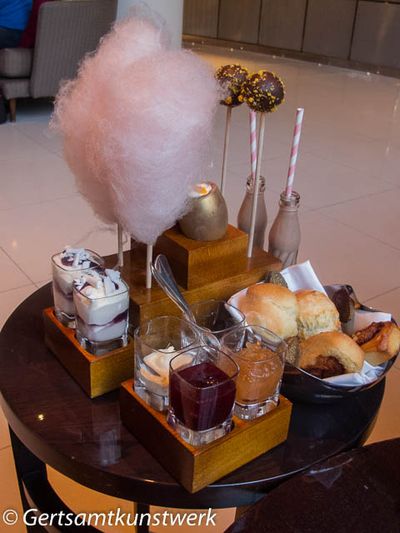 The same picture from Jimmy's angle. Yes, that is in fact a pseudo-African rowing boat sculpture in the lobby tea room. Because Reasons, I expect.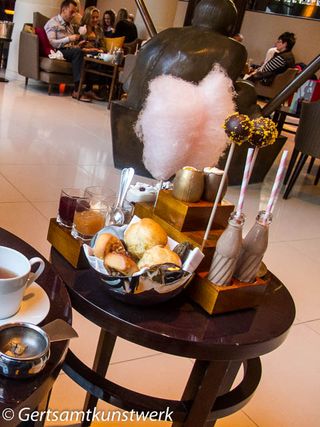 Scones, fresh and almost melting in the mouth, came with a choice of plum jam or apple and meadowsweet compote. No need to choose.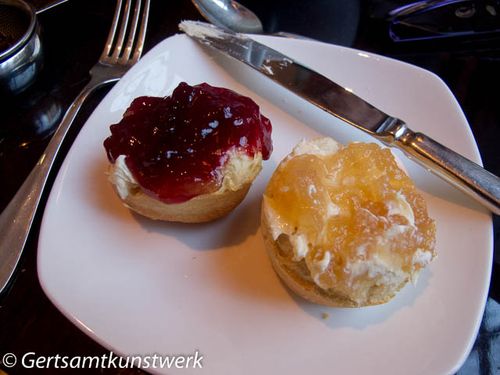 Next was what I call a Cream Egg, but, obviously they don't, because of possible Copyright reasons. They call it Golden egg with vanilla cheesecake and mango purée. After that I'm never going to eat the downmarket Cadbury's version ever again. It would bring back bittersweet memories of this. Well, sweet. Over sweet and sickly. This wasn't. It was good proper chocolate for a chocolate snob.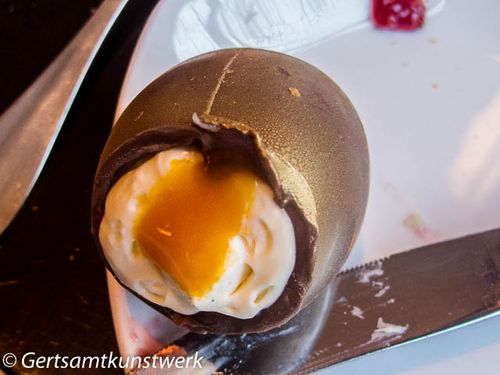 Then we tackled the Eton Mess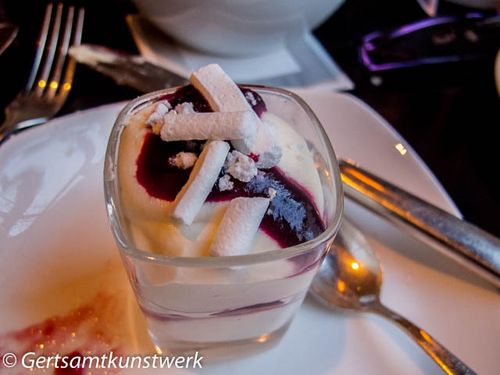 This was probably the closest I came to disappointment. It was a bit too sweet for my liking, and I've tasted better elsewhere. But I ate it all and enjoyed it.
Next was the chocolate lollipop filled with marshmallow, and time for a (by now) slightly tipsy Selfie, duly processed by photo-editing software - or airbrushed as the ignorants of Mainstream Media call it.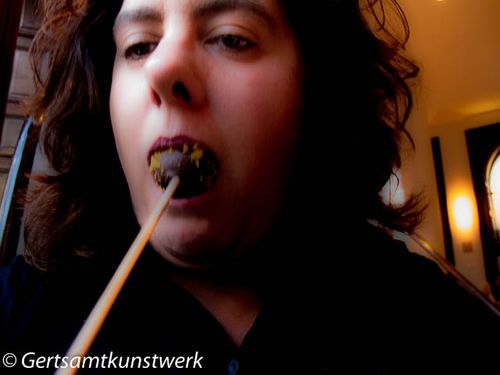 And to finish with, at the point where I was sated and experiencing a sugar rush, a bottle of delightfully cloggy chocloate caramel milk.
Not photographed individually: the rhubarb and custard candy floss and the blueberry brioche. Or the tea refills.
I owuld highly recommend this place. It's certainly not cheap, but it delivers value for money, in pleasant surroundings with excellent service.
Our next Afternoon Tea adventure cost half the price of this, which is important to remember. We got it in a deal that included a 'free' glass of champagne. This was the Kensington Hotel, a short walk from South Kensington Tube.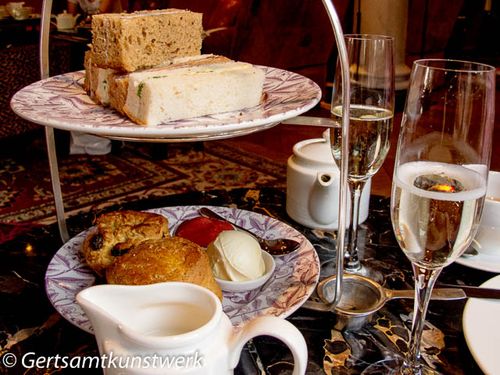 I can't really complain about any aspect of the offer, but it was all a bit not-quite. For example, when we arrived, they had no record of my online booking and kept us waiting in the bar area for what seemed like a long time, in front of a TV showing rugby and with two blokes talking loudly above and about the rugby. 
The selection of tea was nothing special - I chose English Breakfast, which was fine but not memorable. The sandwiches were the standard - traditional or uninspired, it's a judgement call - cream cheese and cucumber/ham/smoked salmon/egg mayo quartet. Served on mass catering sliced. Fresh enough, but, again, forgettable. Refills cost £9.50 extra. We declined.
We followed with scones. It seemed a bit grudging to offer one plain and one raisin between us. We did the obvious and split both. But they weren't totally fresh. I suspected they had been baked the previous day, which is fine for cakes, breads, and many other baked goods, but not scones. The jam, a workaday and uninspired strawberry.
I have an odd story to tell about the cakes. A tiny piece each of Victoria Sandwich and carrot cake (he'd taken his carrot before I had the camera ready), but they were exceptional examples of their type, light and flavoursome. Just a pity the slices weren't bigger.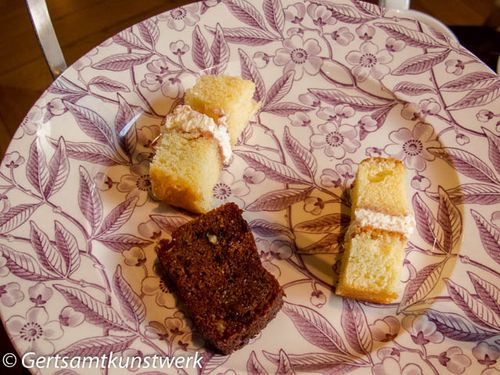 There was also a selction of what I supposed is known as pastries. Frustratingly, there were four between us. We had to negotiate a fair method of sharing -as it turned out, both tarts could be split roughly in two with a knife.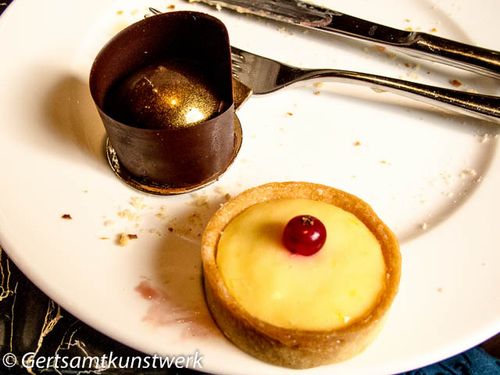 They turned out to be extremely good, exceptional, in fact. I just felt that all along there had been an absence of je ne sais quoi about the whole experience. Staff were polite to a nth. But it was that politeness that borders on the subservient and almost grates. I didn't feel there was any understanding in the serving process, whether it be the perfunctory presentation or the seeming lack of insight into the ritual and imagined pampering that is part of Afternoon Tea. But overall, it was good, and - indifferent champagne aside - was really quite cheap, especially for a luxury hotel in Central London. A review on Trip Advisor said "When we come to England we always have afternoon tea here, it's the best" or words to that effect. No, no, no - it really isn't. Actually, you're in no position to judge, anyway, but, also, you really are missing out!
For some reason, I took my camera to the Ladies, and my heart soared at this comparatively rare sight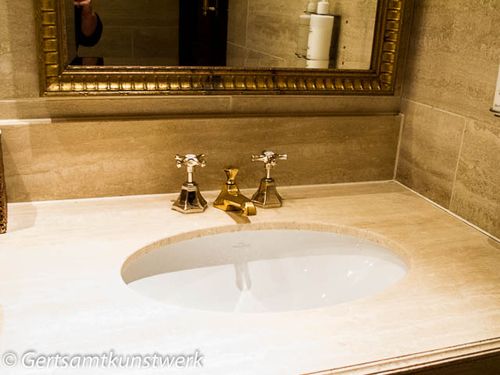 Yes! A proper mixer tap where hot and cold can be individually controlled, allowing the customer to wash her hands thoroughly, not having to choose between nearly cold and a tap bearing a sign "Caution: hot water". I have been in food places where it's impossible to do a proper hand clean - and in some cases these washrooms are shared with the staff, leaving one to wonder about the hygiene standards of the management.