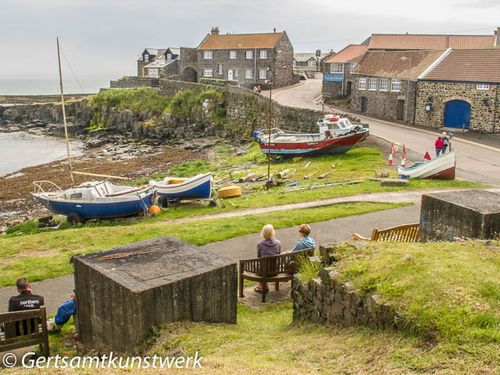 Walking from Craster village to the ruined castle at Dunstanburgh is one of the recommended highlights of the area of Northumberland we visited last year.
The car park was busy when we arrived; we had to park in the third level up (not a multi-storey, but set on a hillside). 
The weather forecast was fine and warm, so I had decided to dress in a floaty, flowery summer dress. In the car I wore flipflop style flowery sandals (Doc Martens, as it happened, but no ankle support). I was amused when I got out of the car and outdoor types in nearby vehicles glared at me, and especially my shoes, and actively retracted their glares as I changed into padded socks and my proper Outdoor shop-bought walking boots. I thought to myself, 'this is walker's country'.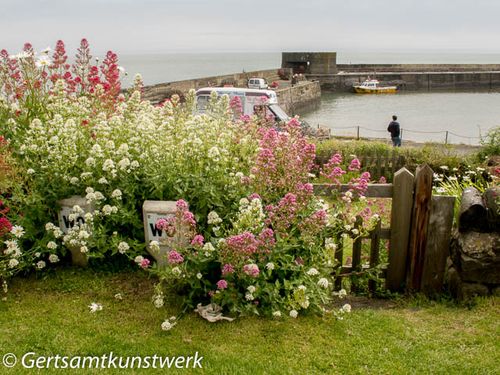 We walked through the village with its pretty harbour, and through a gate onto a seemingly long grassy walk up to the castle. There were a lot of people around; a few too many for my comfort.
To my surprise, by the time we reached the outskirts of the castle, the crowd had thinned down to almost nothing. It's about a mile from the village to the castle (and back again).
I do understand that can be challenging for some people. But I just don't get why the majority of people will drive to a car park, start a two mile return walk, and give up after just a couple of hundred yards. It's a phenomenon I notice over and over again, and I'll never get an explanation. Perhaps it's partly about footwear. A gentle walk on grass doesn't require walking boots, but it's going to hurt if you're wearing fashion or beach shoes!
The walk was along the coast, where sheep grazed on the rocks and cattle lay in the field.
We reached the castle and sat for a while, soaking up the warm sun. Very few people passed by.
We didn't go in the castle. It's a ruin, after all! It's managed by English Heritage and I've just read we could have entered for free with our National Trust membership. No regrets, though, we were heading for the beach.
We took the path less travelled below the castle, passing fertile fields and walking the edge of a golf course, as ugly as every other golf course, and used by fewer people than the walk to the castle.
The castle remained in sight.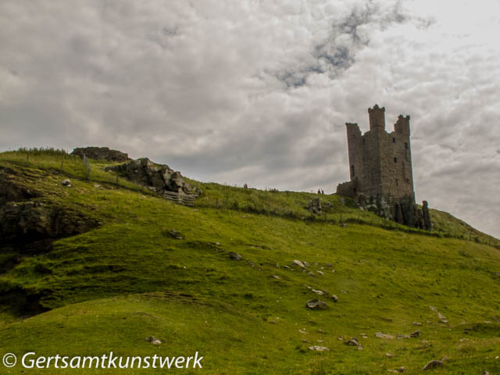 Build a castle on a cliff face - makes it even better defensively, and more difficult to attack.  Kittiwakes breed on the cliff face.
We reached the beach near Embleton and settled down to spend some hours there. I kicked off my walking boots and went for a paddle, resolving that within half an hour I would be swimming in the sea.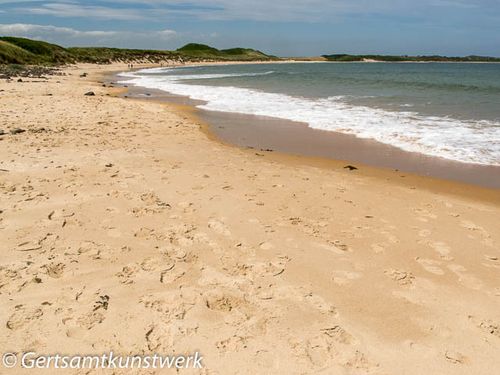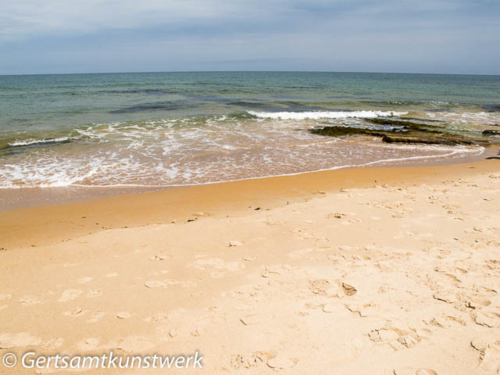 Within twenty minutes, the weather had changed. Clouds covered the sun and a breeze whipped up. I couldn't believe it. Not only was it no longer warm enough to swim in the sea. it wasn't that comfortable sitting on the beach. And even walking back the way we came wasn't that great. I wished that, for the small effort it would have required, I had carried a light cardigan to wear over my floaty flowery dress. I should know English summers well enough to know how the weather can change. 
We went to Alnmouth later but strangely I took no photos. Perhaps I had had my fill of sandy beaches. Photographically at least!
In the evening we ate at The Links in Seahouses. It looked unprepossessing from the outside. On the inside it looked dated, like an estate pub or an Eighties Labour Club (I read it's been refurbished since). I'm not sure whether it's directly connected with the local golf course or simply takes its name from there. In any case, my expectations were low.
The Links proved to be an excellent restaurant. Basically, they serve pub grub, but not fancied-up with the name 'Gastro'. I started with a deep fried Camembert. A bit 90s I suppose, but it's always been a favourite of mine and I wasn't disappointed by a huge and tasty serving. Look at that side salad. Judge a restaurant by the side salad it serves with its starter. This is a kitchen that understands good quality fresh ingredients presented in a way that stimulates appetite.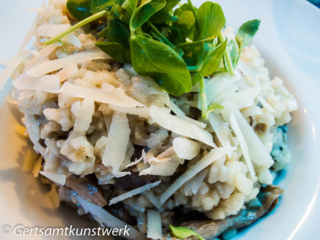 My main course was mushroom risotto, always a risk in an unfamiliar restaurant. It seems an easy dish to make, but have you noticed on Masterchef how often it goes wrong? This was flavoursome, a hearty stock and strongly flavoured mushrooms - and look at the elegance of the presentation with the Parmesan. Nothing poncey, but a bit of thought and care.
Oddly, this large portion of risotto came with added potato. I opted for chips. Lovely chips, look at them. Proper! But chips with risotto was a new one on me.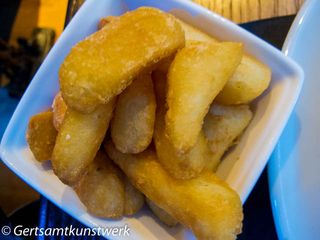 How can you resist chips like that?
I've looked at recent Trip Advisor reviews of this restaurant and, aside from the inevitable grumpy exceptions, everyone seems in agreement with me about the quality of this restaurant. and everyone has the same observation - huge portion size. I could not make room for pudding, a very unusual situation for me, and a TA reviewer made a similar remark. A pity, because the starter and main showed that this kitchen can cook - and from a business point of view, they're losing money - puddings often have big mark up, and people often order more drinks to go with pudding. 
We went back there on the Sunday, an early dinner, and like many other customers we were in a hurry for the Men's World Cup Final. Staff were obliging and understanding.
So, basically, my criticisms of this restaurant  - awful decor which has since been refurbished, and enormous portions!