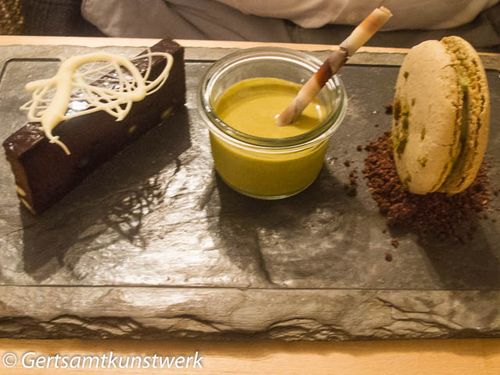 When we booked to stay in Marazion we did so in ignorance of the existence of Ben's Cornish Kitchen. But this restaurant is so good it's worth visiting Marazion especially to eat here. And we ate here twice.
Just the other day, Jimmy commented that there were two stand out restaurants this year, Wild Thyme in Chipping Norton, and Ben's Cornish Kitchen. We booked to go on our first Friday and decided almost immediately that we must book again for the second week. In my diary I wrote 'utterly utterly brilliant'.
Ben's is on the main road through Marazion. A fairly small downstairs room has been augmented recently by opening an upstairs, where we didn't venture. They are very clear on their website there is no dress code. The tables are set fairly well apart so it shouldn't be possible to overhear other parties' conversation. Unfortunately, on both visits we were sharing the space with a table of people who included at least one person who was either hearing-impaired or was needy of attention, which tempted me into one of my favourite pastimes - making up background stories about total strangers (see below).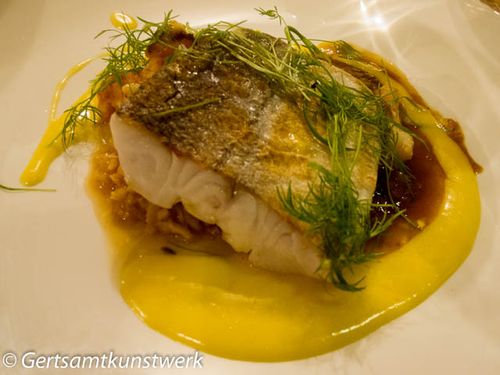 Food wise, I can barely fault the place. Some dishes had a wow factor, others were merely 'very good'. When you savour outstanding food it's sometimes disappointing to taste the merely excellent. But mere nit-picking on my part! Good wine selection - the menu suggested a matched wine for each dish, a nice touch.
The waiting staff were mainly young. We had a nice conversation with a young woman who was going to an open day at Bristol University Medical School. She will have an excellent bedside manner as a doctor and she was lovely as waiting staff; nevertheless, Sixth Formers, however bright and charming, are different from experienced full-time front-of-house staff. My main criticism of Ben's was that the pre-dinner bread seemed to be rationed to one roll each. Minor niggle, I'm sure you'll agree.
On my first visit I started with Seared Falmouth Bay Scallops, new season parsnips (I'm not a parsnip fan but these were surprisingly delicious), roasted chervil root, basil and tamarind garlic. Every mouthful had a different taste.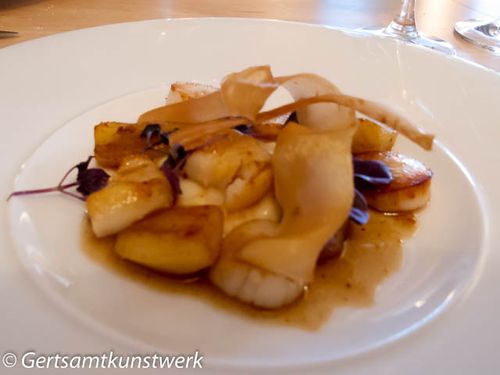 The next week I started with Mushroom parfait, with cep custard, pine oil, hazelnut crumble, salsify twigs, parsnip bark, micro herbs and cep powder.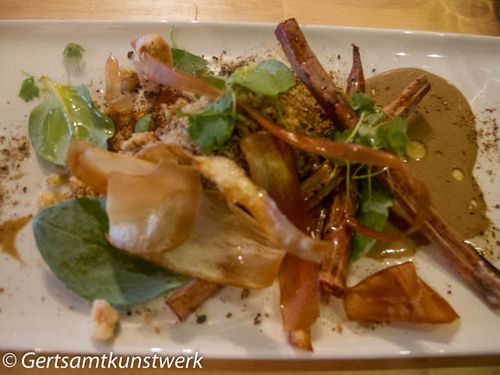 A very strongly flavoured sauce, with hazelnut as a strong and surprisingly effective partner to mushroom. I'm not sure I'd have it again, although that's about my individual taste, not a criticism. I wasn't entirely convinced by the vegetable crisps that were neither crisp nor chewy.
First week, my main was Roast dayboat Turbot with a warm salad of roasted squash, Newlyn crab, Lobster and chard herb salad (out of focus shot).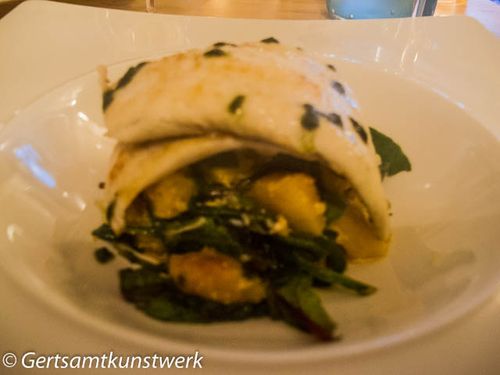 It was perfectly cooked and presented with a perfect flavour combination, and one of the best main courses I've had all year, but, ultimately, it lacked the wow factor I'd experienced with the scallop starter.

In week two, I had roasted hake fillet, Newlyn crab and Cornish Langoustine risotto, lobster and brandy bisque sauce and saffron mayonnaise. My diary records "Absolutely bloody fantastic, especially the risotto which packed a punch with its flavour"
The pièce de résistance was my first week dessert, somewhat of a signature dish, reportedly by Toby, Ben's brother. Curry. Yes, that's right, curry for pudding! Mango curd, spicy rice, coconut puree, spiced caramel, ginger jelly, cardamon ice cream, coriander, poppadom.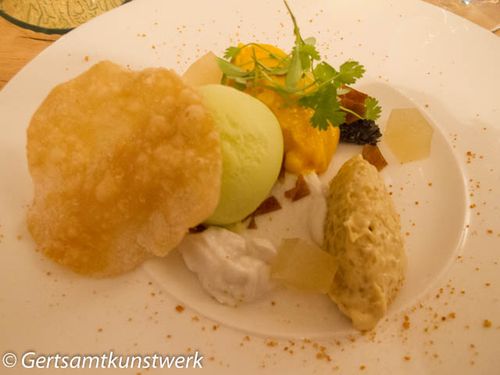 I had never previously experienced a sweet curry, but I now demand every good restaurant includes it in its repertoire. Tasted like the most exquisite curry and worked perfectly as a pudding.
I was tempted to try it again in the second week, but decided that variety is important. I opted for a cheeseboard - Helford White, Helford Blue, Comte and Ragstone's goat cheese, with 'homemade' biscuits. It was everything I expect and hope for from a cheeseboard, and just what I wanted at that point. I sort of regretted not ordering the Triple Layered chocolate brownie, pistachio milkshake, and chocolate and pistachio macaroon which was Jimmy's choice but I'm generally disappointed by chocolate brownie.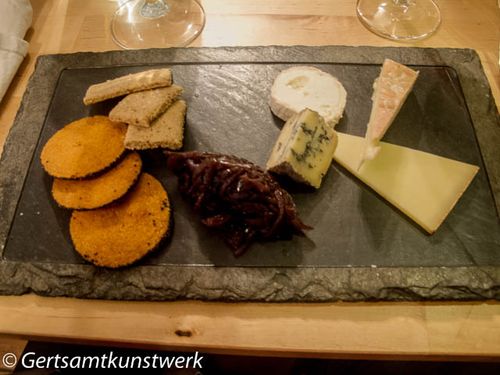 On the first visit, I decided that one party were two couples who had met prior to 'wife-swapping' - they were explaining their occupations and what had brought them to live in Cornwall (they'd ruled out Hampshire as being too close to her Mum and Dad, to gales of laughter, including on my table) yet they were happy to share a quite-pricey dinner. I was delighted I guessed her occupation correctly - doctor's receptionist.
The next party to arrive was a 70-ish man, and two women of 60ish and 50ish. I decided married couple and her lover, whom he tolerated. I was desperately disappointed when a second man arrived presumably from having parked the car. They were probably long-standing friends or relatives, with no offbeat sexual practices involved.
A middle aged couple arrived with two twenty something men - son and boyfriend, I decided, without any evidence to support or refute this. In the window was sat the token 'normal' couple. I felt I was sure I knew the man from somewhere, and, indeed the next morning he said 'Good morning' in the Town Square. I'm fairly sure we work in the same building, but one can't ever be sure in a building of 3000+ people
Do take a note of Ben Prior as an up-and-coming chef - see these accolades in the Food Magazine South West awards - runner up with Michael Caines and Nathan Outlaw to Hugh Fearnley-Whittingstall as Local Food Hero; Best Restaurant; and Runner-up as Best Chef. Listed by The Times as one of the Top 30 restaurants by the sea and appearing in the Waitrose Good Food Guide. A foodie blogger's view: Saffron Bunny
I probably won't return to this part of Cornwall soon - it would be nice to see scenery elsewhere - but if there was one reason to return it would be this restaurant. Outstanding.