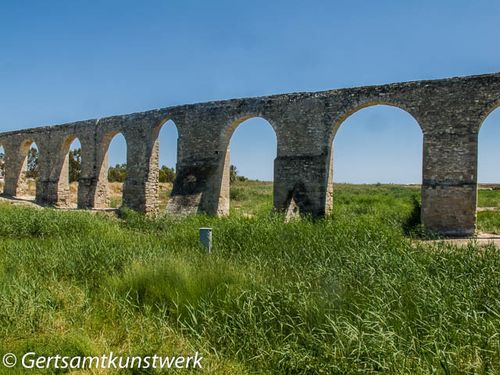 We had hired a car because the weather forecast said "Not Beach". So, the challenge was deciding where to go in the hire car. Cyprus does have attractions, especially of classical archaeology, but the best were a long way away, and, to be honest, neither of us is sufficiently interested to make that effort. So, Larnaca seemed an obvious destination, even though I couldn't pin down anything really worth seeing.
The journey was simple enough - main road to Ayia Napa, and motorway to Larnaca. A bit like driving on British Motorways forty or fifty years ago. Our taxi driver (grew up in Streatham of Cypriot parents, ex-British Army, long settled in Cyprus) had warned us of the madness of Cypriot drivers. I didn't find them mad, but some were quite stupid. Showing off, but they wouldn't last long on English motorways. A general lack of awareness of other road users.
We went to find Kamares Aqueduct, which was very nice, dating back to 1747. Its purpose is water supply.
Next destination was to find the Salt Lake. Probably Larnaca's outstanding feature, although it dries up in the summer. I got confused reading the very poor map that came with the hire car and tried repeatedly to find a road, which I eventually realised was one of Europe's main footpaths. Giving up, we headed for the coastal road. On the way we found a small off shoot salt lake, which was very nice, not least because it afforded views of the airport and the hills beyond.


We found the beach. Miles and miles of golden sands, all but deserted. We parked up.
Although the day looks bright it wasn't warm enough to sit on a beach.
We had been there less than ten minutes when we were joined. A Russian couple with two small children, who parked next to us and came down to the beach. they made the sort of noise you would expect from such a group, which would be fine, except that, with all those miles to choose from, they decided to come within feet of us. We had seen them a few minutes earlier, when they had shot out of a side road without noticing us approaching on the main road. Jimmy slammed on the brakes, stopping inches from their protruding car. They drove off.
We moved on and came to a small village which I think was Pervolia.We found a lovely place to stop for a coffee.
I worked out how to get to the main Salt Lake, although by this point I was wondering whether it was worth it. It's a major place for migrating birds, the main feature being up to 12,000 flamingoes that spend the winter there. But they have moved on by April, and the Lake as not yet dried up, so at the time we visited, it was just a lake. 
We parked beside the Hala Sultan Tekke mosque and wandered along the shore of the lake. The mosque was noticeably secured with barbed wire, CCTV and so on. We could have gone in. they requested modest clothing, which is absolutely their right. However, I felt I didn't need to see it enough.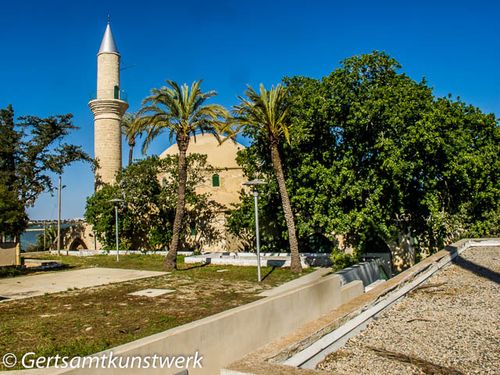 I decided that, rather than taking the motorway we would take the coastal road, which was fine until we arrived at Dhekalia Sovereign Base Area and we had to turn inland. I don't know what happened but we got completely lost and ended up driving into a military base which had signs for Famagusta.
It wasn't a good idea to drive aimlessly around a military base and also not good to cross an International border (albeit one not recognised by the UN) without a passport, so we popped into the Naval Police station. The policeman was very nice. I asked him to point on my map to where we were. He refused, politely but firmly. He asked me where I wanted to go and gave clear and unambiguous directions to Deryneia, from where we could get back easily to Kapparis.
We were on Ayios Nikolaos Station, which is basically an outpost of GCHQ, and doesn't seem to appear on maps...very mysterious...although it is covered in Wikipedia, and is the recognised route to Northern Cyprus if you don't want to bother with too many border formalities - a passport is required! It seemed quite an adventure at the time, being lost in a secret squirrel military installation in a sort of no man's land between sovereign states. And, yet, technically, being on British sovereign land. Only in Cyprus!