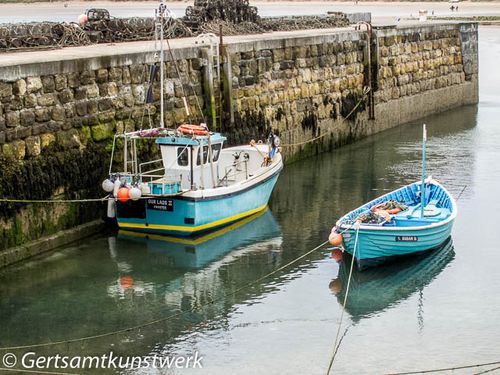 In short, I have edited 350 photographs and still have 200 left to edit!
We started our holiday the first weekend of July and stayed in Seahouses for two weeks. A splendid time was had. My brother, who visited Alnmouth last year, described Seahoouses as 'like Blackpool', which got me rather excited. But although incorrect, I could see his point. More commercialised than the rest of the North Northumberland coast, which has its advantages and disadvantages. We chose Seahouses as having amenities, and we chose a cottage in North Sunderland as being slightly away from the main drag. The 'slightly away' became the main - only - downside of the cottage; the walk back from eating places seeming longer and longer each time.
The journey up seemed epic, even though we split it over two days. On the first day we travelled as far as Darlington, largely because there wasn't a hotel to be had for many miles south of there. We crawled through Yorkshire, but were grateful that we were passing through before the Tour de France the next day. You don't want to arrive very late at your holiday cottage; as it was, we arrived at 5pm at Darlington, which was fine for a Premier Inn. Premier Inn fulfills its offer splendidly - ideal for one night, especially when in transit.
Saturday's journey was much easier. A good breakfast and no sense of rushing. Getting past Newcastle was surprisingly easy, and not much later we followed a sign pointing to the Northumberland Coastal Route. We were disappointed that we couldn't actually see the sea, but, slowly, it dawned on me that it's a spinal access to the Northumberland coast. It avoids the A1 and there are numerous turns off to coastal settlements.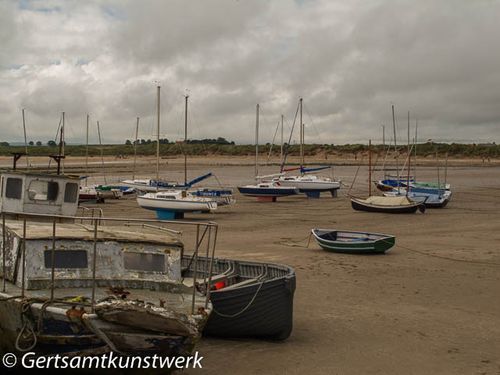 We tried High and Low Newton, but the pubs in both villages were hosting wedding receptions, unsurprising for a Saturday in August. I'm sure they would have been welcoming but you can't reasonably expect attention in such circumstances. And it had started to rain. As we approached Beadnell I realised I was dying for a wee. The weather wasn't great, but I was sure we could find a loo. As we did, free, in a free car park! And the weather bucked up. We followed signs to the beach and, to our delight, found an enormous expansive sandy beach. There were a good few people on it but it was far from crowded.
We walked for a while, especially near the harbour. This features some historic lime kilns (1747), later used for curing herring; oddly I didn't photograph them
It started to drizzle just as we returned to the car and we drove away, to Seahouses. The drizzle soon stopped. As expected, our cottage was not ready; we were early. But we took the opportunity to wander round town. Tea and quiche at Trotter's Bakers; we returned frequently for bread and other baked goods. A look around the harbour and a quick drink in the Olde Ship. Good pub, decent ale.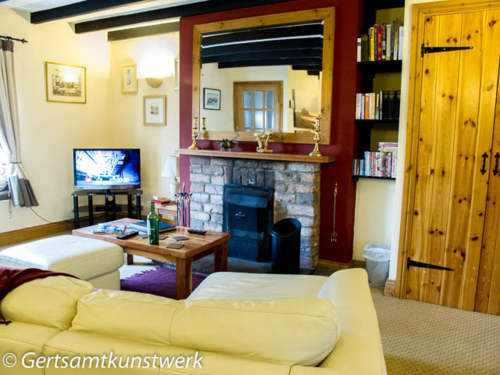 It was time to take possession of ou rental cottage. Slight trpeidation on walking through the door, followed rapidly by great relief. Spotlessly clean, recently re-decorated, tastefully decorated and fully equipped. The owners had obviously put some thought into it, with a comprehensive residents' guide and everything you need for a self-catering holiday.
Such a contrast to the place we had in Cornwall! They even left us a pint of milk and a packet of chocolate digestives, as well as unopened soap in the bathroom, washing-up liquid and enough dishwasher tablets to see us into the week. I joked with the next door neighbour that I had finally found the thing that was missing - a tea strainer, but we were using teabags anyway. And the neighbour offered to lend me her spare strainer. There was a decent selection of board games, books (and not just the usual holiday let Da Vinci code) and DVDs. I'm sure last year's man would have whipped away anything like that.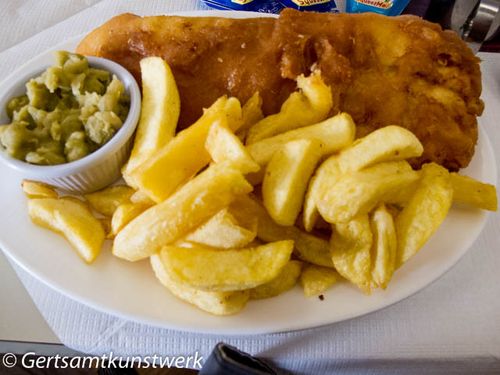 In the evening we went to one of Seahouses three fish-and-chip restaurants, Pinnacles, a favourite of the Hairy Bikers and Robson Green. It was fine, although, to be honest, it didn't strike me as anything special, and we later agreed it wasn't the best fish and chip restaurant in Seahouses. When we ordered, I was a bit taken aback when she asked us whether we wanted a slice of bread; I later learnt that, round there, it's not fish and chips without a slice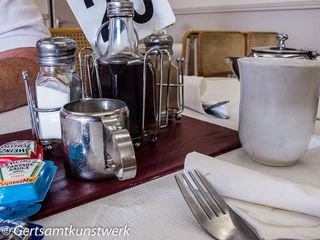 of tasteless processed white sliced.
When we retired to bed, we found the bedroom to be very good. Lovely comfortable king size bed, and, again, tastefully decorated, although I forgot to take a photo. The only downside was that, being an attic bedroom, there were low beams and sloping gables. Even I bumped my head several times. You get used to it, but I'm not sure I'd want that permanently.