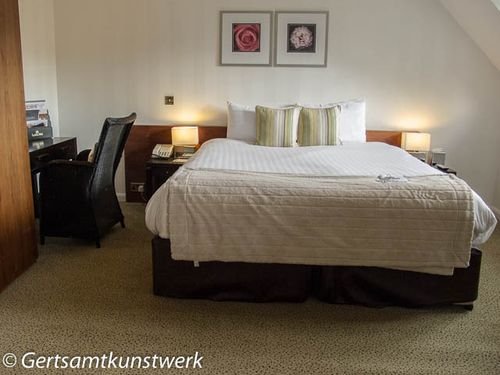 We booked our main holiday last year for September. At some point it seemed a long way off so we thought, hey, why don't we have a weekend away! In summer hotels are often booked up on Saturday nights, and generally don't have 'offers' - presumably because of weddings and other get-togethers. But we booked Thursday and Friday night and enjoyed a lovely little break at Lythe Hill. We've been before and I nearly opted to go a third time for my birthday this year (before opting for Bournemouth). I'm sure I'll return sooner rather than later.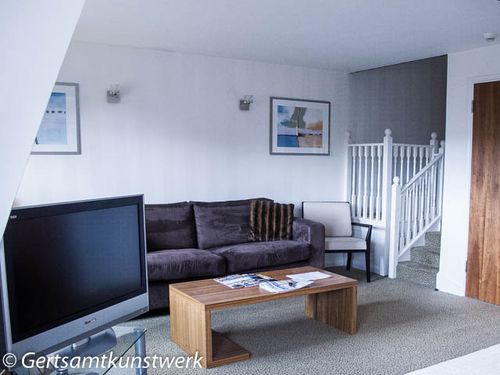 Situated just outside Haslemere, Lythe Hill is accessible by bus should you choose. 2 acres and 44 rooms, so plenty of opportunity to 'get away from it'. We had a superior room on the first floor. Previously we had stayed in a room named after a novelist - Jane Austen, if I recall correctly. This time we were on Politicians' Corridor. I had mixed feelings to be staying in 'Nancy Astor'. Obviously great to be in a room named after a female politician, but, being among Baldwin, Churchill, Disraeli and Eden, I considered it a pretty appalling attempt to avoid naming a room after Britian's greatest ever Prime Minister. A very nice room, though!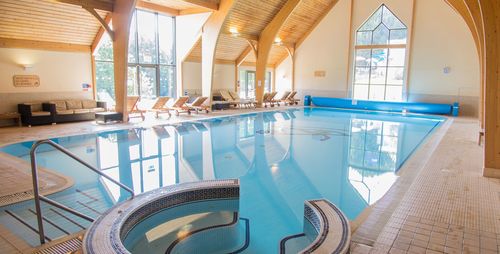 A highlight of Lythe Hill is the spa. Obviously, not a good place to take photos, but worth taking a look on their website and I've copied their swimming pool photo - fair use for 'review and criticism'. The 16m pool is bigger than any indoor hotel pool I've been in, and is complemented by the jacuzzi, sauna and steam room, and the tempura shower (tried once, never again, although I accept that have a cold bucket of water dumped on your head is therapeutic). In between swims we reclined on the sun terrace, clad only in swimming gear and complementary bath robe, sipping tea and eating sandwiches delivered from the bar. The pool has a specific hour each day when children are welcome; outside of those times it's very quiet and relaxing.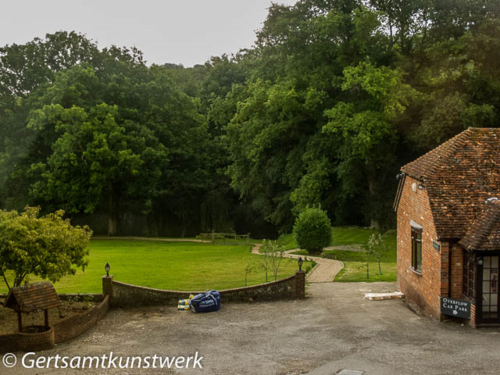 I did have a good laugh (in my head) at one pair of young women. They were barely out of their teens and had come for a 'spa day'. I noticed that they bore copies of 'Wedding flowers' magazine. I was quite aghast at that - imagine having a whole magazone devoted just to the flowers. I couldn't help fast forwarding to the bored housewives I'd seen at Devil's Punchbowl, and recalled a conversation with a friend a few weeks earlier. I think it was her cousin or somesuch she was talking about. She's of Sikh background. Her cousin was due to marry and she asked him what he and his fiancée had in common, what did they talk about. "The wedding" he 
replied. So she asked what they'd talk about when they were married. "The wedding" he replied. My friend was quite flummoxed by this, and we agreed that too many people plan the perfect wedding but not so much a great marriage.
These young women entered. They didn't spend long in the sauna, and made tentatively for the pool, one complaining how cold it was (warmer than a council pool, let alone a Lido or the sea). The jacuzzi was also too cold, so they went in the steam room for over a minute, before retrieving their bathrobes - which they had unceremoniously dumped on top of my belongings 'oh, that must be the place where people put things'. They were impeccably manicured and hair-done, bodies dictated by advertising, and their lives revolved around spending hundreds (if not thousands) on wedding flowers. Although an atheist, I raised a silent prayer of thanks for my life!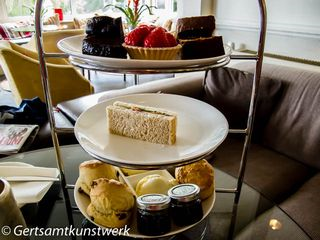 We spent several hours on both Friday and Saturday between the spa and the sun terrace: it's nice that even though you check out by 11am (industry standard) you're able to use the spa throughout the rest of the day. On the Saturday afternoon we had afternoon tea, which I blogged some months ago. On both evenings we ate in the hotel restaurant.
I started with a dish based around mackerel. As you can see,it incorporated several elements and I noted in my diary that it was 'extremely good'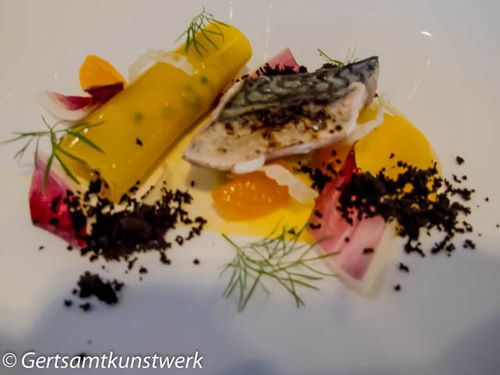 My main course was a wild mushroom open lasagne. The individual elements were good, including proper wild mushrooms. I just wasn't entirely convinced it worked  as a cohesive whole.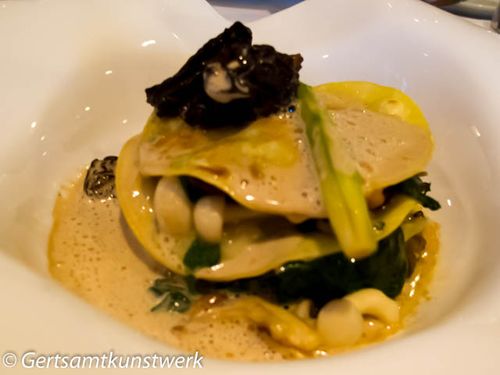 I finished with what can only be described as a show-stopper, one of three great great puddings of 2013 - the others being Sweet Curry Plate from Ben's Cornish Kitchen and Vanilla poached pear, ginger ice cream, rice pudding, Nick's raspberry jam and peanut brittle from Wild Thyme
The Lythe hill pudding delight was a deconstructed strawberry cheesecake. Anyone who watches Masterchef will know how some critics - rightly - consider the deconstruction an abomination. One is tempted to say 'put it back together and stop messing sround, dear boy' and wonders whether showing off cleverness is a poor substitute for taste. Fortunately, this cheesecake was all about the flavour!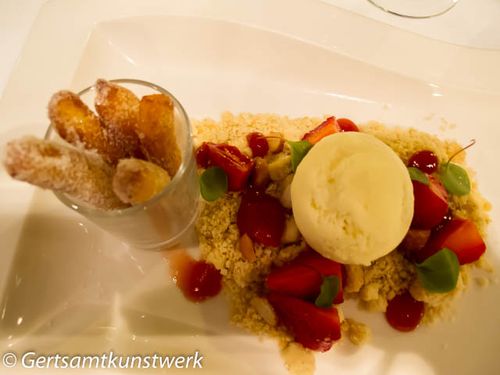 Ricotta doughnut sticks, vanilla shortbread (crumbled), very creamy vanilla ice cream and macerated strawberries. Delicious!
On the second night I had asparagus velouté. Full of flavour but surprisingly difficult to eat.
Main was a fillet of halibut with a halibut brandade (mash) and roasted baby vegetables. Nice without being exceptional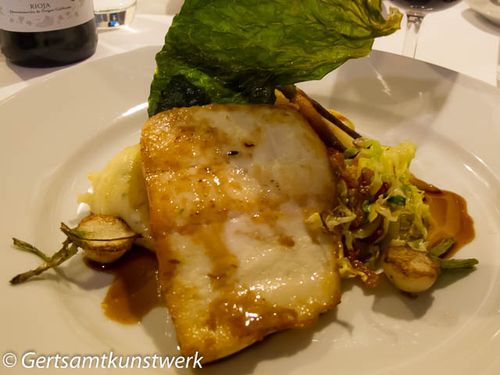 I finished with deconstructed carrot cake. Very tasty but not a patch on the previous evening's strawberry cheesecake. And an example where I was unsure how deconstruction added anything to a classic dish.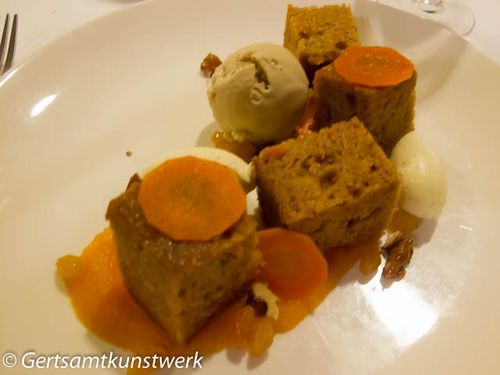 Overall, an excellent and relaxing mini-break at a good hotel. I really only have one criticism - the lake. Both of our visits have been in August and the lake really does stink. It's not a problem if you're in your room or on the terrace bar, but it's off-putting if you want a lakeside stroll. Several recent reviews on TripAdvisor have mentioned this. Also, I note the very recent comments on how stuffy the rooms are in a heatwave, not a problem for us on this visit but reminded me of when we visited in 2011. And, finally, weekday breakfast is brilliant, but Saturday is more slapdash with less choice.
To conclude, I would highly recommend Lythe Hill and intend to return, but a few issues require attention and do make the difference between it being a good hotel and an exceptional one.
These photos have been added to my Surrey album
Surrey Life review