One day last summer, I got on a boat that took me from Seahouses to to Staple Island on the Outer Farnes, a leisurely cruise and some photogenic sights. We landed on the island and stayed for about an hour. I took 175 photos, so you have to admire me in whittling it to fewer than 20 on this post, with a few more in my Northumberland photo album.
When I was a child I had several books on seaside life eg I Spy at the Seaside but I was never really into birds. No, let's stake a step back. All these books were designed to give children the confidence to go and explore. To wade through rock pools in wellingtons and carrying a fishing net. But they assumed that by the age of 9 or 10, parents would allow children just enough freedom to do that, either engaged with one or both parents, or with an adult watching from a safe distance. But, as you may have gathered, my childhood wasn't exactly like that. We didn't do things like. They weren't sufficiently intellectual, or perhaps it was simply that 'people like us' don't do such things, dismissed in a condescending gesture. At about 17 I was gutted to find that people study Marine Biology at University, but by then it was too late - I had been discouraged from doing Biology or any other Science at O Level. and anyway, I hadn't been one of those children wading through rock pools at age 11.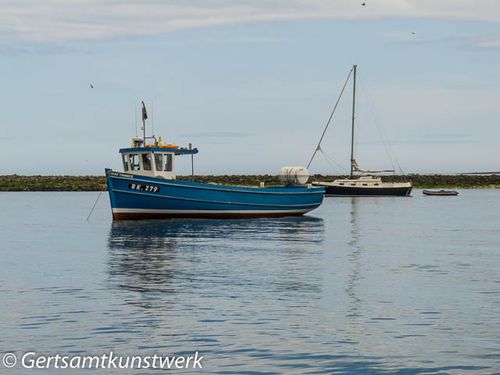 When you're in Seahouses, it's daft not to take a boat out to the Farnes.
Actually, pause there.
The woman in the ticket office was grumbling in a negative way about all the people who don't do it. I commented mildly that it was quite expensive. "No it isn't, don't be ridiculous". Hmm, we paid £30 for two of us, landing for 'free' because of our National Trust membership. If we had 3 kids and weren't NT members, it would have been £77.50. From my point of view, it was good VfM. I was very nearly that middle class Londoner explaining to a working class person from a deprived region how tight budgets can be. Or perhaps in these low cost regions, they do actually have nearly £80 to spend on a half day excursion.
Some good sights to see en route to Staple Island.
Basking seals. I always enjoy seals, because Jimmy hates them to a point of irrationality. Yes, they're smelly, but other than that, they're pretty harmless.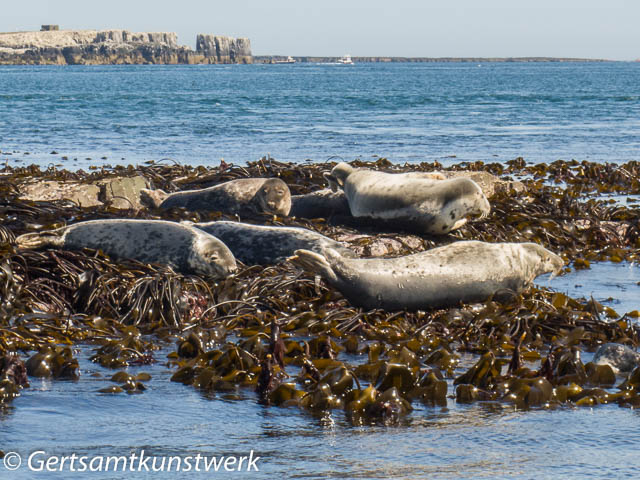 Lots of opportunities to take photos of puffins, but I didn't manage a 'money shot'
Lovely views of the cliff sides - or Pinnacles, as they're known - with cormorants atop: I was stunned at how similar they look to penguins. I also learnt the difference between cormorants and shags.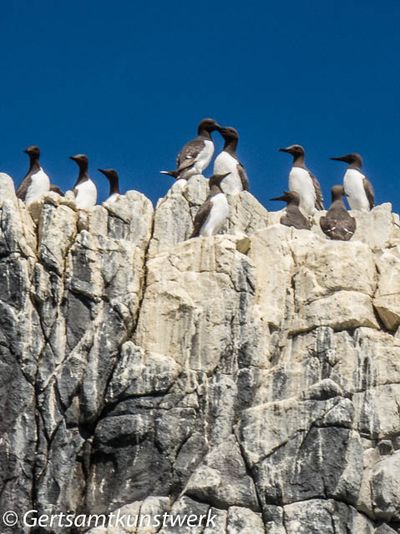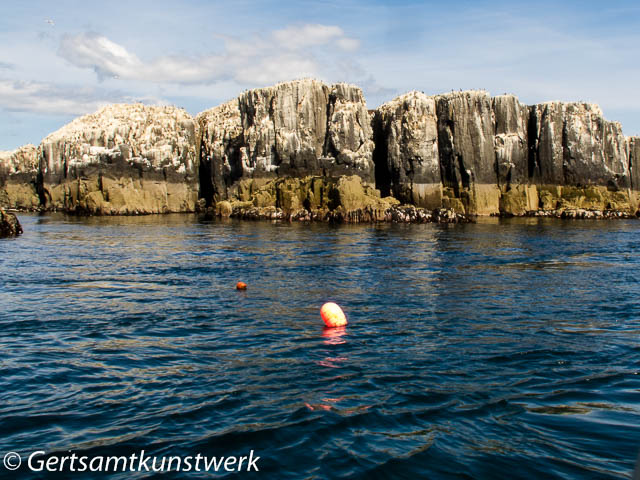 We passed the famous Longstone Lighthouse. Grace Darling was the daughter of the lighthouse keeper  and became famous for her role in a rescue from a ship wrecked paddle steamer in 1838. When I was young I visited the Grace Darling museum in Bamburgh & she featured in the sort of books that flourished in the 70s & 80s of women role models. At the time, I thought, she didn't do that much, handing over to men at the first opportunity. I have a more nuanced understanding these days. And yet, despite the example of women like Grace Darling, men persisted in avowing despite no evidence, that no woman is capable of physical tasks.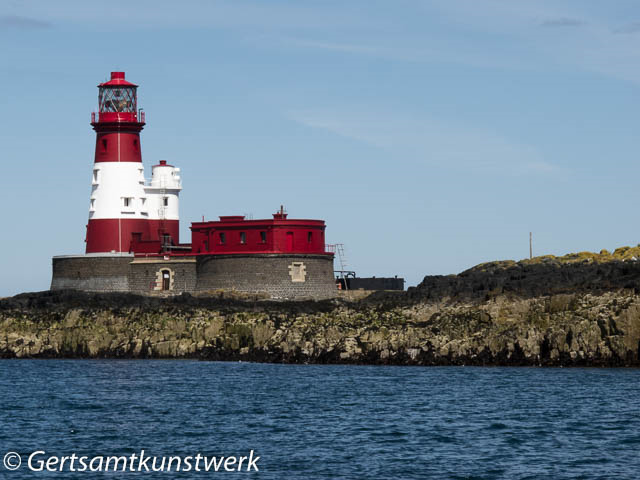 It was fun being on Staple Island. It's an uninhabited island and is quite difficult underfoot in places. I think people with limited mobility might be better going to Inner Farne.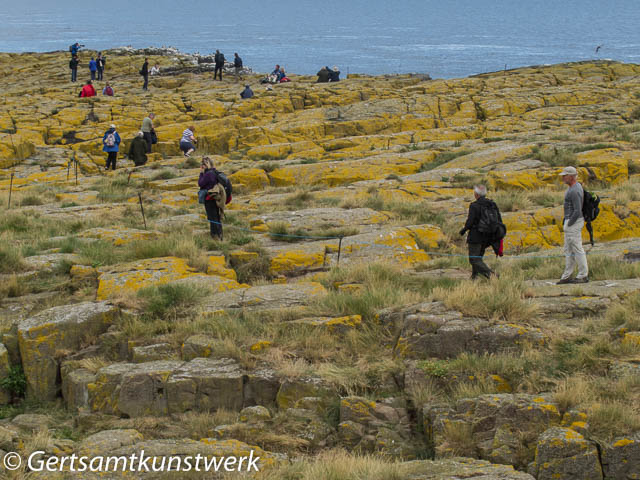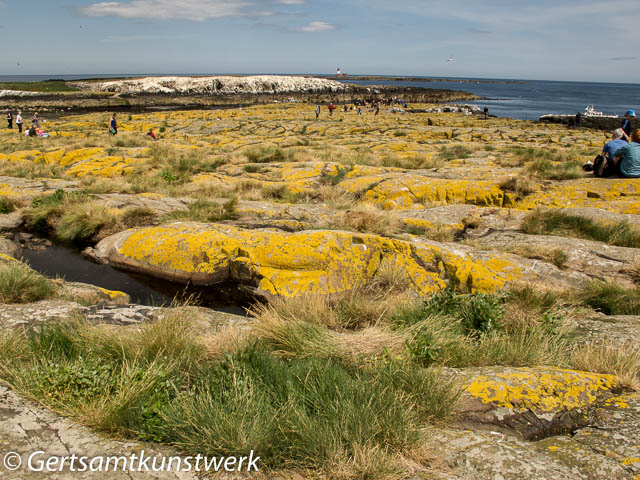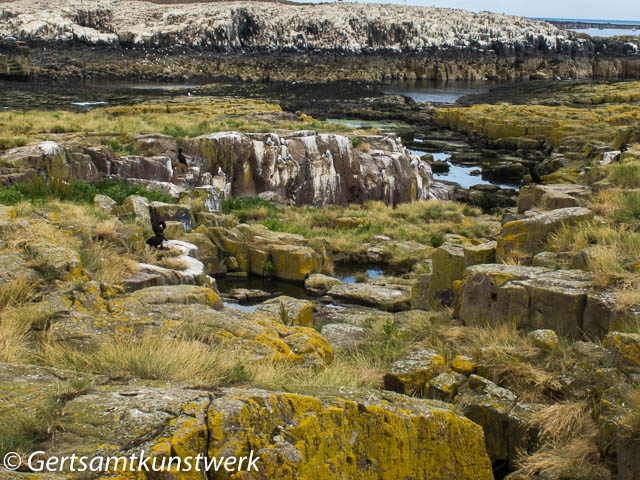 There's not a great deal to do, except look at birds, and take photographs of birds. I enjoyed it and there was a nice feeling of camaraderie.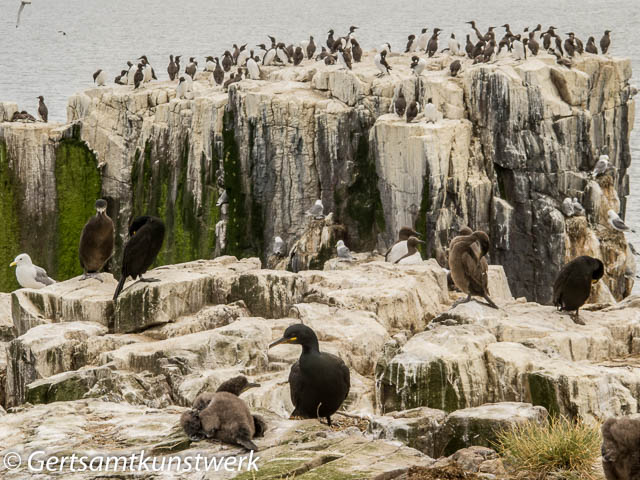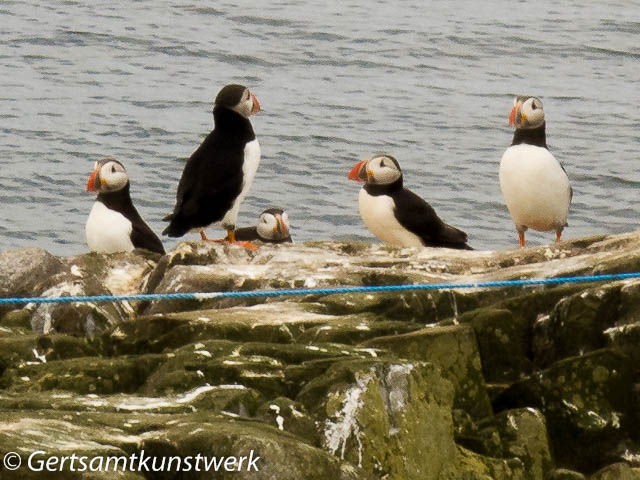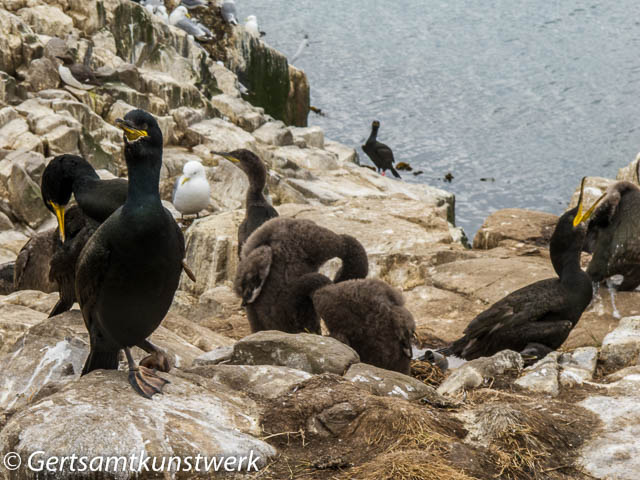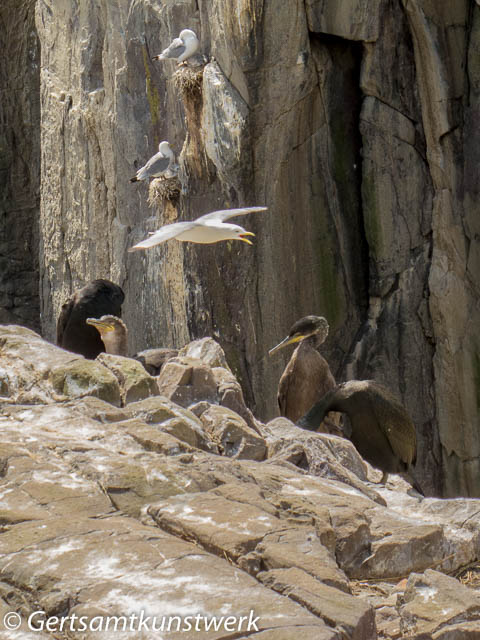 I used a compact camera, albeit a top of the range one, but if you're serious about getting stunning bird shots, you need more equipment. You also need patience and know how to use your equipment, to frame shots and use the light. Just about everybody on my boat was wearing sensible shoes, and all but one with cameras had proper cameras - half decent (or better) compacts or SLRs.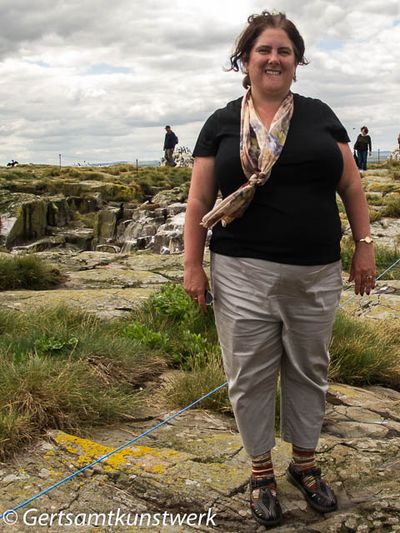 I'm not sure I like those trousers. They're comfortable, and go with most things, except walking boots, but they don't seem to hang properly round the waist/stomach, as illustrated here.
One annoying man used his Apple pad to take indifferent photos. I sat next to him on the boat, something he begrudged, misbelieving he could take the space of three people. He spent some of the time on the boat making work-related phone calls. I know, needs must, but when everyone else is trying to get away, relax and recharge, and in a packed space, it's quite intrusive. 
On the way back we passed Inner Farne, an alternative venue for the boat trip. I hadn't fully understood when booking that there was a choice of islands to go to; this photo shows St Cuthbert's chapel, and going there might be an important part of your visit. St Cuthbert was exceptionally cool: according to Wikipedia:
Among other acts, Saint Cuthbert introduced special laws in 676 protecting the eider ducks, and other seabirds nesting on the islands; these are thought to be the earliest bird protection laws anywhere in the world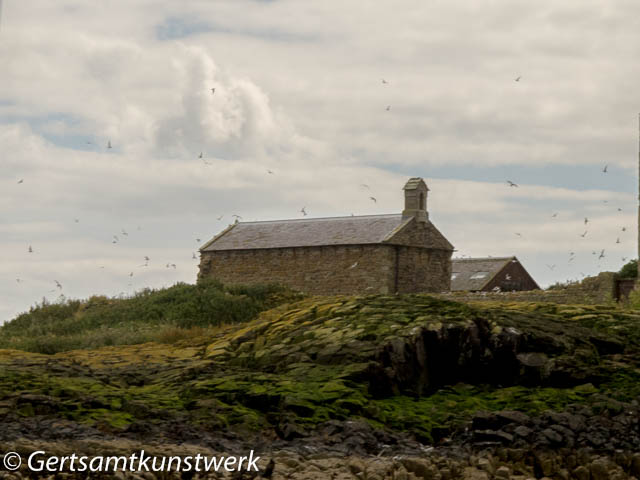 If you go to Inner Farne you are advised to take an old hat or headscarf that you can bin afterwards, to protect you from the worst of the bird droppings!