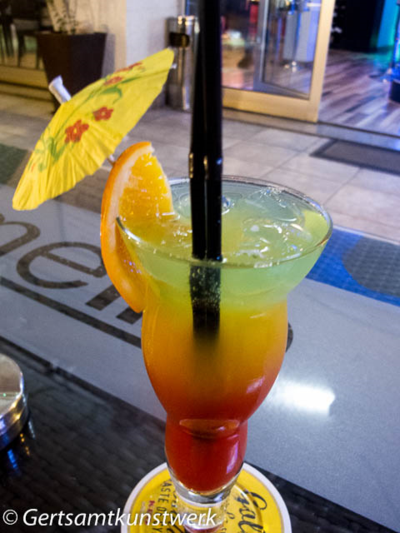 It's an ironic coincidence that I am summarising my impressions of food in Cyprus just after posting about the amazing variety of food in Streatham. 
It's not a fair comparison, because we ate almost exclusively in Kapparis, a residential area with just a few shops, restaurants and bars positioned along the main road. However, when we ventured elsewhere, we saw pretty much the same repeated. I didn't scrutinise restaurants in Ayia Napa, but have been told that there are decent restaurants there.
I found the same problem with Cypriot food as I have with Spanish. I don't eat meat, so end up eating a great deal of fish when I am abroad. In Cyprus's favour, the freshness and quality of the fish was excellent. I particularly liked the fact that menus highlighted which fish, seafood and meat were fresh and which were frozen. But, once you've chosen your fish, the rest of the dish is entirely predictable, and pretty much interchangeable from one restaurant to another. We ate in two decent restaurants outside Kapparis, including Onassis on the road to Pernera. Jimmy had the lamb stew that the owners (mother and son) were eating; he said it was the best meal of the holiday. We also ate in a place in the mountains, that was nice, adequate and just like the offer in Kapparis (except that the fish was trout, not seafish). I photographed neither.
There were two contenders in Kapparis for 'best restaurant'. Faliros had the widest variety, and entertainment two nights a week; at Karas you could choose your own fish from the display and it had been caught by a family member; they were attentive and personal (in a good way) in their service.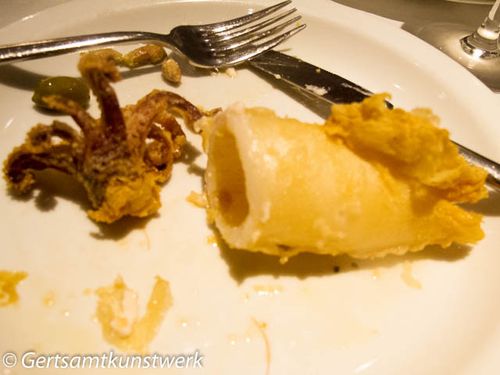 We went to Karas on the first night and ordered the seafood mezze. Jimmy was overtired and ordered large, without consulting me. It was too much, it kept coming out, too fast to photograph (and I was tired and mildly anxious at being in an unfamiliar environment). Plates and plates of fish and seafood, without sauce, and with a 'Village salad' to accompany. Twice they did us an off menu special - the second time was identical to the first and they had clearly forgotten we had already had it. I suspect they offer it to anybody who doesn't immediately plump for steak and chips or deep fried fish. This squid - or was it octopus - was a highlight: lightly fried in a light batter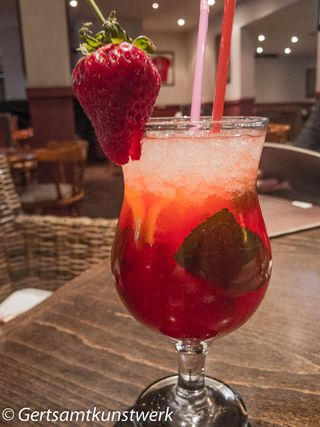 We had a very good fish and chips at The Pig and Whistle and I thoroughly enjoyed my strawberry mojitos. We went back the following night, which was the owner's night off. For pudding Jimmy ordered strawberries with ice cream but instead got strawberry ice cream, which wasn't actually on the menu. He raised this with the staff and she was really quite aggressive, more or less accusing him of lying. He decided not to pursue this but ordered a strawberry mojito, which looked nothing like mine from the previous day - all churned up and dull coloured, and no strawberries to decorate. Barmaid with an attitude said accusatorily that they had run out of strawberries, because that was obviously Jimmy's fault for having ordered strawberries. We didn't go back. He murmured to me "You know who she reminds me of?" and I replied with a name. The right name. Someone we used to know who used to run a pub with an attitude, and we were not alone in disliking. They could have been sisters. We didn't go back.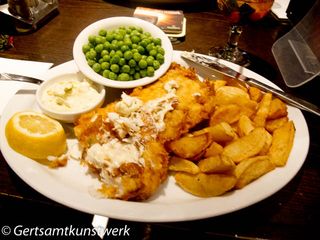 Then there was Just Italian. We had gone for a plate of pasta the evening of the lunch at Onassis and it was fine. We went back another time and I made the mistake of ordering prawns in sauce. 
I was pretty annoyed at what was offered.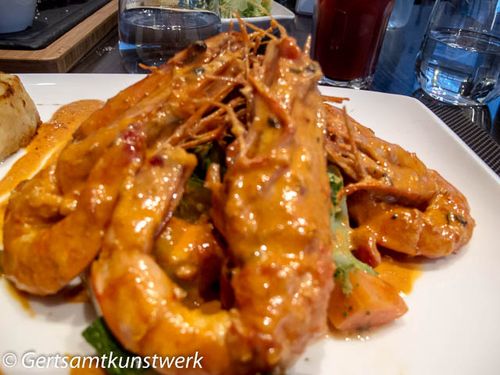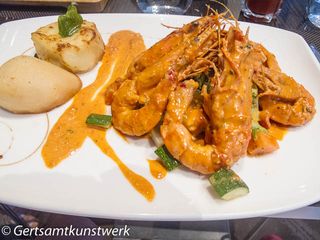 Where to start! The prawns hadn't been cooked in the sauce which had clearly been thrown onto them lukewarm. In order to eat the prawns I had to shell them and get the gloopy sauce all over my fingers - I had to request a finger bowl! The potatoes and the steamed veg were the standard accompaniment to every dish. It seems standard Kapparis custom to serve food in three vertical lines, so kudos for putting the veg under the prawns in the lukewarm sauce on the cold plate. Now, I'm not a great one for salt, in fact, I'll go as far as to say I have a mild aversion to salt eg I don't put it even on chips, but even I noticed a complete lack of seasoning for any element of the food. And, ultimately, it just tasted of nothing. We didn't go back.
Then there was Avgoustis. I found the decor gorgeous and the owner was a sweet, warm and welcoming woman; I had heard from my source for village gossip that she lost her husband suddenly and too young, last Autumn. There was a good atmosphere from a party of British immigrants, possibly the local WI or similar. And the food was okay. But only okay. I was satisfied, but Jimmy wasn't really.
We went to Faliros three times. Once when they had a Greek night, once on International night and once when there was no entertainment. The Greek night featured two male dancers and the highlight was how one balanced a pile of glasses on his head. Various women were plucked from the audience to add the next glass. The International night featured a group of dancers. They weren't awfully good - poor posture etc - but they were pleasantly entertaining. Before the dancers appeared a man with a guitar and, alternatively, a flute and a guitar, performed well known English, Swedish and US pop songs with a background track. He was very good for the occasion. Not outstanding but competent and a good sense of what songs would suit the audience, especially as we finished off with a sort of disco for the middle aged. Made me laugh watching two young women barely out of their teens and well out of their comfort zone.
Again, the food was fine, inasmuch as it was as advertised, eatable, flavoursome, fit for purpose etc. Just about every restaurant had a menu that was far too long, and seemed to work as many Chinese/Indian restaurants too - endless different combinations of fairly few elements. No flair, no imagination and every restaurant basically serving the same. You have three elements - protein and sauce, and alongside that steamed vegetables and potato. Irrespective of what you order, it's steamed vegetables and potatoes. No attempt to combine the different elements, or to create a dish that combines protein and vegetables from the start and a sauce that is based on, or complements those elements. Apart from baked beans for breakfast and the occasional appearance of green beans, pulses (or legumes) were conspicuously absent from any restaurant menu. One of my favourite food groups, and so versatile.
Cyprus is known for its potatoes. In late April/early May, you really want to eat Cyprus potatoes. Surely the best way to eat them is boiled, and dabbed with butter. But it was devilishly difficult to get Cyprus boiled potatoes. Chips, yes. Baked potatoes, yes. Mash yet. But boiled, no. So disappointing.
As for breakfasts. We went to several places for a full English breakfast. In my case, a veggie breakfast where the meat was substituted by halloumi cheese, a Cypriot delicacy. In several places I asked for 'real' coffee. Not available. It was Nescafé instant or nothing - I opted for tea. Tea that was made out of poor quality teabags in some circumstances. I also asked if I could have wholemeal bread. In one place I was practically laughed at. Processed white sliced or nothing. These were British places, catering for British people. I can't believe we've got to 2015, and there's no demand either for coffee from ground beans or brown bread. It's sixteen years since I erroneously asked for a latte in Hull and the young woman - girl - behind the counter said I was just like the people in American TV shows!
When we returned from holiday, we discussed the food and concluded. One of the reasons we go on holiday is to enjoy eating out, savouring food we might normally eat, enjoying each other's company. But yet again, abroad, we failed to get anything as good as we got in Northumberland, Cornwall, Dorset, Cotswolds, Kent or other places we have visited. I'm not applying the standards of expensive London fine dining restaurants, but pubs and bistros in small English towns.