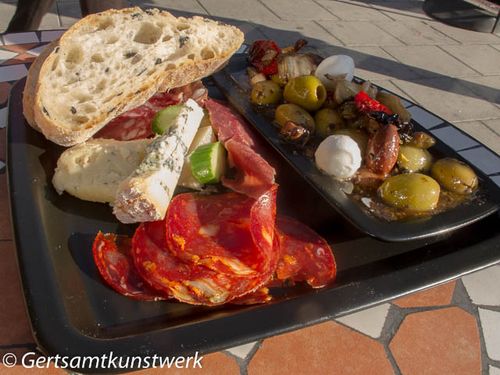 This is definitely a subject I should have blogged straight away, rather than waiting until it creeps up my to-do list! For three years, Streatham Food Festival has featured the Streatham Food Tour and it has captured the imagination locally. The idea is that local restaurants offer a mini version of a signature dish, for about £3-£5 and you stroll up and down the High Road, sampling the fare of several places and earning a stamp. If you get more than 3 stamps, you can vote for your favourite and enter into a prize draw.
I wrote briefly about the 2013 tour last year. In 2014 and 15, the tour took place over the first weekend in June. Last year, Friday evening and Saturday from noon. This year, Thursday evening was added. Last year, we only did Saturday, because after our adventures in Shepperton it was just easier to pop to our local Indian on our (Brixton) side of the Great Divide!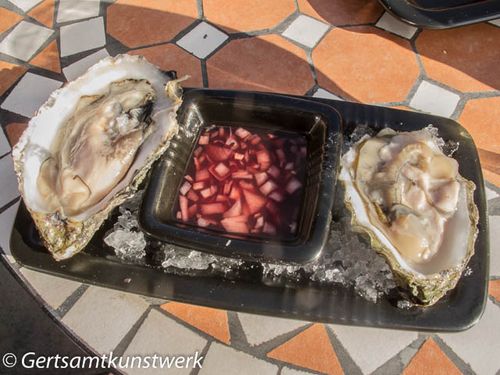 Interestingly, in both years our first stopping place turned out to be the eventual winner. In 2014 this was Fish Tale, the fishmongers on Leigham Court Rd just by Streatham Hill station. Despite not being a restaurant, they have an on-licence and put out chairs and tables on the wide pavement. We didn't get round to going this year, deterred by the queue. Above is their charcuterie plate that Jimmy had. These are my oysters. For some reason I didn't photograph the Prosecco.
This year, we started at Hood, the exciting new Fine Dining restaurant on Streatham Hill. It's not that long ago that 'fine dining' & 'Streatham Hill' would not have gone together. But this year, we started with a stone bass ceviche and chilled tomato soup.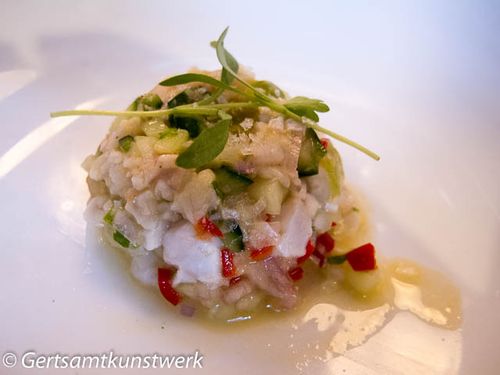 We finished there on the Saturday, because I intended to finish with English strawberry snap,crackle & pop, but they persuaded me to leave the Food Tour menu and select the chocolate tart/clotted cream tart from the normal pudding menu. I liked it so much I had it when I returned a few weeks later for dinner.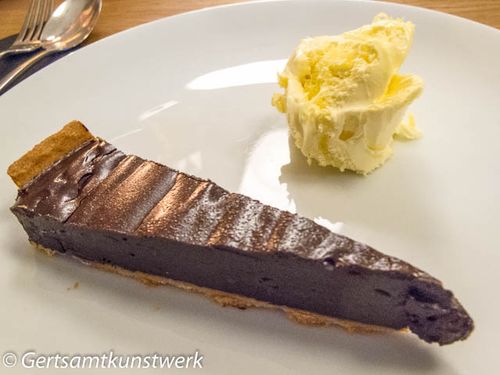 Our second or third stop was Hamlet. In 2014, garlic prawns. In 2015, goat's cheese salad. A dark place, making photography difficult, and a mistake to cover the feature item with greenery. But on both occasions I couldn't fault the food, and liked the atmosphere.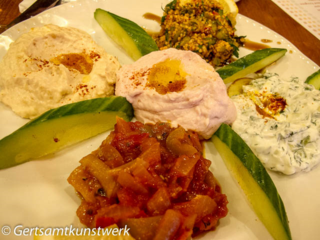 We hadn't long returned from holiday in Cyprus, and, finally, at Troy, we got what we hadn't got in Cyprus. For me, a decent mixed mezze - this was described as veggie, but, containing taramasalata, it wasn't. Not a problem for me, but not veggie! We also had a very decent 'house' wine. Jimmy enjoyed his spicy lamb skewers (not photoed).
We didn't eat at the White Lion either year but did pop in for a drink, and to photograph their unusual quirky lampshades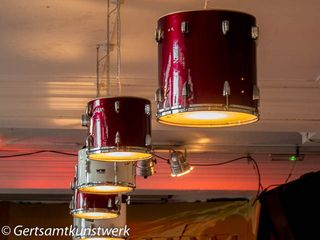 Streatham is the longest High Road in Europe. We live north of the north end of Streatham Hill, so the far south is a long way and we never quite got there. I suspect that the main place we missed was the Earl Ferrers, which I still haven't been to despite its good reputation.
On the Friday we took a tortuous bus journey to Streatham Green. Our bus was delayed for about ten minutes while a crashed car was removed from the pavement near the bus stop just south of Streatham Hill station. As we walked down 'the dip', I saw one sick bitch deliberately stop her car to impede an Emergency Ambulance on a shout. I saw the self satisfied grin on her face as the ambulance stopped to manoeuvre round her. People like her shouldn't be on the road. I can kind of understand the logic of impeding a police car, particularly if you're ignorant and don't empathise with victims, but what kind of maladjusted cow deliberately blocks an ambulance? I hope she dies a slow and painful death while waiting for paramedics herself. But I know no health workers would agree with me.
Glamorgan sausage at Deli Lama who weren't 'officially' on the tour, but, newly opened, decided to embrace it anyway. Cashew nut, carrot & coriander falafel wrap at Hideaway - Jimmy enjoyed his lamb burger. Everything I've ever had at Hideaway has been full of flavour, but I was a little disappointed at the slow service. Can't really complain, but when we arrived we sat outside in sunshine and before our food arrived we had retreated inside from the cold and dark.

With disappointment we skipped Cafe Barcelona. It was the wrong stage of the evening for Churros con chocolate, and they were packed, it being their first birthday party. Blessings had run out of goat curry, the reason Jimmy wanted to go there. It turned out he's known the Blessings people forever. Onto Rice Republic. I liked my salt and chilli tofu more than I thought I would - at £3.50 it's worth taking risks on ingredients you're not quite sure of. He wasn't so taken by his beef in black bean sauce. I'm sorry I didn't photograph the decor.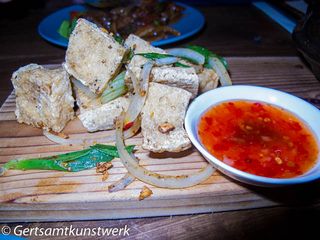 Next was Indian Nites. Jimmy moaned about it not being value for money, until he realised it was much cheaper than anywhere else. My chana masala was only £1.50 and I found it just right - flavoursome and good consistency. After there we tried to go to Bravi Ragazzi, but it was nearly 11pm and the tour was advertised as up until 10pm.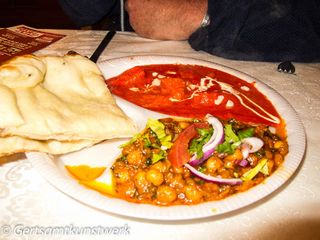 On Saturday we started at the Holland Tringham, the Wetherspoon's to the south of central Streatham. We live much nearer the Crown & Sceptre, often called London's best Wetherspoons, but they weren't participating - they're quite a walk from the northernmost participants. I don't really like the Holland, always a bit seedy. Years ago, I was in there one afternoon with Jimmy, and slightly randomly, my former Audit Manager. Some drunk got stroppy and started intimidating the lone bar staff. Jimmy & John intervened to march the bloke off the premises. It could happen anywhere, but does rather summarise the place. The mini serving of fish and chips was actually surprisingly good, but I do think Wetherspoons have made a mistake introducing such hideous crockery which interferes with the visual display of, surely, just about every food they serve, even beige food!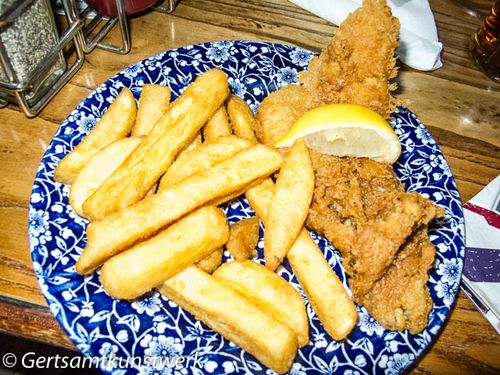 Next was Pratts &  Payne, the idiosyncratically Streatham named pub. I wondered how many of the denizens could even guess at the origin of its name*. Two years ago, their goats cheese tart was stunning; last year, the equivalent was a let down. This year, their hummus, different from what was advertised, was lovely. And then I went to the Ladies and shuddered and kicked myself for eating in a place with such a lax attitude to hygiene. Awful to think that such a grubby place serves food.
Maria's Kitchen was closed for the food tour on Saturday, catering a wedding. It had some excellent feedback on Twitter and is situated in what was Franco's. My American friend and I had discovered Franco as a great place to line the stomach for weekday drinking, and Jimmy and I had loved the place for casual dining. I think Franco worked himself too hard in what was obviously a labour of love, and my American friend is long back in the USA. 
Instead we walked onto Perfect Blend, a place we have often been for brunch but never for dinner. I had mushroom burger. The young man explained in a non-patronising way that they were meat free. I knew that, but it was thoughtful to say so, just in case. Tasty. I stuck to red wine rather than mixing my drinks but Jimmy went for St. Reatham beer (available as Export outside SW16). 
We finished at Hood, me on the chocolate tart and more red wine, and Jimmy having several cocktails from the talented cocktail barman.
Streatham Food tour - a brilliant way to sample a range of restaurants, mainly independents, along a mile and a half (according to Google) of Streatham Hill and Streatham High Road, as wells as roads off. There are several restaurants we vowed to return to, in fact, we have only been back to Hood for dinner and the conveniently opposite Streatham station Deli Lama for outstanding coffee.  I'm sure many younger people and those new to the area will have found places to their liking that the Food Tour gave them the confidence to sample.
Maps contain clickable links to websites
These weren't from the Food Tour, but this is as good a place as any to blog them.
Last summer we went to the exciting new Brighton Way restaurant open on the A23 in Streatham. This restaurant is owned by the Exhibition Room in Crystal Palace, which always delivers on good quality fresh food. I really liked the menu, as well as the cocktail menu. It was clearly more casual than Exhibition Room, acting as much as a bar as a restaurant.
I started with a prawn cocktail, and moved onto a goats cheese tart. I followed with cheese board, which, of course, in hindsight was a mistake, but it was my mistake, not the fault of the restaurant. I don't remember what Jimmy had but he enjoyed it. We both found our food tasty,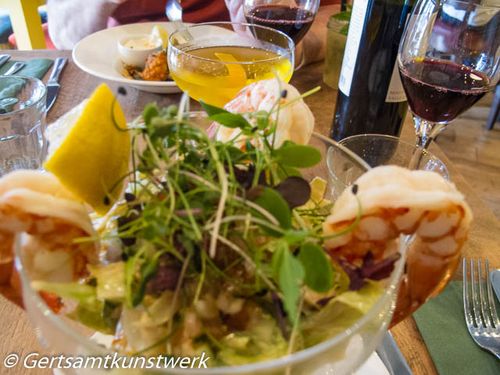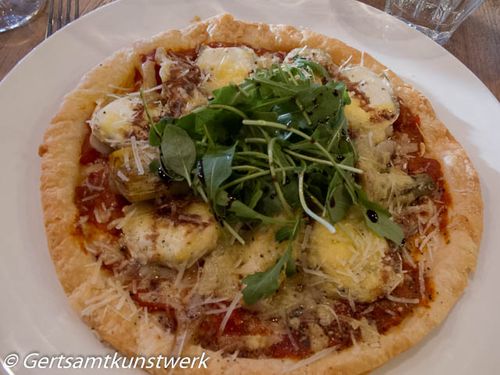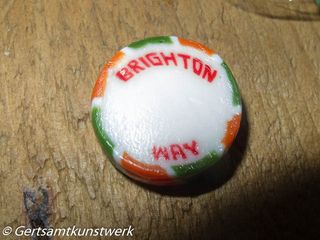 I was amused by the sweetie that came with the bill, it seemed like a little touch of class. We vowed to return soon. Now, I realise there is a massive irony coming up here. Life got in the way. Over the winter we ate out less, and, when we did, we generally opted for upmarket. So we didn't return until early Spring. We chose Brighton Way as somewhere we could eat a decent meal and also drink large numbers of cocktails, to get really quite drunk and yet still not be far from home.
Unfortunately, the place had changed. I was the second youngest of not very many customers, in an almost empty crepuscular barn having to endure unfamiliar processed music too loud for a restaurant. The food that was served was fine - it was as described on the menu, prepared properly (although lukewarm and served on cold plates). It just wasn't interesting. The sort of stuff that needs no skill to prepare, probably pre-prepared and using frozen or tinned ingredients more than fresh/seasonal.  The choice wasn't great, mainly focusing on burgers, and looking like every other mediocre restaurant in every mediocre town. A far cry from the place we had visited earlier. If you want to run a decent restaurant you have to desist from aiming it at the youth market. Pretty much every decent restaurant I have been is attracts a mixture of age ranges; places that are bars with loud music and serve food as a sideline tend to attract a very narrow range of customers. But I do understand that a place close to a busy commuter rail station will do better from serving overpriced cocktails to regulars, than serving food to people who visit only every few months.
At the other end of the range, we made a couple of visits to Tiger. Tiger serves Vietnamese and Chinese food. Jimmy's daughter-in-law is British Vietnamese; her father, who was a refugee from Vietnam, shares a birthday with Jimmy. So we got together for a meal, when the baby was just three months old. We were also joined by Jimmy's nephew, who lives in Serbia with his Serbian wife, but grew up in Australia with his South African father and Australian stepmother. I took lots of family photos of course, but also took photos of the food; we liked it so much that we returned not long after. It's a BYO place, which is fine! And the food is really very good indeed and not pricy at all.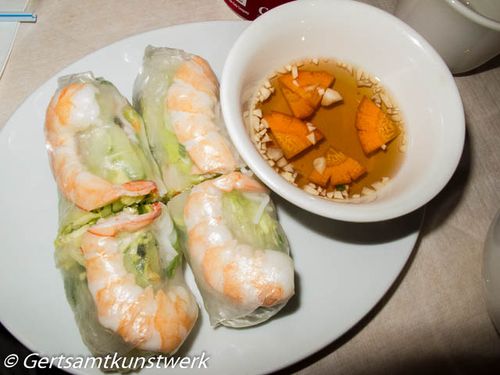 *Pratts was a John Lewis which closed down in 1990 and is still cited as the reason for the decline of Streatham; Payne is Cynthia, a one-time Parliamentary candidate for Streatham. One day, there won't be a pub called Mediworld and Umunna