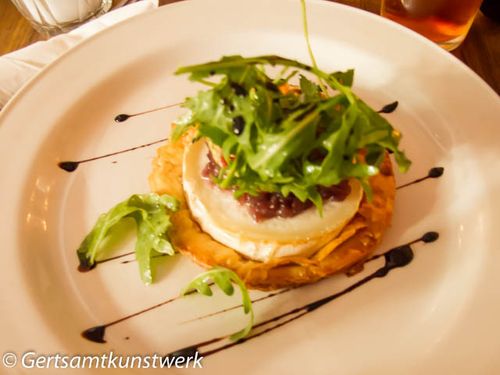 I moved to Streatham in 1991. I can't say it was a great place for eating, but then, probably, few places in Britain were in 1991. It's astonishing to realise how far Britain has come since then. I live in Brixton now, but very much on the border of Streatham, so I feel torn between the two towns. Streatham has never been great for eating and I don't feel even now that there are any stand-out restaurants. However, there are a lot of decent restaurants, places that serve good enough (or better) food conveniently close to home. And, to be fair, there are a good few I haven't tried.

Looking through my photographs I found several that don't merit a blogpost in themselves, but I realised I had sufficient to 'tell a story' about Streatham food.In late April we had taken a beautiful walk along the stunning River Wandle but had been curtailed by a typical April shower and, let's face it, my lack of stamina. We had taken shelter in a dodgy pub in Wallington where the locals barely concealed their hostility. There was another middle-aged couple in there, she was so middle-class she was wearing a sleeveless quilted jacket. She looked even more uneasy/uncomfortable than I felt.
So it was a relief to get back to Streatham Hill and into the much talked about Ilili. Jimmy thought it was over-rated, based on a Mixed Grill. I didn't quite see the point of going to a Middle Eastern restaurant and having a mixed grill. I didn't feel it was anything special, but its appeal is increased by being easy walking distance of home. Not that evening, though, given that we got completely soaked in a cloudburst in the time it took to get to the bus stop. We went back at Christmas and again just the other day. The food isn't fancy but it really packs a punch with flavours.
I had grilled King Prawns
In August was the Streatham Food Festival. The organisers had the brilliant idea of inviting local restaurants to participate in a Food Tour. We visited several. Some of them grasped the concept better than others. The idea was that for a price of say, £3-£5 you were treated to a small potion of their signature dish, the idea being that over the course of Friday evening and Saturday afternoon and evening you could taste from just about everywhere. This year's Food Festival is the first weekend in June.
We started at Bravi Ragazzi Pizza. I didn't photograph the small but tasty triangle of pizza we were served. I think we may have been the first food tourists there; later in the evening I saw on Twitter people getting larger portions. But I'm not angry - things happen, it was a bit 'play-it-by-ear'.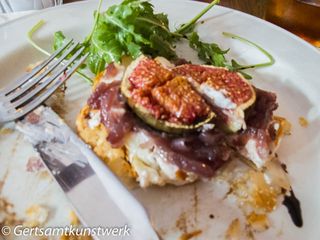 Next stop was Pratts and Payne which proved to be the culinary highlight of the weekend, the most gorgeous goat's cheese and fig tart. Beautifully presented and exquisitely tasty, and just the right portion size for the concept.
We spent the rest of the evening in Nineteen. I like Nineteen. It does what it does extremely well. Except that it's usually completely hopeless for vegetarians. Jimmy isn't massively keen. I think it absolutely epitomises Streatham eating. Pretty decent, really quite good, ideal for residents of SW2 and SW16, but unexceptional and lacking the wow factor. However, the staff were warm and friendly - not artificial - and the (vegetarian) gnocchi I had was lovely, and again, just the right size.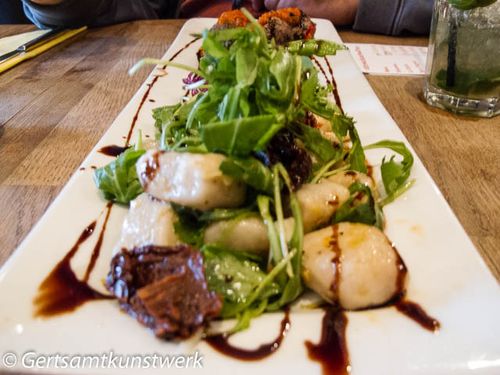 The table decoration reflected the place, simple and elegant.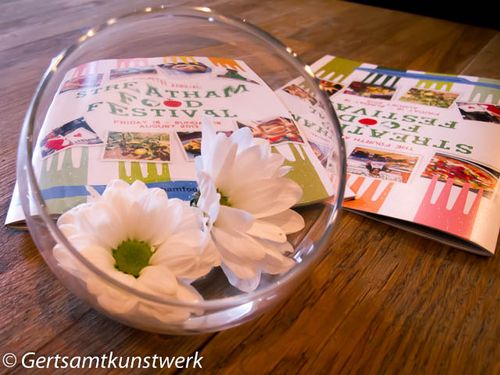 The cocktails seemed to slip down marvellously!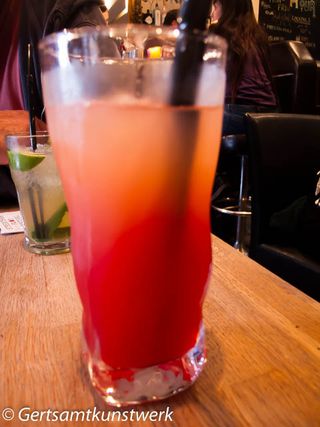 The next day we tried to start at Addommme Pizzeria and Trattoria. However, they didn't offer a sit-down for Food Festival, even at 4 o'clock on a Saturday. I was well annoyed at that and vowed never to go back, but that annoyance subsided. They were newly opened, the Festival Food tour was a new concept and why boycott a well-reviewed place so close to home!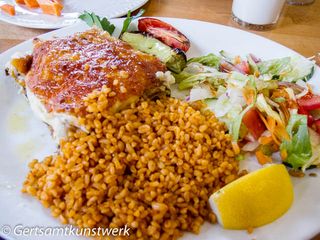 Onto Troy Barbeque. I've been past the place so often and it never appealed but I liked what they were offering for the Festival. The waitress was really lovely and they gave us a packed plate. I had veggie Moussaka. Not really keeping with the Festival concept of 'small signature dish' and this meant I ended up being quite stuffed. But it would be churlish to complain about being served too much! We haven't actually been back, but it's definitely now on our list, and would have been our second choice after Ilili in our Emergency Christmas Eve Restaurant search.
We travelled all the way past central Streatham to the Manor Arms, now under new management. W have had some good meals there, but it deteriorated and my birthday lunch was just awful. Given the new management, we thought we would give it a go. That was a mistake. This was how I Tweeted it.
Oh Manor Arms. What a spectacularly shit pub you've become, & so quickly
Manor Arms, row of blokes on bar stools blocking access to the bar. Bad. Kids running round screaming. Bad.

Manor Arms. Poor selection of ale. Bad. Fishcakes - lumps of potatoes. Bits of crabshell. Greasy. Bad.

The main menu looks sad at Manor Arms. Trying to be a pricier Wetherspoons, but without 'Spoons flair.

Just ridiculous to buy a successful business & basically remove the elements that made it successful. Good food & good ale.
I won't be going back anytime soon, if ever.
Our final stop was Taj Mahal. We and another party had some difficulty explaining to the waiting staff that we were there for the Food Festival. We had to talk them through their offer. And again, they piled on the poppadums and so on. I went for the vegetable curry, but left half of it. There was nothing wrong with it but it wasn't tasty enough to carry on eating. Yes, I was already quite full, but that often doesn't stop me eating.
Overall, despite the hicccups, I thought it was a brilliant idea, and I'm already looking forward to the 2014 Festival, first weekend in June. I would strongly urge the organisers to impress upon the restaurants about stand alone signature dishes, but I know that often people don't listen properly!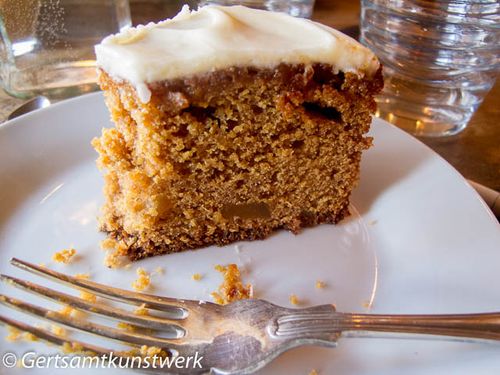 I haven't eaten out much anywhere since, except when I've been away, but one day In January I ate twice in Streatham. A decent stroll on Tooting Common was followed by good coffee and excellent ginger cake in Brooks & Gao. This is a definite contender for 'Things with Faces In'.
In the evening we went out to Addomme Pizzeria. Despite my annoyance in August, I thought it rather stupid to snub a place that consistently gets positive reviews and is less than a mile from home. 
I had a prawn and linguine dish which was fine. Again, in my view, fulfilling the usual Streatham criteria of being 'good enough or better' & worth going to because of proximity. This place is best known for its pizzas, so maybe I should have had a pizza. but I admit to being a total Philistine with pizza. I like them Deep Pan and full of unhealthy or unsuitable ingredients - I am that person who orders pineapple (and tinned sweetcorn) as an additional topping.
To conclude, Streatham food has improved beyond recognition in 20-odd years and there are plenty of decent places to serve the locals, but I'm not sure there's anywhere I would feel safe recommending to anyone to travel specially to savour!