So, Christmas Eve. The eating goes on. I got up quite late and had my favourite indulgent breakfast, jam on toast. Pretty useless as a meal, does nothing except break the fast. Ideal for when one is feeling lazy. Still, it was sourdough bread and Hedgerow Jelly, made with Brixton Hill apples. Finished now.
I then tried again with mince pies, all the while declaring that if I never make a batch of mince pies again, it will be too soon. Odd, because I used to make them with ease as a schoolgirl. Admittedly, using ordinary shortcrust pastry and not really having an over-analytical concern for the end result. This time, though, I used Pâte brisée and suffered performance anxiety from having committed to photographing and blogging my food.
I felt in need of a revival and ate a biscuit I found on top of the cupboard. For a year we have had 'gourmet biscuits' delivered once a month but I have stopped. They are advertised as not being
available in supermarkets, but they are available in delis. They are somewhat overpriced. I wouldn't mind paying a premium for a good service, but they delay deliveries because of 'problems with the suppliers'. However, they would take your money, and the website shows an estimated delivery date in the past. It was supposedly Royal Mail tracked, but there was no link to the tracking detail. When the delivery was delayed, they would switch to a courier that required a signature, but it was guesswork what day they would arrive. I added the security code for my dratted gate to my address, they arbitrarily removed it. After spending several hours chasing parcels, I decided that the biscuits weren't worth the hassle. This was ruined by being inelegantly splodged by some rather disgusting cheap imitations of Smarties.
I decorated the cake, which is always fun. Last week a colleague had gone into Sainsburys for cake decorations and only found one Snowman, the remainder were Easter bunnies and somesuch. Really maddening, and worse, in my opinion, than Hot Cross buns being on sale on Christmas Eve. An abomination.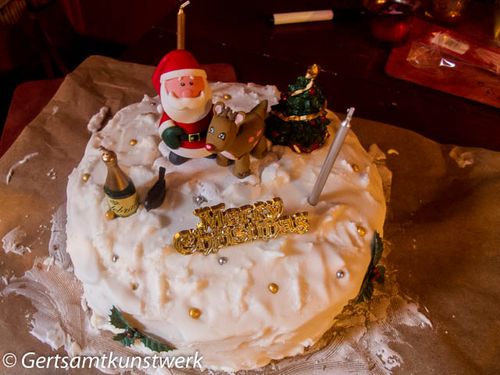 Jimmy wondered why Santa was accompanied by a  dog. I sighed.
In the evening we headed out to a restaurant where we had a table reservation, Boqueria Tapas. However, they were closed. I looked at their Twitter feed and at about quarter past four they tweeted they were 'now closed'. More than an hour after I had rung up to double check the time. And no suggestion of 'closed due to unforeseen circumstances'. 
We had to decide quickly what to do. We didn't especially want to go into Clapham or Abbeville Village, and risk places being shut or full. We decided that Streatham was probably the best bet. Nowhere outstanding, but many places decent enough. I rang up one, but they said they were closed. The bus came, it was the bus that terminates at Brixton bus garage on Streatham Hill. We walked up Streatham Hill and asked in Ilili whether they had room at the inn. They did.
Ilili is a Lebanese restaurant, and like many, don't serve alcohol, but are entirely relaxed about customers bringing their own. Just a few doors away is a Sainsburys Local. From there we got a bottle of Sancerre, for £17. Seems a lot to pay in a supermarket for wine, but a lot less than we would have paid in another restaurant. And extremely good.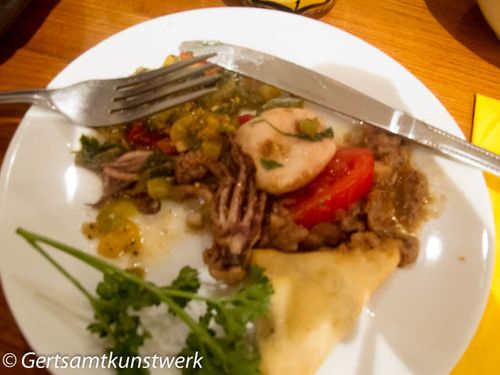 We started by sharing three hot mezzes. In future, I may order several more to share and call that a meal. Most delicious. We had cheese Sambosa (pastry filled with feta cheese and parsley), Calamari which arrived without batter, and all the better for that, and Foul Madamass- Boiled breadbeans, chickpeas, lemon, garlic and olive oil. The last dish was especially delicious, if a quite stodgy and filling. My photo doesn't do the combination justice.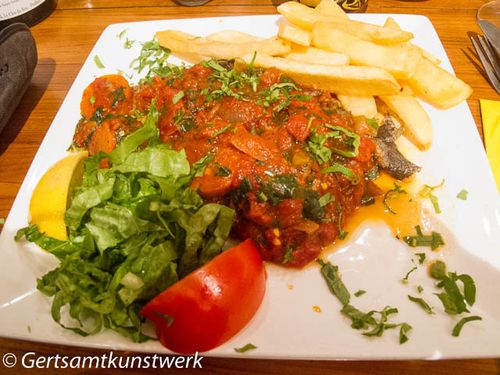 My main course was  Samaka Harra -  Pan fried Seabass fillet served with spicy tahina on tomato sauce. I would happily have done without the seabass, although it was perfectly fine. The chips had  a delightful crisp on the outside, melt-in-your-mouth on the inside. I could have eaten a plate of these with just the tomato sauce!
We decided to finish with mint tea, although oddly I didn't photograph this, nor the 'baklava for sharing' that the waitress talked us into. Delicious, too! so, thank you to Ilili for rescuing what might have been an unpleasant evening.
While we were eating a woman in her forties arrived and asked if they had a table for five. To her relief they did, and she brought in her teenage children, all of them looking fraught and tired. We considered it odd that a family would be so disorganised as to be needing a restaurant, unbooked, at half eight on Christmas Eve. We came to the conclusion that they had probably been travelling all day, or longer, having been caught in the storm, or its transport-related aftermath. Rather put our mild inconvenience into perspective.