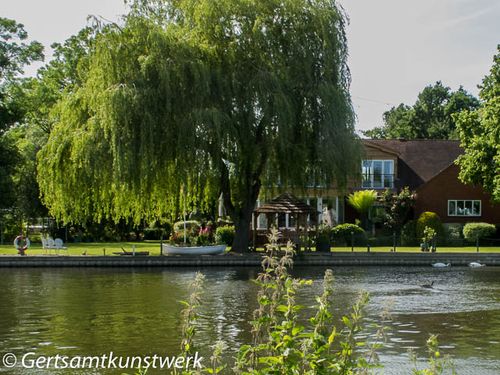 When I was a student I saw a film called Hope and Glory. The film is actually about the film-maker's memories of being a small boy during the blitz in London, but the upshot of that was being evacuated to his grandparents' opulent riverside residence. For some reason I have long assumed this to be Maidenhead. It was only after I had finished this walk that I realised that it was actually filmed in the Shepperton area.
A lasting impression of the film was its superb cinematography, especially beautiful shots of endless summer days on lawns leading directly down to the river. The River Thames but a bucolic relation of the industrial behemoth that churns through London and generated the industrial cityscape. I've always known that I would never afford to live with a lawn rolling down to the river but this image has stayed in my head as somewhere to go to in my dreams.
I had planned a linear walk, and linear walks are best done by public transport. It seemed straightforward to catch a train to Chertsey; I thought it would be a short stroll to the river. Nothing is ever that simple! It's a long walk, along the high street and through residential areas along a main road. Dispiriting. We stopped for a decent coffee and snack in a café, which I think was Portuguese, and I would recommend. Some people were sipping wine outside.
Chertsey High Street was yet another I have found in otherwise prosperous areas that look tired and rundown, dominated by betting and charity shops and convenience supermarkets. More evidence that the High Street as we knew it in the 20th century is dead, and we have a choice of tolerating this, or entirely re-imagining the High Street as somewhere that isn't just about daytime drinkers and fixed odds betting machines addicts.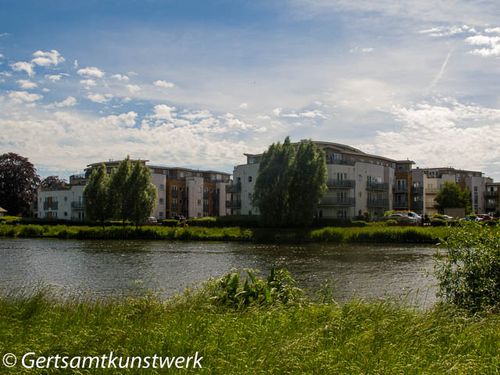 To access the towpath we were obliged to cross a bridge, not really designed with people in mind. I had to stand flat against the wall with stomach squeezed in to allow a woman with a pram to pass me in the opposite direction. The 'engineer' who 'designed' the bridge obviously wanted one of us to step into the path of the constant churn of traffic. The Surrey side of the river was built over with recently developed flats. This looked like the privatisation of public land, although I can't be sure.
As we crossed the bridge we spotted an unusual site - a houseboat being towed. I have to confess to not having previously considered how houseboats reach their moorings, now I know.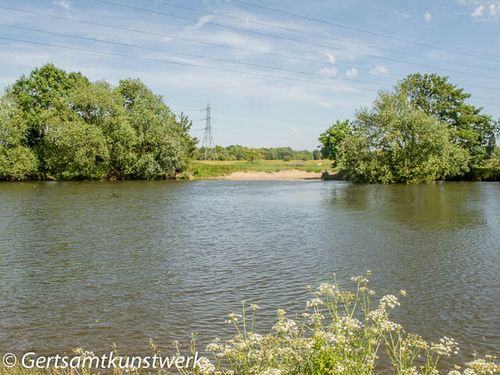 What is the purpose of a walk? What is the purpose of a riverside walk? And what is the aim of me taking photos and blogging about my walk? Moderate exercise in the open air on a sunny day that became quite hot is obviously good for one. A change of scene, new vistas, seeing new ways of living. I took a lot of photos but am dissatisfied with the overall quality of the set. I was trying to capture that golden sunshine on rolling lawns from Hope and Glory. I think my favourite photos are of small close-up details or of urban scenes. The focus of these is all the wrong size and distance. I'm sad that the feeling of well being I experienced didn't inspire my pictures.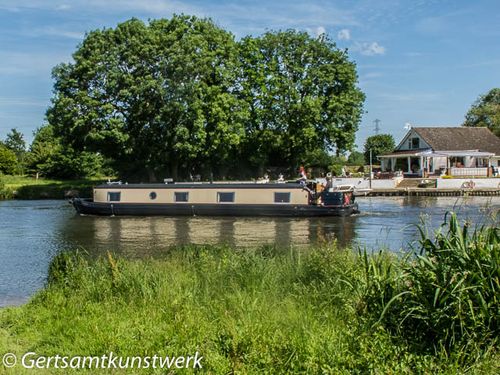 We passed few people on the towpath, And those that we passed were mainly doing what we were doing, or walking their dogs. Two people jogged past, obviously suffering in the surprisingly intense heat. I didn't envy them and I barely pitied them.
We reached a parking area beside the river. A woman sat in her car reading. I was puzzled. The temperature was officially in the mid twenties. In the direct heat my phone measured it as being mid thirties. I can understand the attraction of driving to the river to sit and read. If it's cold or raining, sitting in the car to watch the river is preferable to sitting at home watching four walls close in. I don't know why she didn't leave the car and sit on one of the numerous benches.
As we walked along the towpath, on our left were houses that had obviously been affected by the serious floods of Winter 2013/14, and across the water to our right lay Pharoah's Island, again where the houses showed signs of flood damage. As an incurable romantic I loved the idea of being dependent upon a rowing boat to go anywhere or even to pick up one's post from a mailbox on the mainland. I didn't know the sad story that had happened three years previously Music executive among two feared dead after Thames boat capsizes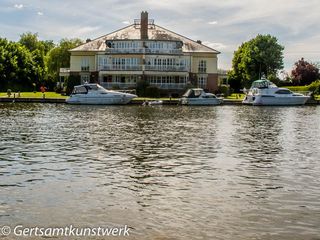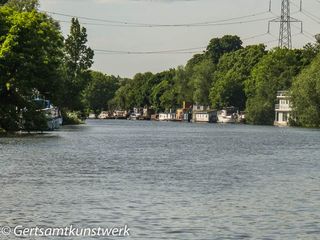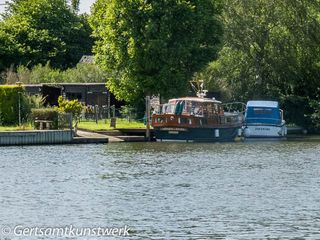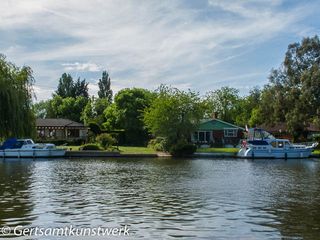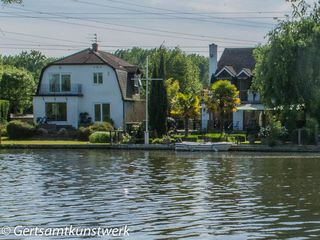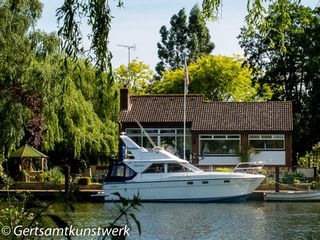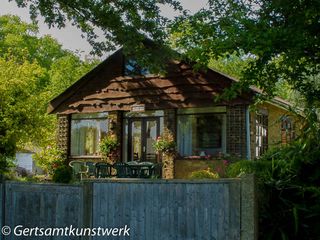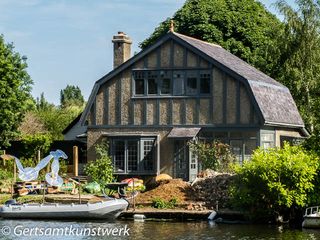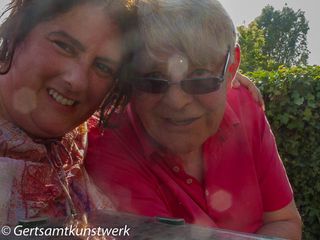 We stopped at a lovely pub right next to the river. It seemed lovely, anyway, although the ratings on Google seem a bit indifferent. The plus point was a large beer garden rolling down to the river. We even took a Selfie Opportunity. I later considered this to be our downfall!
The walk back to the station was a good mile and a half, but not unpleasant. Unfortunately, we saw the back of a train disappearing as we approached the station, and the next wasn't for another half hour, then delayed, then cancelled, with doubts about whether the one after that would run. We ended up sharing a minicab to Walton, and catching a fast train into London (rather than one that stopped at Clapham Junction for a sensible connection). I still feel that we hadn't messed around with a pointless selfie, we would have been home hours earlier.
We did also see a pleasure cruiser locking and sailing away.