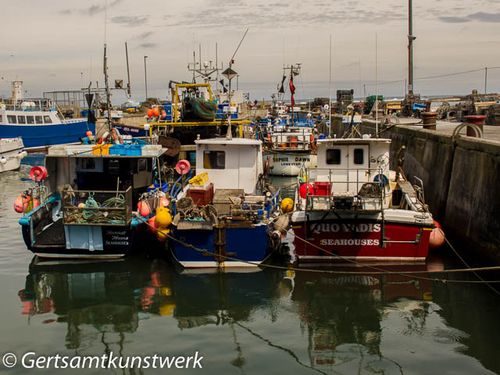 When booking a holiday in the UK, several factors must be considered. 
You want good quality accommodation, and we certainly got that. You want several restaurants, serviceable or better, within walking distance, and probably something above average not too far away. I think we got that, too.
And you want to be somewhere where a rainy day doesn't become an abandoned day. We got that, too, in Seahouses. A slightly odd town. It serves as some sort of tourist hub, not least because it's the place where the Farne Island boats go from. There's a National Trust gift shop. There's an excellent bakers, and good greengrocers and deli; the only 'supermarket' is a small and basic Co-op - for anything more than booze, milk and snacks you have to go several miles to Alnwick. There's an amusement arcade which seems vulgar and a little out of place. Weekend visitors seem a bit rough around the edges; weekday visitors are better-heeled.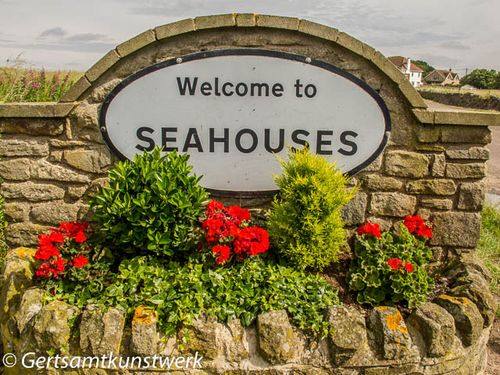 Michael Portillo visited while we were there, for his Great British Railway Journeys. I was probably holding a copy of Bradshaw's in the NT Gift shop whilst he was en route back from the Farnes. Robson Greene was due a visit just after we left.
Another day, the weather forecast was awful and the morning was unpleasant: wet, windy, not warm. Much to my surprise (and that of people I subsequently encountered), the weather improved. Enough to make it worthwhile to stroll down to the town and play a round of Crazy Golf. I slaughtered Jimmy. I just want to make sure everybody knows that. I was so focused on the important task of winning Crazy Golf that I took no photos. As much as I despise 'real' golf and consider it a waste of time, socially divisive and a despoiling of the countryside, I love Crazy Golf. I don't think there are enough good Crazy Golf courses in this country. Seahouses is as good as any I've played in England. I've played better in Jersey and the US.
We wandered around town and watched the waves. So did many other people.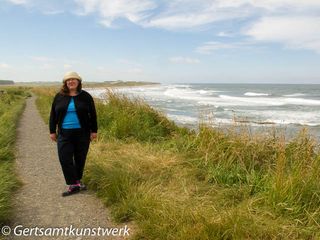 The weather became warmer and brighter, so we revised our plans from 'wander' to 'stroll'. Not a proper walk, but a bit of gentle exercise and lots of fresh air.
The beach at Seahouses is separated from the road by dunes. As you follow the path, you feel a little as if you are walking along a clifftop but without the height. A long and sandy beach that stretches to Bamburgh and beyond. Indeed the North Northumberland Coast is several miles of sandy beach more or less uninterrupted, but for the occasional harbour, estuary or castle.
As you see, there are outcrops of rock, but I don't think that contradicts the 'sandy'. I never actually got round to swimming while we were there, a frustration because, other than the air temperature, it would have been perfect.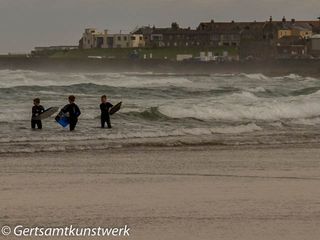 I suppose I could have hired a wetsuit; I'd even been in contact with a shop that hires them out, and bikes. They came over as helpful people in our email correspondence. Definitely a regret I didn't hire a wetsuit and get in the water. These lads knew better.


We returned to out holiday let the 'back way', avoiding Main Street. We thought we'd have to walk along the B road, national speed limit, no footway. But we discovered a public footpath that ran parallel to the road and yet seemed almost a different world.
Another day the forecast said it would be warm and sunny, so we went to the beach with our swimming gear. The weather forecast should have said 'warm and sunny with stiff cold breeze, later clouding over'. I did go in the sea, but only paddling, as deep as my knees. I mainly lay on the beach, with my friends, while Jimmy clambered on the rocks.